Key events
Judges comments: Motsi says "elegant, beautiful legs, very nice". Shirley says "lovely angles and poise, congratulations". Anton says "I'm overwhelmed, unexpectedly wonderful, exquisite". Craig concludes "could have done with more fluidity but one of the most elegant, swanky cha cha chas I've ever seen, darling, bravo".
Judges scores: 7, 7, 7, 7 for a total of 28 points. Joint fourth so far. Joannes says she's such a calming influence that he's got no anxiety.
Annabel and Jojo's cha cha cha
Team "Johannabel" were an instantly adorable couple last week. Now they need to back that up on the dancefloor. Decent start and sweet tennis theming but she lost her steps and timing at the midway mark and struggled to recover for 10 seconds or so. Lots of prop work, a little unsteady, but beautifully poised and sophisticated.
Song: Uptown Girl by Billy Joel. The second best-selling UK single of 1983 after Culture Club's Karma Chameleon, pop-pickers. Westlife and Olvia Rodrigo have covered it. It's also soundtracked a Strictly cha-cha before: Helen George and the much-missed Aljaž Škorjanec's week two dance back in 2015.
Judges comments: Craig says "lovely length of bone but tuck your bottom under and work on rise and fall, loved the storytelling". Motsi says "nice frame and ease of movement, pure energy gave me goosebumps". Shirley says "endearing, I was in shock at your exceptional footwork, you look like a dancer". Anton concludes "my favourite dance of the night so far, it flowed beautifully, I'm a bit stunned".
Judges scores: 6, 7, 8 (ooh), 8 (ooh again) for a total of 29 points. Joint top with Layton and Ellie. Bobby says he's fallen for ballroom.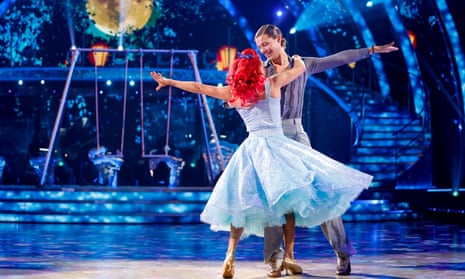 Bobby and Dianne's foxtrot
The bookies' favourite for the glitterball trophy. Will Bobby Brazier justify that status? EastEnders' cheeky cherub "hopes viewers will fall in love" with his "super-cute" foxtrot. Some swing-ography to start, then into an adorable foxtrot. He's tall and poised, traveling around the floor well if a little loosey-goosey. Syrupy floor section, then confetti falls for a lovely finish.
Song: All About You by McFly. The boy band's best-selling single was famously written by Strictly alumnus Tom Fletcher for his wife Giovanna as a gift after he forgot it was Valentine's Day. What's wrong with wilted carnations from the all-night garage, mate?
Judges' comments: Anton says "right up my strasse, improve your posture but very nice". Craig says "free arm needs finesse, clumsy in and out of hold but pretty amazing". Motsi says "raise your performance, too shy, open up and enjoy it". Shirley concludes "debonair, sophisticated, best frame so far, work on your confidence and finish your extensions". Fives and sixes? Jowita is tearful with pride.
Judges' scores: 5, 5, 6, 5 for a total of 21 points.
Jody and Jowita's quickstep
The decorated Paralympian looked worryingly like a dad-dancer last week, so let's see what miracles reigning pro champion Jowita Przystal has worked with him. They had to shorten the steps to accommodate his prosthetic leg. Nice classic jazzy feel. Jowita's counting for him and it's a little doddery in the runs but the Charleston steps aren't too bad and there are some old-world Hollywood touches. Sparks fly for the big finish. Jody did much better than I'd feared, happily.
Song: I'm Sitting on Top of the World by Bobby Darin. A swinging, jazzy 60s cover of the 1920s classic. Dear old Len Goodman is approving this song choice up in dance heaven.
"The jive?" cried Ellie Leach upon hearing what she'd be performing first. "Oh no, that's really hard!" How will the Coronation Street actress cope, swapping cobbles for flick and kicks? Very well, as it goes Confident, lots of content, lacks some sharpness and retraction but immersive. No Jill Halfpenny but reminded me of Chelsee Healey, who was a finalist in 2011.
Song: Can't Tame Her by Zara Larsson. An 80s synth-pop banger from the Swedish singer, who'll forever go down in Strictly history for providing vocals on Clean Bandit's Symphony – the soundtrack for Rose Ayling-Ellis' groundbreaking showdance with silent interlude.
Judges' comments: Shirley says "amazing, young lady, good footwork, work on consistency but you've got it all". Anton says "tremendous, work on both feet but what a performance". Craig says "sharp, precise but energy flagged, you're an incredible dancer". Motsi concludes "you were on top, incredible". I smell sevens and eights.
Judges' scores: 7, 8, 7, 7 for a total of 29 points. Joint top with Layton.
Halfway mark now. It's this year's oldest celebrity male and one of this year's headline signings, Les Dennis has lots of goodwill in his favour. He also said this week that he's desperate not to be first out, so his tango should be instructive. Was Nancy Xu working as a waitress in a cocktail bat when she met Les? No, it was the other way around. Nice twist. His posture's poor and his feet are plodding. Nancy's dancing around him here. Stiff but better once it gets going. A bit painful but a game effort.
Song: Don't You Want Me by The Human League. The synth-pop classic was Christmas number one in 1981.
Judges' comments: Motsi says "you drew us in but needed your energy going in the right direction". Shirley says "musicality, timing, intensity and storytelling good, you did better than you think". Anton says "I enjoyed the character but you seemed slightly hard of hearing". Craig concludes "you might have been safer staying behind the bar, splayed fingers and feet stuck to the floor with Velcro but you gave it a go".
Judges' scores: 2 (lowest so far), 4 (doubled it!), 5, 5 for a total of 16 points. Bottom of the scoreboard so far.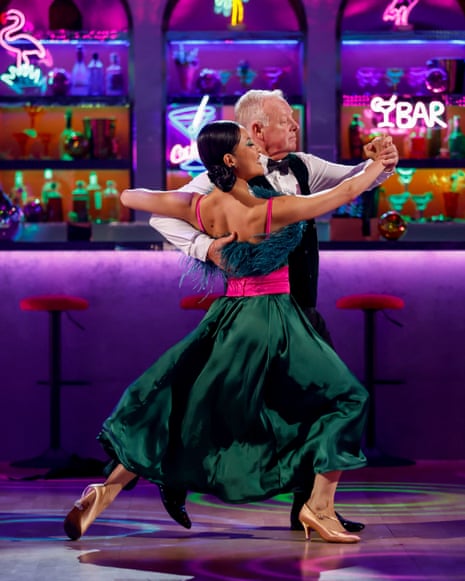 Zara and Graziano's cha cha cha
Graz joked that that Zara McDermott "dances like a camel" in training. Ooh, you charmer. He also made her train with a broom. Zara says she'll channel her "confident Love Island bikini babe" for Latin dances. Nervous start and a lot of pose-striking rather than dancing. Leg action lacking but hips wiggling. A disco version, not terribly Cuban but kinda spicy. Laughing with relief at the end, bless her.
Song: Crush by Jennifer Paige. This 90s teen-pop hit was rumoured to be about Joey Fatone from NSync, who Paige was reportedly dating at the time. But it isn't. Spoilsports.
Judges' comments: Craig says "ploddy, wooden, awkward but the intenston was there". Motsi says "basics, connection but those long legs need to work". Shirley says "you are lovely, great extensions, timing good but needs more flexibility in the hips". Anton concludes "nice start but we want more of everything". Fives incoming?
Judges' scores: 3, 6 (she doubled it!), 5, 5 for a total of 19 points.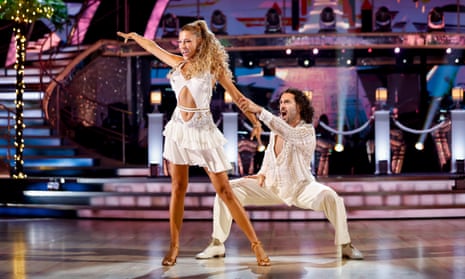 Layton and Nikita's samba
Actor Layton Williams has teased a "hot and sexy" samba with "his 'n' hers" outfits, bringing a bit of Rio carnival to Borehamwood. Impressive pop video style solo section to start, then into a stylish and sassy samba. Loses timing in places and lacks a bit of bounce but he has the confidence and ability for sure. Wow. A bit too good?
Song: Touch by Little Mix. The bouncy and empowering tropical house hit has become something of a gay anthem. "Photograph with no T-shirt on / Why you making me wait so long?" *fans self*
Judges' comments: Anton says "magnificent but your feet were turned in but great from the waist up". Craig says "footwork let you down but how flexible are your legs? Rhythm, hit the lines, amazing". Motsi says "your musicality impressed me, that takers talent, it's gong to be a good year, guys". Shirley concludes "flexibility, fluidity, salesmanship but get some quality downstairs". Sevens? An eight?
Judges' scores: 7, 8, 7, 7 for a total of 29 points. First eight of the series and top so far, one point ahead of Angela Rippon.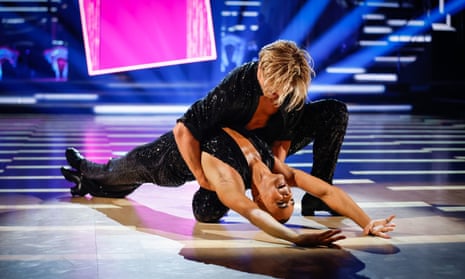 The BBC Asian Network presenter and Stacey Solomon soundalike looked panicked on the launch show when she heard that her first dance was the waltz. She's also bookies' favourite for the first elimination. No pressure, Team Gorkita. Dry ice covering up a multitude of footwork sins but sweet and romantic, if a little safe. Too much walking around but some cute shapes.
Song: Run To You by Whitney Houston. This Oscar-nominated ballad is from The Bodyguard soundtrack, so imagine that Gorka is Kevin Costner in this scenario. Gorka the Costna Corker. It's also a regular Strictly choice, with both Anneka Rice and Naga Munchetty waltzing to it in previous series. Dave Arch can probably play it in his sleep.
Judges' comments: Shirley says "look stunning, soft and lyrical but get your core stronger and topline still". Anton says "beautiful box step into a double whisk but tense in hold, lovely and intimate but believe in yourself". Craig says "posture and frame need work (boo!), too floppy and loose but some beautiful hand-shaping". Motsi concludes "I sensed your nerves, build your confidence, you gotta dance and do it". Fours and fives?
Judges' scores: 3 (boo!), 5, 5, 5 for a total of 18 points. Lowest score so far.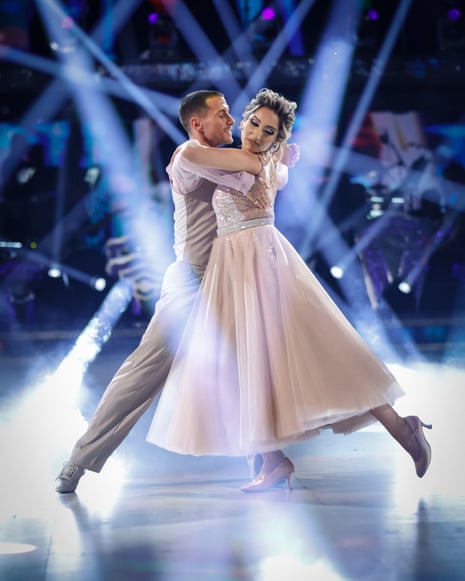 Angela R and Kai's cha cha cha
Back on the dancefloor an incredible 47 years after that high-kicking routine with Eric 'n' Ern, it's Strictly's oldest ever contestant. La Rippon has already lost 4lb in training and been having ice baths to help her sore muscles recover. She's also had a busy schedule, recording her BBC consumer show Rip-Off Britain in the mornings and practising her routine in the afternoons. Tireless and ageless. She begins in a frou frou gown, then throws it off and launches into a sprightly but slightly wobbly cha cha. Kai's giving her instructions throughout. Fine leg-lift to finish. Kai falls to the floor swooning. Bravo. "Just wow, what a moment," says Tess.
Song: Get the Party Started by Shirley Bassey. A sweeping cover of the P!nk anthem by Dame Burly Chassis. Chizzy Akudolu and Graziano cha-cha'd to this on the 2019 Christmas special but to me it'll always recall Rhydian Roberts belting it out in a floor-length white fur coat on The X Factor. It's a yes from me, Rhydian.
Judges comments: Motsi says "wowser, rippin' up the dancefloor, that was a statement but needed more cha cha content". Shirley says "I'm getting emotional, pure class, simple in content but executed with 150%" (her favourite number toniught). Anton says "you beauty, go on girl, wham-bam, come on". A sequence of noises, thanks Tony. Craig concludes "jaw-dropping".
Judges scores: 7, 7, ,7 ,7 for a total of 28 points. Top of the pops so far.