Key events
According to Gary Lineker on the BBC, Erling Haaland has spent the last two matches scoring goals at the rate of one every 15 minutes and 45 seconds. Right now, he's unstoppable, and he saunters off once again with the match ball tucked under his arm. And here's another fine stat courtesy of the BBC: Haaland is the first player to score hat-tricks in the top flight, the FA Cup and the European Cup / Champions League in the same season since Liverpool's John Wark in 1984-85.
FULL TIME: Manchester City 6-0 Burnley
Erling Haaland follows up a five-goal haul with a hat-trick. Manchester City follow up a 7-0 win with a 6-0 victory. The six-time winners go through to the semi-finals, while Burnley's wait for their second FA Cup stretches to 109 years.
90 min +1: The first yellow card of the match is awarded to Barnes, who takes an irritated swipe at Laporte's legs.
90 min: There will be two additional minutes of pain for Burnley.
89 min: De Bruyne, having taken that sore one on the knee, is taken off as a precaution. Grealish replaces him.
88 min: On the BBC, Jermaine Jenas names Erling Haaland as his player of the match.
87 min: De Bruyne dribbles down the inside left channel and draws a clumsy foul from Cullen. He's taken a whack on the knee, so won't be taking the free kick himself as he walks it off. City attempt a training-ground move, Walker rolling across for Mahrez, but the latter takes a heavy touch and is crowded out before he can take a shot.
85 min: A sense that both teams would walk off now if City were allowed to declare. Burnley have probably been thinking that since the 35th minute, to be fair.
83 min: Cullen sweeps a cross in from the left. Ortega, who hasn't had much to do, punches clear in an unconvincing style. That allows Burnley to come again, Bastien barrelling down the right flank and curling in low for Barnes, who slams wide from six yards.
81 min: City take it down a notch, stroking the ball around the back and letting the clock do its thing.
79 min: To their immense credit, Burnley continue to press and attempt their passes. They haven't done that much wrong, in fairness: they've just been ripped apart by a team who are beginning to hit some serious form.
77 min: Burnley swap out Maatsen and Vitinho for Taylor and Bastien.
76 min: Alvarez, on a hat-trick, nearly matches Haaland's achievement by blocking Peacock-Farrell's clearance. The rebound only just misses the gaping net.
75 min: On the touchline, poor Kompany wears the look of a weary man. Another long day at the School of Pep. It'll stand him in good stead in the long run, lessons learned, all that. "A game like this should be stopped," suggests Jeff Sax.
GOAL! Manchester City 6-0 Burnley (Alvarez 73)
This is now officially a rout. De Bruyne sends Alvarez scampering down the inside-right channel with a gloriously timed and weighted pass. Alvarez drops a shoulder to see off Al Dakhil, jinks inside, and absolutely roofs his shot into the net.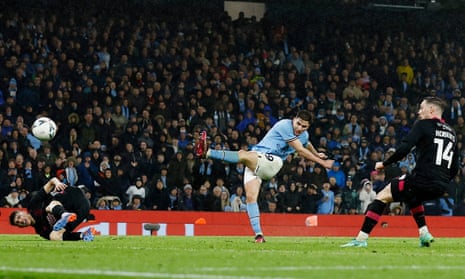 72 min: Not sure how much of that flurry was witnessed by Manchester City's fans. They were busy doing the Poznan at the time.
70 min: Mahrez is allowed to saunter into the box from the right. Peacock-Farrell blocks his belt. Alvarez can't quite sort his feet out to convert the rebound. City soon come again, Phillips striding into the box down the same flank and sending a screamer over the bar from a tight angle.
GOAL! Manchester City 5-0 Burnley (Palmer 68)
Phillips and De Bruyne combine sweetly out on the left, the latter gliding infield and finding Foden, who bursts into the box from the right. His cross is parried by Peacock-Farrell, the ball dropping to Palmer, who can't miss from six yards.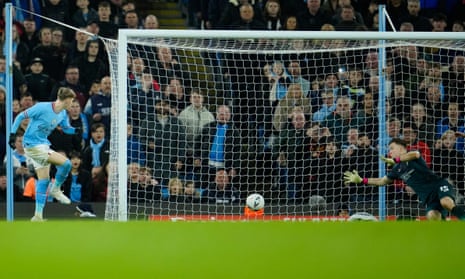 67 min: The slew of substitutions has wrecked the momentum. From a Burnley perspective, that's probably for the best.
66 min: City make another double change. Gomez and Phillips come on for Lewis and Rodri.
64 min: For the second time this week, Haaland departs just after the hour with his boots filled and swag-bag teeming. He's replaced by Palmer, while Dias makes way for Akanji. Burnley meanwhile swap Tella for Obafemi.
GOAL! Manchester City 4-0 Burnley (Alvarez 62)
City are rampant. They're playing some sensational football. Mahrez sends De Bruyne sashaying down the right. He enters the box, drops a shoulder to see off Maatsen, then rolls across to tee up Alvarez for a simple tap-in.
61 min: Haaland has now scored 42 goals in 38 appearances.
GOAL! Manchester City 3-0 Burnley (Haaland 59)
This guy! Foden is found in space in the Burnley box, to the left of goal. He opens his body and steers a magnificent shot across Peacock-Farrell and off the bottom of the right-hand post. The ball pings back to Haaland on the right-hand edge of the six-yard box. He leans backwards to flipper an instant shot back into the unguarded net. That's his second hat-trick of the week and his sixth of the season!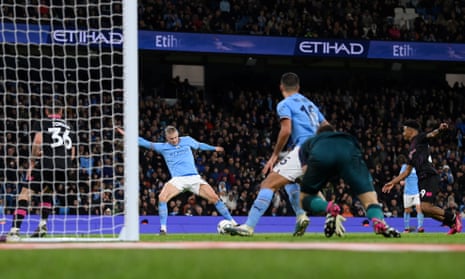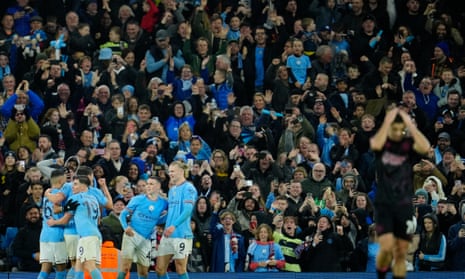 58 min: De Bruyne glides in from the left and looks for the top-right corner. The ball pings off the top of Beyer's head and out for a corner. Mahrez floats the set piece into the mixer. Foden loops a header towards the top right. Peacock-Farrell claims easily.
BREAKING NEWS: Haaland fails to convert chance
56 min: Haaland, who can do pretty much anything, dribbles in from the right, sits Beyer down, then pearls a shot towards the bottom right. Peacock-Farrell makes another fine point-blank save.
55 min: … though it's possible, had Mahrez scored, that Walker would have been judged a few inches offside. All academic, though.
54 min: City stroke it around for an age. Then suddenly Rodri sends a diagonal ball towards Walker on the right-hand edge of the box. Walker volleys a cross to Mahrez, who slams his shot straight at Peacock-Farrell. That would have been the tie, right there.
52 min: De Bruyne skies the free kick. The rain, meanwhile, is positively Mancunian.
51 min: Foden attempts to cut in from the left only for Cork to swat the ball away from him with his hand. A free kick, just to the left of the D. Cork is extremely fortunate not to go into the referee's notebook.
49 min: … and their team continue to knock it around in a progressive, easy-on-the-eye style. Last season seems an awfully long time ago now. In other news, Everton are currently 1-0 down at Chelsea.
47 min: The Burnley fans are in good voice, despite their FA Cup semi-final dreams going up in smoke. And no wonder: pretty sure they'd have settled at the start of the season for winning the Championship in style.
City get the second half underway. Burnley have made two changes, swapping out Gudmundsson and Foster for Cork and Barnes.
A nice back and forth in the BBC studio. They're talking about Haaland's five-goal haul. Micah Richards asks Alan Shearer about his biggest one-match spree, and is informed that it was five goals. Richards then asks Gary Lineker, who after pausing for a comic beat, answers four, then splutters: "Did you just conjure that up between the two of you? At least you were on my side for a week!" It's not exactly breaking news, but he's a class act, Lineker. Zinger of the day.
Half-time entertainment. The Lineker Affair wasn't the first time a prime-time light entertainment star wandered off piste in search of a greater truth. In 1974, Hughie Green, host of Opportunity Knocks, ITV's end-of-the-pier talent show, and therefore the man to blame for Little and Large, signed off an edition of the programme with this abrupt gear change …
… then a couple of years later outdid himself with this …
… a performance which makes GB News look like a Soviet rally. Surprisingly, given this sort of thing would today send the internet shearing off into a fourth dimension, no immediate action was taken by his ITV overlords. However ratings were falling, and by the end of 1978 Opportunity Knocks was replaced by the Kenny Everett Video Show, whereupon Green exited the stage accusing everyone at Thames Television of being communists. Different times, different times. Or are they?
HALF TIME: Manchester City 2-0 Burnley
There's just enough time for Maatsen to burst into the City box and warm Ortega's hands with a rising drive, and that's the end of a very entertaining half of football, in which Burnley contributed much … but then Erling Haaland happened. Again. Chalk up numbers 40 and 41 of the season!
45 min: Tella skittles Foden out on the left. He gets up and takes the free kick himself, dropping it on the right-hand corner of the six-yard box. Neither Rodri nor Dias can extend their leg to poke home. The ball was begging to be bundled over the line. What a delivery.
43 min: Beyer strides down the middle like Beckenbauer at the 1966 World Cup, turning defence into attack in an instant. The move breaks down soon enough, but that's not the point. What a run, full of confidence, determination and grace.
41 min: Maatsen drives down the middle and suddenly Burnley have a four-on-three situation. But his pass wide left goes behind Foster and the momentum is gone. Zaroury attempts a curler towards the top right, but the speculative effort goes nowhere near.
39 min: The thing is, for the most part, Burnley have been excellent! But what can you do against a team like City and a player like Haaland?
38 min: In fact there were two minutes and 57 seconds between the goals. I don't wear a watch.