Leon Smith began this year's Davis Cup group stages with a positive dilemma. With four quality singles players to choose from, the Great Britain Davis Cup captain was charged with deciding which combination stood the best chance of delivering GB their first win after a bitter week in Glasgow last year.
His decision to prioritise form over rankings yielded a brilliant win as Great Britain began their campaign by defeating Australia 2-1.
In the opening rubber, Jack Draper finished his long-awaited Davis Cup debut with an excellent comeback win, defeating Thanasi Kokkinakis 6-7(6), 6-3, 7-6(4). Dan Evans followed shortly after and, as Britain's No 1 player of the tie, he played up to the occasion produced the best Davis Cup win of his career, outclassing the world No 12 Alex de Minaur 6-1, 2-6, 6-4 to clinch the victory.
Later on Wednesday, Matthew Ebden and Max Purcell closed off the tie by defeating Evans and Neal Skupski 7-6(5), 6-4.
Smith's team selection was bold but also logical. Evans, the British No 2 by ranking, recently won the biggest title of his career at the ATP 500 event in Washington and Draper, the British No 5, outperformed each of his more experienced teammates last week at the US Open by reaching the fourth round for the first time in his career. Cameron Norrie and Andy Murray supported their teammates from the crowd.
"It's good to have options," Smith said. "Everyone's saying: 'You've got a really difficult selection.' I'd rather it that way to what it was many moons ago."
Having been edged out by Kokkinakis in the opening set despite being set point up, Draper began the second set determined to force himself more on to the front foot. He broke Kokkinakis's serve in the opening game and breezed through the set.
With his superior returning and movement in the third set, Draper put constant pressure on Kokkinakis's service game. At 4-4, though, he played a tight service game and lost his serve, offering Kokkinakis the chance to serve for the match. Under immense pressure, Draper landed returns, defended well and forced enough errors out of a nervous Kokkinakis to retrieve the break. After then falling 4-2 down in the third-set tiebreak, Draper reeled off the final five points in a memorable win.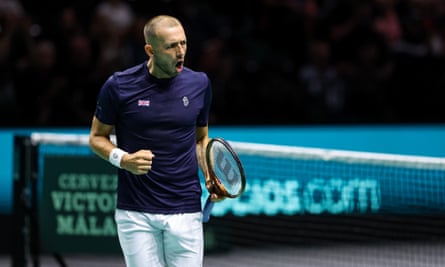 Under the new Davis Cup format, team nominations are only finalised an hour before the first match commences each day. Kokkinakis said that although the had an inkling that he might end up playing against Draper, it was not something they had prepared for. "Definitely practicing with a right-hander pretty much all week," he said, smiling.
According to Draper, he had been informed by Smith of his nomination a couple of days earlier. "He said he wanted me to be out there and that he believed in me," he said. "Really, from there, we didn't really talk too much about it. I trained well. I only started thinking about it probably an hour before I played, to which the nerves started coming in.
"I was definitely a bit nervous before I played but I knew that I'd played some tough matches in the US Open. I felt really good about my tennis."
Armed with a 2-0 record against De Minaur, Evans's game flowed from the first ball. While he dictated the exchanges with his forehand, incessantly looking for opportunities to move forward to the net, Evans's slice caused countless problems on the low-bouncing court against De Minaur, a flat ball striker who prefers to redirect his opponent's pace than create it himself. After losing focus in the second set, Evans took control at the beginning of the third before narrowly holding on to close out an excellent win.
Evans said that he was very nervous before the match: "They were good nerves. It's always the same with Davis Cup – it feels just a bit different. It's the expectation more than anything. It means a lot."
Smith said: "I think it's one of the best matches I've seen him play. I think he was absolutely brilliant against one of the most in-form players on the tour."
While the GB team played in front of a home crowd of 9,290 spectators, on Tuesday Stan Wawrinka noted his disappointment after playing in front of just a few hundred spectators during Switzerland's 3-0 defeat against France.
Wawrinka sarcastically thanked the former footballer Gerard Piqué, whose investment company Kosmos, was responsible for dismantling the old Davis Cup format. This year the ITF ended its partnership and pursued legal action against Kosmos. Great Britain will next face Switzerland on Friday.