Key events
It's 4.30pm in Washington DC. We're closing this blog now, but you can read the Guardian's story on the women's march and reproductive rights issue today, here.
Here's where things stand:
That's it from me, Maya Yang, as we wrap up our live coverage of this year's Women's March. Thank you for joining us.
Passionate signs and pins have been popping up all across the country as thousands of people took to the streets to demonstrate their opposition towards the removal of federal protections of reproductive rights.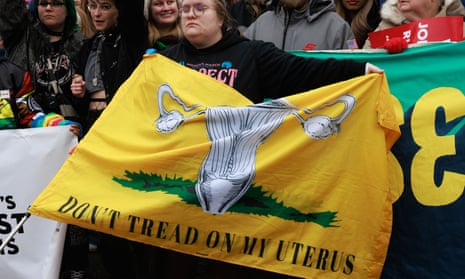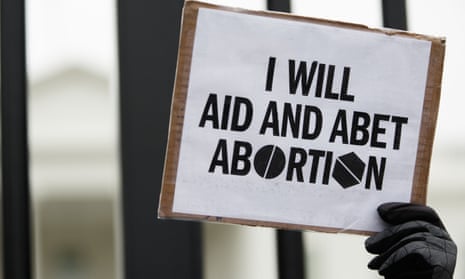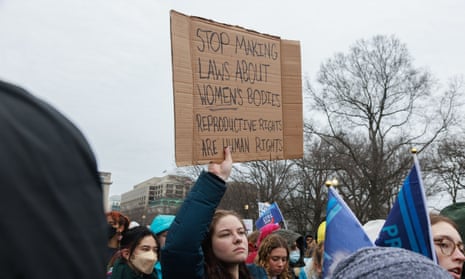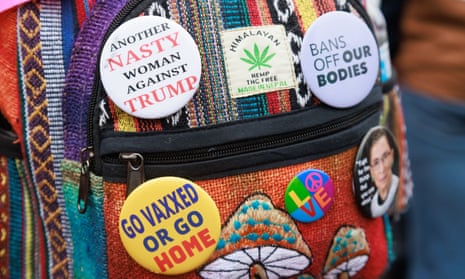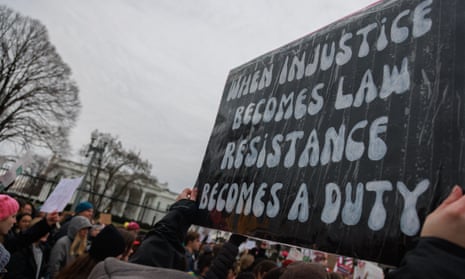 Rachel O'Leary Carmona, the executive director of the Women's March, addressed crowds in Madison, Wisconsin, on Sunday as thousands descended upon the state's capital to demonstrate for reproductive rights.
"Proud to be in Madison today fighting to let every politician know – if you come for our freedom, our families, or our futures, we're coming for you," Carmona said.
Organizers of the annual Women's March chose Madison as this year's rallying base, saying: "We will not be distracted by the drama in DC. Instead we are sending a clear message to elected leaders and to our base – we are going to where the fight is, and that is at the state level. We'll start in Wisconsin, where an upcoming supreme court election this spring will determine the balance of power on the State's supreme court and the future of abortion rights in Wisconsin."
President Joe Biden urged Congress on Sunday to pass legislation that codifies reproductive rights protections offered by Roe.
"Today should've been the 50th Anniversary of Roe v Wade. Instead, Maga Republican officials are waging a war on women's right to make their own healthcare decisions. But this fight isn't over," Biden said on Twitter.

"Let me be clear: a woman's right to choose is non-negotiable. I haven't stopped fighting to protect women's reproductive rights – and I never will. Now, it's time for Congress to pass legislation codifying the protections of Roe," he added.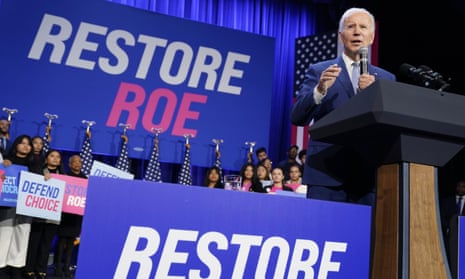 Poppy Noor
The march formally ended around 1pm with a bulk of the crowd dispersing, but protestors stayed on with megaphones and bright banners, marching downtown towards the Capitol.
Takira Walker, 19, attended with a group of students from Howard University as part of a group called Revolt Incorporated.
"Some of us here are religious and don't believe in abortion, but we believe it should be a choice to access safe and legal abortion," said Walker, who hopes to become an OB-GYN.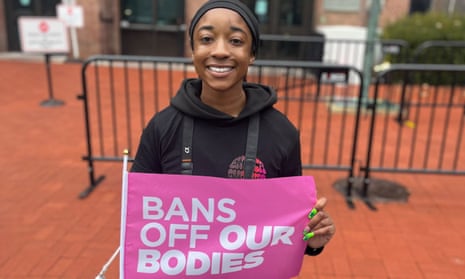 Poppy Noor
Organizers from the Black-led abolitionist group Harriet's Wildest Dreams drowned out the sound of counter protestors, chanting "Hey hey, ho ho, these racist bitches have got to go."
Celeste Hidalgo, 40, attended the march in Washington DC with her daughter Raven Hidalgo, 18. It was Raven's first march.
"It's unfair men are taking away our rights over our own bodies," said 18-year-old Raven.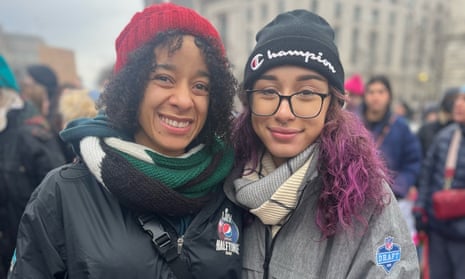 In her address at Tallahassee, Florida, vice-president Kamala Harris reaffirmed the fight for reproductive rights across the country.
"Since our founding, we have been on a march forward to fully realize our promise. To complete the unfinished work. To secure freedom and liberty for all. This fight will not be inevitable. This will not just happen. It takes steadfast determination and dedication," she said.

"So today, we are fighting back. I am pleased to announce that President Biden has issued a presidential memorandum. Members of our cabinet and our administration are now directed to identify barriers to access and recommend actions to make sure that doctors can legally prescribe, doctors can dispense and women can secure safe and effective medication," she added.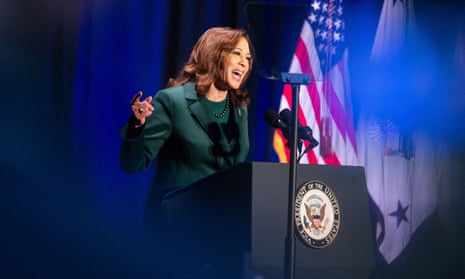 Poppy Noor
Around 12.30pm, protestors headed to the White House, amidst chants of "Our bodies, our choice," and "When abortion rights are under attack what do we do? Stand up fight back!"
Around 12.45pm, protestors assembled outside the White House to a backing track of Bob Marley and chants of "I believe that we will win."
Saskia Lodder, 68, held a sign that read: "I've been marching 50+ years to keep politics and religion out of women's healthcare … Now I march for our granddaughters."
She said she was devastated on the day the federal right to abortion was overturned. "I'm a nurse. No man in a suit or black robe should be able to make these deeply personal decisions on a woman's behalf," she said.
Poppy Noor
A small counter protest of less than a dozen people stood outside Freedom Plaza steps in DC at noon today, chanting racist and sexist chants about slavery as thousands descended upon DC to march on the 50th anniversary of Roe being signed into law, half a year after the constitutional right was dismantled.
Jessica Nowell, 19, from the anti-abortion group Students For Life says she was upset by the counter protest which she did not believe reflected the movement.
"I don't believe with the pro-choicers but this behavior is disgusting and it's not the gospel. God loves us all," she said.
Women's marches take place 50 years since Roe v Wade
Hello Guardian live blog readers, we are currently covering several developing news events and this blog is going to keep you appraised on the women's march now underway in Washington, DC, and some other places in the US.
And US vice-president Kamala Harris is speaking in Tallahassee, Florida, in a major speech to mark what would have been the 50th anniversary of the Roe v Wade decision by the US supreme court in 1973 that afforded the federal right to an abortion in America.
Roe v Wade was struck down last June by a now conservative-dominated supreme court.
Here's what's happening:
At more than 200 Women's March events in 46 states, demonstrators are lamenting the supremecourt's decision that now leaves it to individual states to decide on whether to make abortion legal for themselves. Abortion has since been banned or severely restricted in 14 states since the ruling on 24 June.

Protests included hundreds gathered at the Freedom Plaza steps in Washington, DC, ahead of the march.

In Madison, Wisconsin, where a key event is taking place, thousands of protestors are flooding the streets surrounding the state Capitol, with signs that read "bans off our bodies," and "our blood is on your hands."

Kamala Harris is talking now in Florida on the ongoing battle for reproductive rights.