Key events
All four games reach the quarter-way mark with no goals. It's Liverpool-Chelsea all over again!
"Mary Waltz, Lampard," says Jeff Sachs, elliptically. "Absolutely, Lampard should have been sacked ages ago… And Moyes as well."
Still no goals in the Premier League. Most of the running this afternoon is being made by Stevenage, who have raced into a 2-0 lead over the usually parsimonious Orient. Also starting well: Preston, 2-0 up at Birmingham in the match that is making Championship history because the ref is a woman, Rebecca Welsh.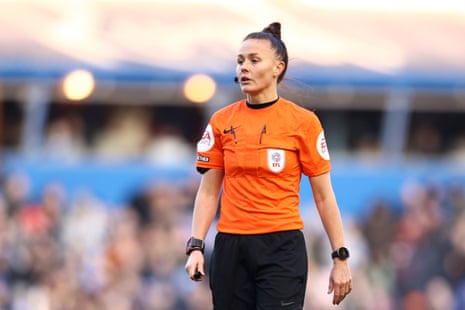 Disallowed goal! Bournemouth 0-0 Forest Ryan Yates of Forest gets the ball in the net with a diving header from a free kick, but it's been ruled out for offside against his team-mate Willy Boly. "And it's the correct decision," says Chris Sutton on Sky. I seem to remember Boly doing the same thing when Forest lost 3-0 at Old Trafford just after Christmas.
"After a rough post-Potter start," says Zach Neeley, "Brighton are still above Chelsea, and with a home win over Leicester today, they'll have more points since he left than he's gotten at Chelsea. And Potter won his first three league games, while Brighton won none of their first three without him. I don't think I've ever seen an ongoing revenge like the Seagulls have gotten during and since that 4-1 pasting."
"Starting Zouma," says Chris in Corfu. "'Is Moyes looking for a dead cat bounce?" Haha.
All four games have kicked off. And not a goal between them yet.
I'd been wondering when we would hear from our Everton correspondent. And here she is! "Lampard will get the sack, if not tomorrow then soon," says Mary Waltz. "But unless there is a major transfer addition I don't see my Everton side avoiding relegation with a different manager. Losing Richarlison wasn't just a loss of goal scoring, it was a loss of fight, of never giving up."
At the London Stadium tributes are being paid to David Gold, West Ham's joint-chairman, who died this month aged 86. Mark Noble is on the pitch with members of the Gold family, and warm applause is ringing out.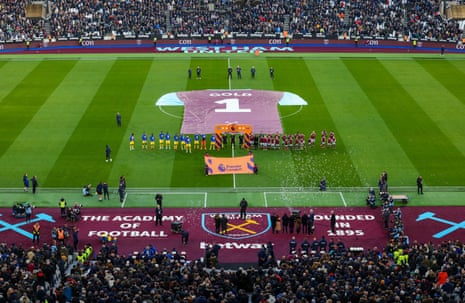 So Liverpool reach the halfway stage of the league season with 28 points dropped. After finishing the right side of 90 in three of the last four seasons, Liverpool can't manage more than 86 this time. Mind you, Chelsea have dropped 31 points, and played a game more, so the most they can get is 83.
Different cast, same result
Never mind Dundee, we've got mail from Indianapolis. "I know this isn't a new or original opinion," says Joe Pearson, "but why don't Everton and West Ham just switch managers and be done with it? I'm tired of reading about Lampard and Moyes waiting anxiously for the chop." Ha. I wonder which club would get the better of that deal.
An email! From our Scottish correspondent, Simon McMahon. "Afternoon Tim, hope you're well." Not bad, thanks. "Scottish Cup 4th round up here today, and I'm at Tannadice to see two-time Cup winners Dundee United start this season's quest for Scottish Cup glory against Stirling University. Like Andy Murray, United don't do comfortable wins, so I'm expecting a tight, competitive affair against the Lowland league side. Celtic beat Morton 5-0 in the early kick-off, and other ties worth keeping an eye on include Arbroath v Motherwell, Hamilton v Ross County and the teatime kick-off in Perth where St. Johnstone host Rangers." The Lowland league side! An early bid for elegant variation of the day.
For Everton Frank Lampard largely sticks with a losing team, making just one change – Yerry Mina for Ben Godfrey. West Ham's David Moyes goes for more of a shake-up, bringing in Kurt Zouma, Emerson and Said Benrahma and switching to what looks like a back three, which means no room for Tomas Soucek.
Leicester have good news from the physio's room as Kiernan Dewsbury-Hall returns to the starting XI and James Maddison is fit enough to make the bench. Brendan Rodgers also recalls Dennis Praet, while Danny Welbeck returns to lead the line for Brighton, who give a full debut to the Dutch centre-back Jan Paul van Hecke.
For Villa, Alex Moreno gets his first start at left-back. For Southampton, Mohamed Elyounoussi drops to the bench as Adam Armstrong comes in.
Interesting line-ups at the Vitality Stadium as Bournemouth make a flurry of changes and field their new signing, Dango Outtara. He is, as you know, a forward from Burkina Faso. Steve Cooper of Forest says "I see your new striker, and I raise you mine", giving a first start to Chris Wood, on loan from Newcastle. Wayne Hennessey replaces Dean Henderson in goal, and Willy Boly comes in for Scott McKenna.
Liverpool and Chelsea have just done something they have never done before in the Premier League, and drawn 0-0 at Anfield. More here from Scott Murray
Teams: Southampton v Villa
Teams: Leicester v Brighton
Teams: West Ham v Everton
Teams: Bournemouth v Forest
Hello and welcome to the big one. No, not Arsenal v Man United – no manager's fate hinges on that one, whereas two heads are on the block at the London Stadium this afternoon. West Ham v Everton has it all: a relegation six-pointer involving two famous clubs, both fallen on hard times, both led by well-known characters, each a part of his opponents' history.
West Ham are managed by David Moyes, who did so decently at Everton that he stayed there for 11 years. Everton are managed by Frank Lampard, who began his illustrious playing career (as Frank Lampard Jr.) with a seven-year stint at West Ham. Now both men are embattled: in the sack race, they're neck and neck, and way ahead of the rest. Just to add spice, Moyes has been mooted for a return to Everton, should Lampard get the chop.
In the form table, which covers the last six games for every club, these two are pinned to the bottom with one point each. Everton have 99 problems and one is that they've been particularly poor against their relegation rivals, losing to Southampton last weekend (at home, after taking the lead), and even being battered by Bournemouth just before the World Cup. So, in a match where you might well back both teams to lose, West Ham find themselves the favourites. And they have a savvy new signing – Danny Ings, completing the claret-and-blue set and surely bringing a few goals with him.
The other 3pm kick-offs promise to be almost as tense. We have Bournemouth, who are 17th, entertaining Forest (13th); Leicester (14th) v Brighton (7th); and Southampton (20th) v Villa (11th). The bottom seven clubs are separated by only two points, as if huddled together for warmth, which means that any win is a big deal and two on the trot is huge.
Forest have just managed two, seeing off Southampton and Leicester, and should be able to add a third at Bournemouth. Southampton have won three in a row, albeit in different competitions – against Palace in the FA Cup and Man City in the Carabao as well as that six-pointer at Goodison. They'll be doing extremely well if they can make it four against Villa, who are on a roll of their own under Unai Emery.
Leicester, back in the doldrums after a rally in November, may be secretly hoping to scrape a draw against Brighton, who have won five of their last six away games in all comps and scored 18 goals in the process. Brighton sold another of their mainstays this week (Leandro Trossard, to Arsenal), reiterating that they are all about the system, not the individual. Even losing Graham Potter seems to have made little difference to them.
It's all very tasty, in a gritty kind of way. Do join me soon after 2pm for the team sheets.