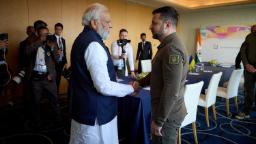 CNN
 — 

Ukrainian President Volodymyr Zelensky met with Indian Prime Minister Narendra Modi on the sidelines of the Group of Seven (G7) summit in Japan Saturday, the first in-person meeting between the two since Russia's invasion began.
Modi – who has so far refused to condemn the invasion – said India would do "everything we can" to help end the war.
"The war in Ukraine is a big issue for the whole world," he said. "It has also had many effects on the whole world. But I don't consider it to be just an issue of economy or politics. For me, it is an issue of humanity."
For his part, Zelensky invited Modi to join Ukraine's peace efforts to bring the war against Russia to an end.
Zelensky's in person attendance at the G7 – unconfirmed by host country Japan until just Saturday morning – gives the wartime leader the opportunity to meet with the member nations who already squarely back Ukraine – Canada, France, Germany, Italy, Japan, the United Kingdom and the United States – and press them for continued military aid.
But it also offers Zelenksy a chance to seek support for Ukraine and its vision for peace with leaders from a handful of other nations also attending the summit – some of which have not joined the West in leveraging sanctions against Russia or those, like India, that have refused to condemn Russia at the United Nations.
India is historically a major purchaser of Russian weaponry and has long-standing ties to Moscow. It has also ramped up purchases of Russian energy – providing a key economic lifeline to leader Vladimir Putin's government, even as the West slaps extensive controls on this key revenue source.
Though New Delhi has sent humanitarian aid to Ukraine throughout the course of the war, it has abstained from UN resolutions calling for its withdrawal and condemning its invasion.
Winning support or understanding from leaders like Modi could be a key motivation also driving Zelensky to attend the G7, analysts have said. Other participating nations include Indonesia, Australia, Brazil, Korea, and Vietnam.
In Modi's case, close ties to Russia could mean the potential to both leverage pressure on Putin, or keep his economy going.
Last year, Modi spoke to Putin of the need to "move onto a path of peace" during a face-to-face with the Russian leader on the sidelines of the Shanghai Cooperation Organization summit in Uzbekistan in September, according to a readout from the Indian side – viewed at the time as a sign of impatience from New Delhi as the conflict dragged on.
But months later the Indian leader has appeared committed to walking a careful line, neither explicitly condemning the Kremlin or calling for its withdrawal from Russian territory.
Modi has spoken with Zelensky over the phone several times since Russia's invasion, most recently in December, where the Indian leader reiterated his call for the "cessation of hostilities" and "dialogue" to resolve the conflict.
Zelensky's peace plan, in contrast, calls for the restoration of Ukraine's internationally recognized borders and the withdrawal of Russian troops.
Western leaders have criticized calls for a ceasefire that do not also include a withdrawal of Russia troops, saying they are tantamount to helping Moscow solidify the territory it has annexed.
Zelensky also attended the Arab League summit in Saudi Arabia on Friday, where he urged sympathy from leaders in Saudi Arabia who "turn a blind eye" to the war in Ukraine.
At the G7, Zelensky is scheduled to sit down with leaders from G7 member countries, Canada, France, Germany, Italy, Japan, the United Kingdom and the United States, as well as participate in a larger session on peace and stability including other invited nations, Japan said Saturday.