Key events
"A gorgeous robe," says Steve Bunce of Del, and now here's Tyson!
Tunewise he picks Bob Marley's Zimbabwe – he was born in Harare – and I cannot fathom the feelings of taking that walk.
Here comes Chisora! Over a decade after fighting Vitali Klitchko for the title, he's back contesting the strap and comes out in a green sequinned Santa cloak. Of course he does!
"You can literally cut the atmosphere or tension in here with a knife," offers Darren Fletcher. I prefer an atmosphere-cutter myself, but different folks, different strokes. Anyroad up, here's Jimmy Lennon to introduce our fighters! It is on!
Lovely, it's (almost) tiiiiime. People are absolutely buzzing for this, and I daresay Daniel Levy and Joe Lewis are feeling pleased with themselves. It took a while, but the Spurs ground is very special.
We're just a few minutes away from the ring walks, and they're cranking up Sweet Caroline over the PA. This should be a really exciting tussle – I doubt it sees the final bell, and if you're pushing me, I'm going Fury in five.
Elsewhere: Argentina have beaten an extremely game Australia 2-1, and meet Netherlands in the last eight. Tasty!
We see VT of Fury, who explains that at his lowest, he realised he needed the purpose that boxing gives him – of people counting on him every day to get to work an "open up shop". He has said some deeply problematic things, but he's absolute box-office, and has done tremendous things got mental health awareness.
"Why is this so ridiculously expensive?" wonders Michael Avery. "I could get a month's worth of rice and three for this money."
Manchester la la la! I agree, the way they make you pay when you've already paid is not pleasant, and it rankles especially hard when the money BT have to pay for rights comes from their historical monopoly of telecommunications. In most arenas, monopolies are bad, but when it comes to televised sports rights, it just means fans have to spend more money.
Frampton has an interesting point of view, saying that after round one, Dubois told his corner he didn't know what'd happened, and in his opinion, when a fighter is confused like that, they need to be saved from themselves and taken out of the bout. It looks like it's all fine because Dubois won, but to him, that's not them protecting his best interests. Lennox, though disagrees, saying they should've just told him what happened, and calls the punch a wake-up shot; he was much better thereafter, so all good.
Frank Warren, Dubois' promoter, is happy with his charge. Dubois showed he has heart and power, while Lerena is no mug, and if the knee isn't too bad they'll look to set up the next step for early next year.
Dubois says it was amazing. He got caught on the top of the head, did he ankle, listened to his team and went back to boxing. That's a fair point – his corner was so calm, authoritative and sensible – and Dubois concludes that bit of the interview that "shit happens". Indeed it does.
Shane McGuigan, a hero of that fight, tells us it's a knee not an ankle, and it's swollen. His heart was in his mouth, but Dubois walked Lerena onto his straight right, and that was the fight. McGuigan goes on to mention Dillian Whyte as a potential next opponent – I'd be amazed if he put his man in with Usyk next – but anything that happens happens post-scan, and knee ligaments take a while to heal.
Dubois displays his WBA (regular) belt, and he's setting himself for a future fight with Usyk. Real talk, I don't think he's ready for that yet, but with power and finishing instinct like that, he's a danger to anyone. People doubted DDD's heart after the Joyce fight, but it's a nonsense – you don't get to where he got to without plenty. That was a bazzer of a row, and I can't wait to see who he fights next.
Goodness me, that was extremely prejudicial finishing from Dubois. Once he had Lerena hurt, he did not let him away, and although the ref might've given Lerena a break between rounds to recover, his primary concern has to be for the fighter's safety, so I'd rarely complain about a premature stoppage – certainly not that one.
Daniel Dubois beats Kevin Lerena by TKO!
Round 3: McGuigan tells Dubois that because of his ankle he needs to let Lerena come to him, as we see footage of the first knockdown again and it was indeed a crack to the top of the head and, as DDD staggered backwards, he took an awkward step and hurt himself. It's funny how sometimes, it's innocuous-looking shots that do the most damage – of all those we've seen so far, the one that did the damage did not look like the one I'd least like to absorb – but here we are. Dubois lands a couple of decent digs to the body AND DUBOIS SITS LERERENA WITH A COLOSSAL RIGHT DOWN THE PIPE! HE UNLOADS ALL OVER HIM, AN ARCADE-STYLE RIGHT UPPERCUT SENDING LERENA TO LALA LAND, LERENA GOES DOWN IN THE FINAL SECOND OF THE ROUND AND THE REF CALLS IT OFF! WHAT A COMEBACK BY DUBOIS! WHAT HEART, WHAT POWER!
Round 2: Between rounds, Dubois tells his corner he's got an ankle situation, right as his corner tells him to get on his bike and stay out the road while his head clears, jabs and nae hooks. After a minute or so, Dubois lands a few solid efforts to the body, and perhaps his head's clearing, but he's kind of hopping around, ankle jiggered. And of course, it won't just hinder his movement but his power, if he can't sit down on his shots and throw from his tippy-toes. He nails Lerena with a decent left to the temple, and I think was the superior fighter there. Guardian score: Dubois 10-9 Lerena
Round 1: Off the bat, we see Lerena's issue: there's a distance from which Dubois can hit and not be hit. Lerena can steam in, or try and elude the jab, but WHAT ON EARTH AM I TALKING ABOUT, BECAUSE LERENA CATCHES DUBOIS! Dubois lands a shot, then Lerena seems to stick him on top of the head, Dubois goes down, Lerena keeps on him, knocks him down twice more, and Dubois' corner have a lot of work to do! What a round for the underdog! Guardian score: Dubios 8-10 Lerena
And off we go!
Dubois' gown is niiiice, black with sparkles and not unlike Nigel Benn's finest rig.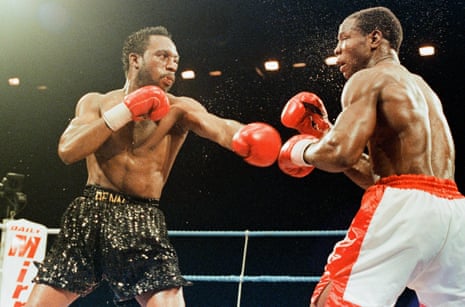 …and here comes Dubois!
Righto, here comes Lerena…
I love listening to boxers breaking stuff down, and we've currently got Lennox, David Haye and Carl Frampton talking about the need – Dubois' need – to relax. Haye tells us that before he went out, he'd watch Lennox to remind himself to relax, and Lennox says that George Foreman was forever saying he needed to jab more. Frampton then puts hands up to show the difference between a tight fighter and one fluid and relaxed – as he was – and the chemical miracle of people who can totally override the adrenaline of being in a ruck to slow everything down is just mind-boggling.
Lerena has come up to heavy from cruiser and this is his fourth fight at the weight. His career record is 14-0, and he knows what he's doing, but he'll need to keep out the road of Dubois, who is the much bigger and more powerful man. He's come on a lot since losing to Joe Joyce – and kudos to him for knowing when enough was enough – and we're seeing footage of his dressing room right now, in which Shane McGuigan is reminding him to stick behind his jab. If he can, and set up his big back hand, he's got every chance of winning tonight.
Yup, Berinchyk has UD'd Mendy, so let's get back to Lerena v Dubois…
Gordon Ramsey is in the crowd. Imagine he idiot sandwiched someone and it turned out they had hands.
Currently, we're watching Yvan Mendy of USA against Denys Berinchyk of Ukraine in a lightweight bout. They're in the 12th of 12 and Berinchyk looks set for a points win to me, in what's been a bit of a messy scrap. But coming up next we've got what should be a barnburner: Kevin Lerena v Daniel Dubois, for the WBA (regular) heavyweight title.
Of course, we might still get that Fury v Joshua chat – if I'm the latter, I'm delaying as long as possible to improve as much as I can, and formulate the perfect strategy. And even if we don't, the prospect of Fury taking on Oleksandr Usyk is extremely enticing … though I can't overstate enough that all it takes is one badabing of a shot from Chisora, and we're having different conversations entirely.
It can be hard not to think the international community needs to come together and institute international law to ensure that we see the fights we need to see, when we need to see them. Because, if we're being real, the plan for this slot was us watching Tyson Fury avoiding– or not avoiding – bombs, while standing Anthony Joshua on his head .
But instead we're getting Fury v Chisora III, which should also be a lot of fun – so let's dive in. Fury leads the series 2-0 and is, for my money, the world's best heavyweight since Lennox Lewis – another who'd have benefitted from Geneva, the Hague and all the other lads getting involved to ensure he fought Riddick Bowe when both were at their peak. But ultimately, no one has the right to compel anyone to take that walk and Lewis still has Razor Ruddock, Evander Holyfield, Mike Tyson and Vitali Klitchko on his resume, whereas Fury has Wladimir Klitchko, Deontay Wilder, and not loads else.
Nevertheless he remains a brilliant boxer, the skills of a lifetime's experience backed up by serious power and unfathomable mental strength. I'm sure Chisora has a plan for dealing with that – I've no idea what it might be because Fury looks impregnable. However, this is heavyweight boxing and, as Lewis can testify, sometimes, mad stuff just happens.
Ring walks: 9.15pm GMT