Key events
Republican senator Bill Cassidy's comments follow increasing speculation surrounding the mental competence of Capitol Hill leaders, including 81-year-old Senate Republican leader Mitch McConnell, who appeared to freeze up in front of reporters during two separate instances this summer. Meanwhile, in March, McConnell received treatment for a concussion after he tripped and fell at a Washington DC hotel during a private dinner.
The most recent freezing episode occurred less than two weeks earlier in Kentucky. McConnell appeared to freeze for more than 30 seconds before being eventually escorted away by staff members.
Afterwards, the congressional physician, Brian P Monahan, conducted several evaluations on McConnell, including brain MRI imaging, an EEG study and consultations with several neurologists for a "comprehensive neurology assessment", he said in a letter. He added:
There is no evidence that you have a seizure disorder or that you experienced a stroke, TIA [transient ischaemic attack or mini-stroke] or movement disorder such as Parkinson's disease.
During Sunday's interview, Cassidy praised McConnell, saying he "handled it perfectly". "His doctor is releasing not just the tests but the results of the tests," Cassidy said.
And with that, there is a transparency that allows people to move beyond a number – how old is the person – into 'What is actually the kind of science, if you will, the medical science, of how to evaluate?' And I think that should be the standard that folks are held to, and I think he's responded.
Asked if he believed he had received enough information from McConnell, Cassidy said:
I do. The doctor is not lying.
Cassidy urged Joe Biden to also release similar records, calling on the president to "do what Mitch just did".
Shouldn't President Biden, for example, release a full kind of neurologic evaluation of his cognitive ability and whomever else?
Republican senator says top federal officials should disclose medical records
Maya Yang
Congress should have a rule requiring certain top federal officials to disclose medical records, the Republican senator Bill Cassidy said on Sunday.
Speaking on NBC's Meet the Press, Cassidy – a gastroenterologist who was elected as a US senator for Louisiana in 2008 – said that it "should certainly be a House rule" for elected officials to disclose their medical records.
I think if you want to be the president of the United States, or a senator or House member, then there is a responsibility over and above that of just offering yourself. It has to be that you can show that you have clarity.
On his last show hosting Meet the Press, Chuck Todd went on to ask Cassidy whether it would be a good idea to standardize both the disclosure of tax returns and medical records. Cassidy replied:
Actually, I think that would be reasonable, too. Because if the voter is going to make a decision, we need to give her as much information as we possibly can.
Joe Biden, in Hanoi earlier today, visited a memorial for his late friend and senator, John McCain, who was a prisoner of war during the Vietnam war.
Before departing Vietnam to return to the US, the president visited the John Sidney McCain III memorial near the site where a 31-year-old McCain was shot down and captured in 1967.
The harrowing incident began a more than five-year ordeal that became the defining moment for the future Republican senator from Arizona and two-time presidential candidate, according to AP.
Joe Biden's national security tour of south-east Asia reached Hanoi, Vietnam, on Sunday, where the president called for stability in the US-China relationship against an increasingly complex diplomatic picture in the region for his country.
"I don't want to contain China," Biden said.
I just want to make sure that we have a relationship with China that is on the up and up, squared away, everybody knows what it's all about.
Biden also said that China's recent economic downturn may limit any inclination to invade Taiwan. He added that the country's economic woes had left President Xi Jinping with "his hands full right now".
The president's remarks came after a meeting with Nguyen Phu Trong, the general secretary of Vietnam's ruling Communist party, in the nation's capital designed to secure global supply chains of semiconductors and critical minerals, which would offer a strategic alternative to China.
The meeting came during a multi-front diplomatic push to shore up international support for Ukrainian resistance to Russia's invasion and enunciate a policy toward China that both encourages trade and reduces the potential for US-Chinese conflict.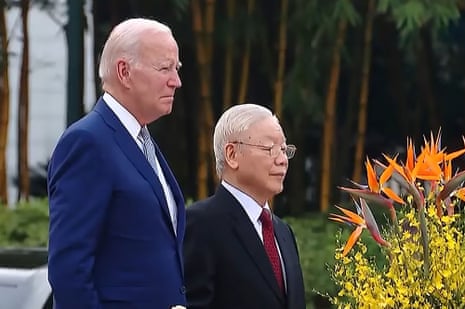 'Perfect storm' brewing in House over impeachment and spending, says GOP congressman
Ken Buck, a Colorado Republican congressman, said on Sunday that there was a "perfect storm" brewing in the House that could pose a threat to Kevin McCarthy's speakership.
In an interview with MSNBC's Jen Psaki, Buck said:
On the one hand, we've got to pass a continuing resolution. We also have the impeachment issue. And we also have members of the House, led by my good friend, Chip Roy, who are concerned about policy issues. They want riders in the appropriations bills, amendments in the appropriations bills that guarantee some type of security on our Southern border.
McCarthy has "made promises" on those issues to different groups "and now it is all coming due at the same time", Buck said.
He added that the GOP's focus should be on issues like border security, crime and inflation, and warned against aggressively pursuing an impeachment enquiry of Joe Biden. He added:
There is not a strong connection at this point between the evidence on Hunter Biden and any evidence connecting the president.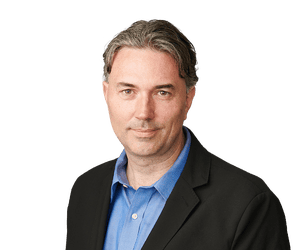 David Smith
In early May, James Comer and Senator Chuck Grassley, investigating Hunter Biden's work for the Ukrainian energy company Burisma, published an open letter to the FBI announcing subpoenas for an unclassified document supposedly describing an alleged "criminal scheme involving then-Vice President Biden and a foreign national relating to the exchange of money for policy decisions".
But when Comer and Grassley obtained the document, form FD-1023, and publicly released a redacted version – against the advice of intelligence officials who feared it would "unnecessarily risks the safety of a confidential source" – it turned out to be an uncorroborated FBI tip.
Also in May, Comer published a bank memo attacking Biden for his alleged foreign business ties but even the conservative Fox News network was unimpressed. Host Steve Doocy challenged Comer:
That's just your suggestion. You don't actually have any facts to that point. You've got some circumstantial evidence. And the other thing is, of all those names, the one person who didn't profit is that – there's no evidence that Joe Biden did anything illegally.
In June, Comer and Grassley began touting potential audio tapes supposedly proving that Biden accepted a $5m bribe from a Ukrainian energy company during the Barack Obama administration. But during a Newsmax interview just five days later, Comer admitted:
We don't know if they are legit or not.
The threat of an abrupt ouster hovers over Kevin McCarthy's every move, as the speaker takes on an unusual and politically fraught undertaking of running a government funding process alongside an impeachment drive, AP writes.
McCarthy has signaled an impeachment inquiry is coming but there is "no date circled on the calendar", according to a source.
Congress also has a pending request from the White House to provide an additional $40bn on three fronts – some $21bn in military and humanitarian relief for Ukraine as it battles the Russian invasion; $12bn to replenish federal disaster aids after floods, fires and other problems, including to curb the flow of deadly fentanyl at the southern US border with Mexico.

McCarthy has vowed there won't be any "blank check" for Ukraine as he works to appease skeptical Republicans who want to end US involvement in overseas affairs, particularly involving Russia.

While the shutdown is the more pressing problem for McCarthy, the Biden impeachment inquiry is his bigger political gamble.
Biden impeachment inquiry 'eight months of abject failure' – watchdog report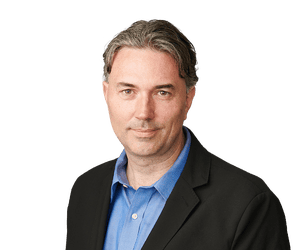 David Smith
The man leading the Republican charge for an impeachment inquiry into Joe Biden has endured "eight months of abject failure" in trying to prove the US president guilty of wrongdoing, a watchdog report says.
James Comer, the ambitious chairman of the House of Representatives' oversight committee, has repeatedly overhyped allegations of bribery and corruption against Biden without once producing hard evidence, according to the Congressional Integrity Project.
The lack of a case underlines the huge political risks facing House Republicans when they return to Capitol Hill on Tuesday. Some are threatening to force a government shutdown unless an impeachment inquiry is opened despite objections from wary Republican colleagues in the Senate.
Comer has been leading an aggressive investigation into unsubstantiated claims that Biden was involved in his son Hunter Biden's foreign business affairs during his time as vice-president. A CNN/SSRS poll this week found that 61% of Americans believe that Biden did play such a role, including 42% who think he acted illegally. But establishing the link between father and son has proved an elusive holy grail.
The report says:
After months of political stunts, dozens of hearings, transcribed interviews, and memos, and despite hours on Fox peddling conspiracy theories, Comer and his Maga crew have failed to find a single shred of evidence linking President Biden to any of their lurid accusations.

In fact, Republicans have been forced to walk back claim after claim.
The report offers an anatomy of a fake scandal, detailing a series of exaggerated assertions that have shriveled under scrutiny. They include Comer saying at his first press conference that he had evidence of "federal crimes committed", relentlessly invoking "deep state" conspiracy theories and claiming that his whistleblowers "fear for their lives".
For months, the report says, Comer talked to the media about four individuals he claimed were "whistleblowers", a term increasingly hijacked by the right. It adds:
Problem is – they weren't whistleblowers and there were only two people.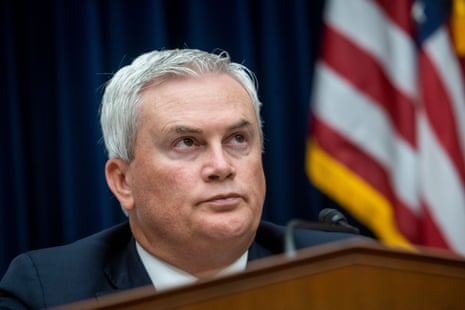 House freedom caucus member Matt Rosendale told Politico he was displeased when the speaker, Kevin McCarthy, suggested a government shutdown would make it more difficult for Republicans to pursue an impeachment inquiry against Joe Biden.
Rosendale:
He's trying to intimidate us … It's called a distraction. And guess what? I will not be intimidated by such distractions.
If the speaker chooses a stopgap funding deal with help from Democrats, "it would be very costly to him … it basically completely undermines his credibility", Rosendale added.
House Republicans are barreling toward an existential clash over this month's government funding talks, as Kevin McCarthy faces the greatest peril to his speakership since he began his role eight months ago, according to a Politico report.
The report, based on interviews with GOP members and aides, writes that it would only take a few defectors to send the Republican party spiraling into a new period of chaos.
The last time a GOP speaker faced this intense level of fall spending pressure with a Democrat in the White House, it was September 2015. And while John Boehner avoided a shutdown, he didn't survive the month.

McCarthy has built a deeper well of goodwill with the right than Boehner ever did. Still, the Californian has other headaches too, from a party bitterly divided on Ukraine aid to the dicey politics of pushing his centrists into a Biden impeachment inquiry that many are leery of. And he's navigating a significantly smaller majority than his Ohio predecessor.
Hard-right Republicans demand impeachment inquiry against Biden to avert government shutdown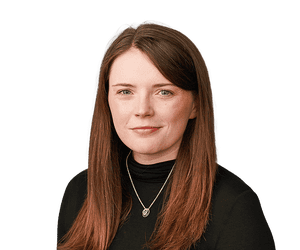 Joan E Greve
Members of the House freedom caucus, who abhor the idea of extending funding at levels previously approved by a Democratic Congress, have already outlined a litany of demands in exchange for their support on a continuing resolution.
In a statement released late last month, the caucus said its members would only back a continuing resolution if it included a Republican proposal on border security and addressed "the unprecedented weaponization of the justice department and FBI", an implicit reference to the four criminal cases against Donald Trump.
The caucus also demanded an end to the so-called "woke" policies at the department of defense, which has faced rightwing criticism for providing funding to servicemembers and their family members who need to travel to access abortion care.
Hard-right Republicans have now added another item to their list of demands: the launch of an impeachment inquiry against Joe Biden. Marjorie Taylor Greene, a far-right Republican congresswoman from Georgia, said last week:
I've already decided I will not vote to fund the government unless we have passed an impeachment inquiry on Joe Biden.
Another hard-right House member, Matt Gaetz of Florida, has warned that McCarthy's failure to act on impeaching Biden could cost him his speakership. "I worked very hard in January to develop a toolkit for House Republicans to use in a productive and positive way. I don't believe we've used those tools as effectively as we should have," Gaetz said on Tuesday.
We've got to seize the initiative. That means forcing votes on impeachment. And if Speaker McCarthy stands in our way, he may not have the job long.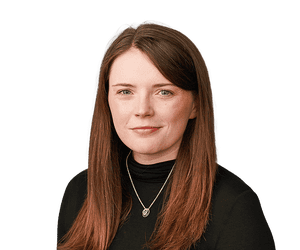 Joan E Greve
The trouble for Kevin McCarthy started in the spring, after the House passed the compromise debt ceiling bill, known as the Fiscal Responsibility Act.
Seventy-one members of the House Republican conference opposed the legislation over concerns that it did not go far enough to reduce government spending, and they sharply criticized McCarthy for agreeing to the inadequate deal.
Gordon Gray, vice-president for economic policy at the center-right thinktank American Action Forum, said he had been bracing for a potential shutdown ever since the debt ceiling showdown concluded.
Since the debt limit grenade was diffused, there's a big chunk of House Republicans who just want to break something. That's just how some of these folks define governing. It's how their constituents define success.
Now House Republicans have reneged on the debt ceiling deal, instead choosing to advance appropriations bills with spending levels below those agreed to in the Fiscal Responsibility Act. Democrats warn that the proposed cuts could deal a devastating financial blow to early education programs, climate initiatives and housing assistance.
House Republicans' strategy in the spending talks has been met with exasperation in the Senate, which returned from its recess on Tuesday. Before the upper chamber adjourned at the end of July, the Senate appropriations committee advanced all 12 spending bills for fiscal year 2024 with bipartisan support.
The Democratic Senate majority leader, Chuck Schumer, has implored the House to take a similar approach to the budget process. Even the Senate Republican leader, Mitch McConnell, offered a mild rebuke of his colleagues in the House when asked about the spending fight last week.
US government shutdown and Biden impeachment inquiry threats loom over House's return
Good morning, US politics blog readers. The House returns from its summer recess this week, as the speaker, Kevin McCarthy faces a collision course of difficult challenges – avoiding a costly government shutdown, and addressing growing calls on the right to launch an impeachment inquiry into Joe Biden.
With just 12 legislative days left before the end of the fiscal year, the Republican-controlled House must quickly pass some kind of spending package to keep the federal government open after 30 September. If it does not, the government will shut down for the first time in nearly five years, furloughing federal employees and stalling many crucial programs.
McCarthy has indicated his preference to pass a continuing resolution, but members of the hard-right House freedom caucus insist they will not back a continuing resolution unless the speaker agrees to several significant policy concessions, such as increased border security and an impeachment inquiry into Biden over the business dealings of the president's son, Hunter Biden.
Given House Republicans' narrow majority and a new rule allowing any single member of the chamber to force a vote on removing the speaker, McCarthy's handling of this fraught situation could determine whether he loses his gavel after just eight months in power.
Here's what else we're watching today:
Joe Biden has departed Hanoi, Vietnam for Anchorage, Alaska, where upon arrival he will deliver remarks to service members, first responders, and their families on the anniversary of 9/11.

The Senate will meet at 3pm ET to take up Tanya Bradsher's nomination as deputy veterans affairs secretary, with a cloture vote at 5.30pm.

The House is out.