Key events
Judges' comments for Ellie and Vito: Shirley says "sheer trust, difficult but you did it with ease and looked at home, those lifts, wow". Anton says "energy, vivacity, loved the detail and timing but I was disappointed with Vito's comments". Craig says "slightly ahead of the beat in one small section but my goodness, one of the hardest Charlestons we've seen and the best cross-swivel ever". Motsi concludes "powerful, dynamic, perfect". Another 39-pointer, perhaps?
Ellie and Vito's Charleston
Bury lass Ellie Leach used to come to Blackpool every year with her family, so it's a place full of fond memories. They've been working with Matt Flint on the choreography for this routine. Fairground theme. Synchronised side-by-side sections, crammed full of details, a-may-zing ifts and tricks. Clean transitions are impressive. Bags of fun, energy and personality, with the pair bouncing off each other brilliantly. Plenty of ankle action to please Craig "Swivel" Horwood but those white trainers are making her look flat-footed at times. Great gear changes but for me, not her best.
Song: Love Machine by Girls Aloud. The exhilarating 2004 hit's instrumentation was inspired by The Smiths, slightly surprisingly. The girl band were initially against releasing it as a single but it went on to reach number two in the charts. Cheryl Cole later admitted that it taught them to listen to their record label more. When The Guardian's music critic Alexis Petridis ranked Girls Aloud's 20 best songs, it came second, behind only Biology. Let's go, eskimo.
Judges' scores for Annabel and Jojo: 8, 9, 9, 9 for a total of 35 points. Same as Bobby. Annabel says Blackpool is the Wimbledon centre court of dance. A bang in the background, like a premature pyrotechnic.
Judges' comments for Annabel and Jojo: Motsi says "goosebumps galore, beautiful to watch, touching connection". Shirley says "calm, kind, spellbinding". Anton says "you touch me emotionally, wonderful arm extension, fleckerl, yes, best line in the contest". Craig concludes "your left shoulder popped up, arms great but work on the hands, you've comes such a long way". Eights and nines?
Annabel and Jojo's American smooth
La Croft goes from last week's sassy, samba-ing Shakira to a classy leading lady. She's back in ballroom hold for this Viennese waltz-style smooth. She needs to maintain her frame and head position. Dreamy and magical feel, emotional storytelling. Slow start before they glide and flow around floor. Annabel looking lovely in a peacock blue silk dress. Lots of turns. Some lovely overhead lifts but dry ice making it tricky to see footwork at times. Lovely moonlit mood, mind you.
Song: Unchained Melody by Benedetta Caretta. Made famous by the Righteous Brothers in 1965, it enjoyed a resurgence when it featured in clay-throwing 1990 romance Ghost. Bobby Hatfield and Bill Medley tossed a coin to decide who'd take the lead vocal and Hatfield won. Robson and Jerome's version was the UK's best-selling single of 1995 and Simon Cowell's first major success as a hit-maker. Ir's got a lot to answer for.
Judges' comments for Layton and Nikita: Craig says "loved it, not entirely in-sync (boo!) but you're one our most incredible dancers in 20 years". Motsi says "epic, insane timing and strength, speed, you rocked it, no question". Shirley says "creative genius on every level, work ethic off the charts, pure artistry". Anton concludes "don't listen to Craig, it was just incredible". Another 39-pointer?
Judges' scores: 9, 10, 10, 10 for a total of 39 points. His third time. Top so far but beatable?
Layton and Nikita's Couple's Choice
Fleur East got a 40 for her Couple's Choice here last year. Can Layton Williams do the same after twice scoring a near-perfect 39 points this series? Like Ellie Leach, he hails from 50 miles down the road in Bury, so will relish this local crowd. The judges have criticised him for woolly technique at times but here, he makes the rules, so he can be free and express himself. Commercial style with Cabaret vibes, sassy and sexy, shaking his corset-clad booty like he's in a club on Saturday night. Which, in a way, he is. Balance tricks, backflips and gymnastic springs. A leather-clad pole-dance for his mum. Its what she would've wanted.
Song: Ain't No Other Man by Christina Aguilera. The jazzy, brassy 2006 pop-funk hit was produced by DJ Premier, half of hip-hop duo Gang Starr. he video saw he debut of Aguilera's alter-ego "Baby Jane", a nickname given to her by rapper Nelly. Peter Andre and Janette Manrara performed a week one cha-cha-cha to this song in series 13 and topped the leaderboard. An omen?
Judges' comments for Angela R and Kai: Anton says "right up my street, perfect ambience for tonight, elegant and gorgeous, delighted you go to do it". Craig says "needed to be smoother, clunky transitions and lost posture, fumbled the solo section but some magnificent lines". Motsi says "loved the concept and story, co-ordinated but a few mistakes". Shirley concludes "nostalgic but a few hiccups". Praising her rather than the dance there. Eights, do we reckon?
Judges' scores: 6 (boo!), 7, 7, 8 for a total of 28 points. Refreshingly fair. Dance-off danger.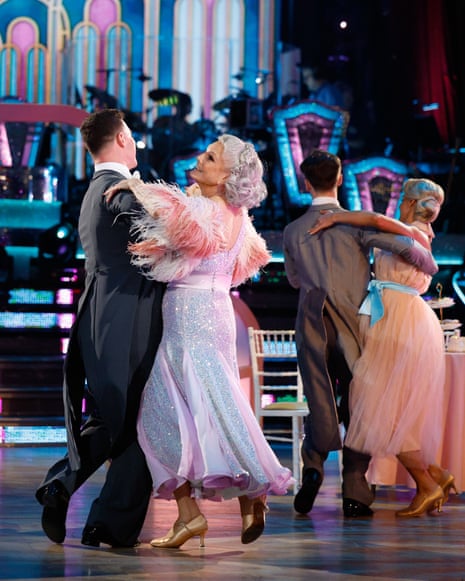 Angela R and Kai's American smooth
The double dance-off survivor and homecoming Blackpool heroine now. This is a full circle moment for Angela Rippon. It's Kai Widdrington's first time here with a Strictly celebrity but he won titles in the Tower Ballroom as a youngster. It's also where their partnership was unveiled on the launch show. She called this routine "basically a foxtrot with knobs on and a splash of Hollywood glamour", which should suit her natural class and elegance. Tea dance theme, fittingly for the surroundings. Glamorous, jazzy and sophisticated with a classic Fred-and-Ginger vibe. It needs fluidity and expressive arms. She's been having physio for a niggling rib injury but showing few signs of it here. Lovely lifts but a little wobbly in the transitions and lacking bounce in the Charleston sections. High-kicking, spinning finish.
Song: Tea for Two by Ella Fitzgerald. Written in 1924, it was written for musical No, No, Nanette. In 1958, Tommy Dorsey's version stayed in the UK singles chart for 19 weeks.
Kelvin Fletcher on the Ts & Cs
No balcony Clauditorium this week but La Winkle has a curtained-off VIP area and welcomes this week's guest to recite the voting smallprint – the 2019 glitterball champion who jived here and jointly topped the scoreboard.