Key events
55 min: Berge, skilful yet with the cruising speed of a VW-Beetle, loses the ball. It might not be the ideal game for someone of such stately speed.
53 min: Neither teams seem willing to play for extra-time and penalties just yet. The referee meanwhile seems to keeping wishing to let it flow.
50 min: Wes Foderingham meanwhile makes a pair of fine saves, the second at close range from Ben Brereton-Diaz, after Harry Pickering's effort from the edge of the box.
48 min: Luke Jones gets in touch: "When Sheffield United scored, they had a player (Egan I think) on his hands and knees on the touchline. There's something about a player on the floor, raising his head to watch the ball as it spins into the net, that just adds so much drama to a goal. Perfect look for this game."
"Temur Ketsbaia," says Steve Wiles. Well that's a player I'd forgotten. Bald, Georgian and lot of fun if I remember. I could google it but the memory I have is all good so why bother."
47 min: Baldock arrives late on to a McAtee pass and hits the side-netting.
46 min: The teams take to the field to the tune of Judas Priest's United, then some more John Denver, as booed by the Rovers fans. Perhaps the musical interlude put off McAtee as Ndiaye put him in to score from close range. The guilty party blames a bobble.
Andy McCulloch gets in touch: "Must be the first time notoriously hedonistic space-rockers Spiritualized have been mentioned in the commentary at 42 minutes? The band's lysergic single 'Let It Flow' lends itself well to the ethos of Nicholson, Cruyff, samba soccer, and Guardiola, et al."
Perhaps refs need to keep things on the straight and narrow a bit more. You know it's true.
Tom Stratford gets in touch: "Hi John, if Joe has any further questions on the penalty/yellow card decision I understand José María Enriquez Negreira now offers a bespoke refereeing consultancy service to help with this sort of thing?"
Half-time: Sheffield United 1-1 Blackburn Rovers
This is what the FA Cup is about. No quarter asked, none given. Both teams wanting to win, neither of them appearing to care about their league position. Two well-matched teams, two odd goals. All to play for…
45 min: Half-time approaches and some well-earned rests. It's been full-bore stuff, and high-end stuff, too. Rankin-Costello, of Blackburn, is penalised for knocking over Ndiaye. Three minutes added on.
42 min: Men. At it. Ahmedhodzic launches Brereton-Diaz to the floor, and the ref waves play on. As it should be. Let it flow.
41 min: Baldock does well to nod away when the ball was arrowing to Brereton-Diaz, and that sets up another dead-ball examination from Rovers. Ryan Hedges takes, but that's cleared. With Paul Heckingbottom bellowing instructions.
39 min: These teams are really well-matched. Both team glint with steel but Blades have a bit more verve while Rovers are strong on the set pieces.
37 min: Ndiaye tries a flick that fails to come off but it's Blades playing the more creative football.
35 min: Ndiaye, Lowe and Doyle tried to play some football, and McAtee goes down the left, and tries to hang the ball up for McBurnie. The ball is headed behind, and hurriedly.
33 min: Good Foderingham from a Blackburn free-kick delivered to the head of Hyam, though he had been given chance to save. Tyler Morton's delivery has been excellent.
32 min: Jack Robinson is lucky not to receive a second yellow for a rather reckless sliding tackle.
30 min: This is a rather magical FA Cup match, played at Championship pace, but without the buttock-clenching, all-or-nothing, this-is-so-important intensity of the EFL.
Goal! Sheffield United 1-1 Blackburn (Gallagher own goal, 28)
From outfield, through a field of players, Pears has no chance as the ball flies off Sam Gallagher and in, after Max Lowe thwacks a second ball from a corner at goal. Hit and hope, and hope was on Blades' side. We are level.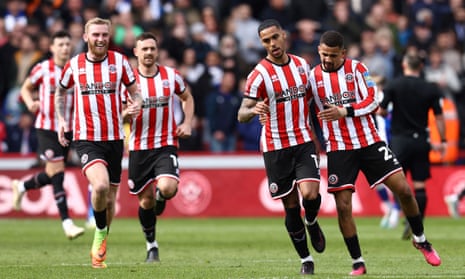 25 min: Joe Pearson: "I presume a fair bit of your audience are blissfully unaware of Aynsley Dunbar. But do you know him from Zappa or Journey, or indeed both?"
Answer: he plays the drums on Bowie's Pin-Ups, replacing Woody Woodmansey, and was also in Whitesnake, the 1987 edition.
More Joe: "I don't understand the yellow. Was it yellow because the keeper still had to make a save, otherwise it would have been red?"
I think you might have cracked the code there.
23 min: The Potteries' most famous Chilean kept calm but this game threatens to boil over. Blades fans not happy with VAR. That goal wouldn't have stood in previous rounds with no VAR.
Goal! Sheffield United 0-1 Blackburn (Brereton-Diaz 22)
Side-footed, right-footed, the Chilean international slots past Foderingham, who gets a touch but can't keep it out. Against the run of play, but now we have a cup tie on our hands.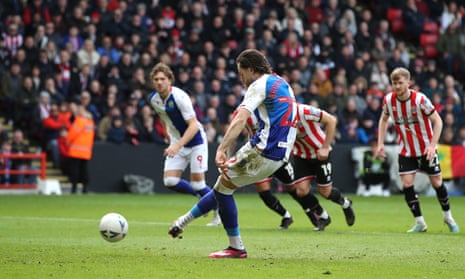 19 min: Chance for Blackburn…Gallagher's shot is blocked by Robinson and Foderingham makes a save. Did it come off Robinson's hand? Perhaps. The ref is called to the VAR set, and it's given a penalty to Blackburn. It's a yellow card for Robinson, when it might have been red. He's lucky in one sense, unlucky in another.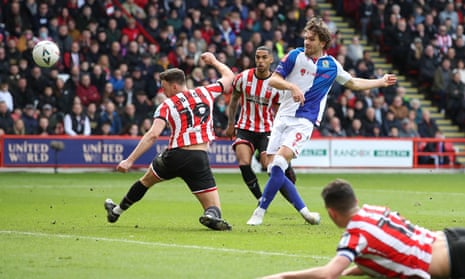 16 min: Blades are piling it on, and must fancy a goal soon. They've dominated. Ahmedhodzic heads the ball behind from a corner in their latest attack.
14 min: Lovely play from Blades, with delicacy from Ndiaye, then Berge slips in McAtee. This is a highly skilled team, not at all like the Chris Wilder team of recent years.
13 min: Blackburn have been pegged back and are forced to look to the break for opportunities.
12 min: Tommy Doyle, footballing royalty himself, of impeccable lineage, has a free-kick cleared by Rovers.
10 min: And, lo, it appears Aynsley Pears is indeed named after Middlesbrough stalwart Steve Pears, once a reserve at Manchester United. Was he named after Aynsley Dunbar?
8 min: Good defending from Carter in stopping McBurnie sending away Ndiaye, and then Blades go away again. McAtee escapes and it's down to him and Pears in the Rovers goal. Pears saves well. Then Doyle surges on from midfield and blams a shot at goal. Good save from Pears again. Any relation of Steve Pears?
6 min: To use the words of the late John Motson, it's a crisp competitive cup tie. Needs a goal, actually. And there is something of an old-school vibe here, with neither manager resting many players.
5 min: Blades at last get time on the ball, and McAtee and McBurnie try to send away Ndiaye. This time, Rovers get it clear.
3 min: Sheffield United look a little overawed, with keeper Wes Foderingham charging out and almost making a mess of a clearance. Rovers look like they fancy it.
1 min: Away we go. And here comes John Denver, Annie's Song and greasy chip butties. Perhaps the only football song to mention Woodbines….an early chance for Brereton Diaz, and he takes too much time over it, and has his shot blocked.
The teams are out at Bramall Lane where it's quite the atmosphere, bubbling for a Sunday, midday kickoff. That's what the Cup of Dreams is all about.
Paul Heckingbottom also spoke to the BBC.
There's not many times you get the opportunity to go to Wembley as a player or as a fan. It would be a reward for the fans, for their support. We know what is at stake. The FA Cup is huge and this season seems to have been a good one and we've been involved in a couple of different occasions and stories so it would be nice to have another one. They'll approach the game the same way as us, what have they got to lose?
Some pre-match thoughts from Jon-Dahl Tomasson, the Blackburn manager, in speaking to the BBC.
It's an opportunity for every player to be part of the new history of the club. It's something we need to chase. There will be only one team winning the FA Cup at the end but we can dream of Wembley. Just saying the word Wembley says it all about the passion and this great competition. I'm hopeful of going there.

The FA Cup is the biggest cup in the world in my opinion. We haven't been this far for a while so it has been an excellent run and we're enjoying it. We beat them two weeks ago but we know we can lose this game because they are a team who need to get promoted when you look at their budget and their Premier League players.
Tomasson, who became an elite player, was a youngster when Newcastle reached the 1998 FA Cup final but didn't play as support to Alan Shearer. That honour went to Temur Ketsbaia. And the sub striker, in days of five subs? Andreas Andersson.
In the fifth round, both teams beat Premier League opposition.
Philip Rebbeck gets in touch: "It might be worth noting that these two grand old clubs have won the FA Cup ten times between them. Admittedly the last came in 1925 and 1928 respectively but still impressive."
Daniel Gallan wrote a short preview of this match.
It's been eight years since a team from outside the Premier League made the semi-finals of the FA Cup (Reading, in 2015). That drought will end this Sunday as one of Sheffield United or Blackburn will progress to the last four. This is the most open and inclusive edition of the tournament for some time – half of the final eight teams play outside the top flight. Sheffield United were third-tier semi-finalists in 2014, and this is their third quarter-final in four seasons. Blackburn have a shoddy record at Bramall Lane, having lost there in all four of their previous visits – and Rovers' last win here came courtesy of an Alan Shearer double in 1994. A win this weekend and a trip to Wembley would provide a shot in the arm for either team as they both push for promotion.
My colleague and friend Will Unwin travelled up the M65 to deepest Lancashire, to get the lowdown on Rovers.
The last time Blackburn won an FA Cup quarter-final, in 2007, Hayden Carter was at Manchester City – the club they beat that day – albeit in the under-sevens. The defender was released at 13 and was signed by Blackburn, where he has been joined by a number of teammates who went through similar rejection at Premier League clubs. They hope the next stage of their journey will be a Wembley semi-final, the reward if they win at Sheffield United on Sunday.

Rovers' facilities and setup attract youngsters from farther afield. Lewis Travis arrived after time with Liverpool in his mid-teens, Joe Rankin-Costello from Manchester United and Tyrhys Dolan played for Manchester City, Preston and Burnley before joining in his late teens.
Good detail on those Champo clubs' team news tweets. Premier League teams take note, as requested by the MBM community.
Sheffield United: Foderingham; Ahmedhodzic, Egan, Robinson; Baldock, Doyle, Berge, McAtee, Lowe; Ndiaye, McBurnie. Subs: Davies, Bogle, Basham, Arblaster, Norwood, Coulibaly, Fleck, Jebbison, Sharp
Blackburn Rovers: Pears, Rankin-Costello, Carter, Hyam, Pickering, Travis, Morton, Hedges, Szmodics, Brereton, Gallagher. Subs: Kaminski, Brittain, S. Wharton, Phillips, Edun, Garrett, A. Wharton, Dolan, Leonard.
A big day out for the Championship, on terrestrial TV, rather than those of us devoted to the dulcet tones of Don Goodman and Andy Hinchcliffe, David Prutton and Michelle Owens in the studio, with Lee Hendrie's suits an extra bonus. Both teams have far bigger fish to fry in the EFL, with Blades in second but with Middlesbrough's hot breath down their neck. Rovers meanwhile were grateful to Neil Warnock's Huddersfield yesterday and kept their toe in fifth place, and a play-off chance.
Now for the distraction of the FA Cup in which Blades have a more storied recent history than Rovers, despite Blackburn's 1990s golden era. United reached the semis in 2013-14, losing to Hull, 2002-3, losing to Arsenal, and 1992-3, losing to Sheffield Wednesday with Alan Cork's beard up front. Rovers last reached the semis in 2004-5, when they lost to Arsenal with Mark Hughes as manager. The previous time to that was in 1960, Brian Douglas and all that, when they lost the final in to Wolves.
To set aside all that history, both managers, Paul Heckingbottom and Jon-Dahl Tomasson, are likely to shuffle their pack. Blades did just that against Tottenham in the previous round and that really stuck in the craw of Antonio Conte, who mentioned it as part of his rant at Southampton yesterday.
Anyway, a visit to Wembley for two of English football's oldest clubs is on the line.
Kick-off at 12pm UK time. Join me.