Key events
75 min That Scotland goal has woken England up. Bellingham slaloms elegantly past three players as if it's the most obvious thing in the world, then rams a low left-footed shot that takes a slight deflection and is kicked away by Gunn at the near post.
74 min: Kane has a goal disallowed It was a clear foul, a push on Tierney, though he finished emphatically.
73 min: Fine save from Gunn! Eze almost scores immediately. Walker, in his own half, clipped a terrific flat pass over the Scotland defence. Eze controlled it majestically on the run, but Gunn flew from his line to block the shot.
72 min: Double substitution for England Ebere Eze and Bukayo Saka replace Marcus Rashford and Phil Foden, who were extremely good in the first half and a bit unfocussed in the second.
71 min: Chance for Scotland! A brilliant cross from Robertson is headed wide by McGinn at the near post. In fact, replays show McGinn mistimed his stooping header, with the ball hitting his shoulder and flying wide.
69 min Robertson's cross is headed across goal and wide by the stretching Dykes. Hampden has come alive.
Poor Harry Maguire's year gets worse. Scotland broke quickly after that overhit Bellingham cross, with Robertson on the right wing for some reason. He surged away from Trippier, into the area, and slid a low right-footed cross that was turned into his own net by Maguire at the near post. He had to go for the ball, but in doing so he wrongfooted Ramsdale.
GOAL! Scotland 1-2 England (Maguire 67 og)
Scotland are back in it!
67 min Bellingham overhits a cross that goes over the bar. England have lacked focus in attack since half-time.
65 min Hickey plays a nice give-and-go with McGinn, shifts the ball onto his left foot and drills a shot that is well blocked by the stretching Dunk. He's also had a very good game.
64 min Christie shoots wide from 25 yards. He's been quite bright since coming on.
63 min Kalvin Phillips has quietly had a good game tonight. I've no idea what the moral of this particularly story should be.
62 min Scotland have had more of the ball in the second half, though it's all been front of England. We've still had only two shots on target in the whole match.
61 min "Clearly I'm a tactical genius," says James Humphries. "Now, next: score three goals."
60 min: Double substitution for Scotland Lyndon Dykes and Ryan Christie replaces Che Adams and Billy Gilmour.
59 min "Nice photo of the Don (Revie) at the end of one of his last games as England boss," says Justin Kavanagh. "Who knew then he'd be blazing a trail to the Middle East, decades ahead of football's marketers, as always? Of course, there was no such thing as sportswashing in the age of Dirty Leeds and Scottish turfcutters at Wembley. Strangely however, Rod Stewart's hair remains exactly the same."
57 min Aside from the ongoing dehumanisation of Harry Maguire – that crap really needs to stop – it's been a quiet start to the second half on and off the field. Scotland can't lay a glove on England.
55 min "Bring on big Lyndy, I reckon," says James Humphries. "Man's never met a lost cause he didn't want to chase, and Adams has been kept pretty quiet so far."
He's about to come on along with Ryan Christie.
53 min McGregor curls a dangerous pass towards Robertson at the far post. Walker stoops to head away. Meanwhile, every pass Harry Maguire plays is being sarcastically cheered.
50 min Tierney's long throw isn't cleared properly by Rashford. It goes to Gilmour on the edge of the D, but he can't wrap his foot round the ball and the shot goes high and wide.
49 min A speculative 20-yarder from McGinn hits his teammate Adams and flies behind for a goalkick.
47 min Foden overhits an angled through pass to Bellingham, who made a good run off Tierney and would have been through on goal.
47 min "I used to think Trevor Brooking had the best cushioned take of a through ball with left or right foot of any English player I'd seen, but Phil Foden's left foot is purely magical," writes Brian Withington. "How he doesn't start every game for City and England simply mystifies me. I get the slight impression he might be getting a bit tired of it, too."
The truth is out there, though I'm buggered if I know what it is.
46 min Peep peep!
Half-time substitution Marc Guehi is replaced by Harry Maguire.
"Scotland's kit font, unlike their defending, is impeccable," says Justin Kavanagh. "Meanwhile, those England shirt numbers look like duct tape affixed by the kitman at the back of the bus on the way to Hampden. England may be dominating this on substance, but Scotland are the clear winners on style tonight."
Twas ever thus.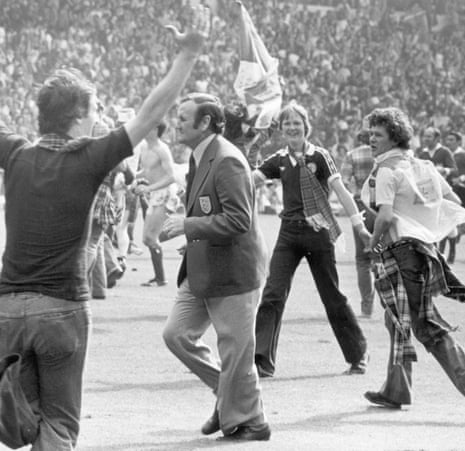 Half time: Scotland 0-2 England
Phil Foden's cross just evades Harry Kane at the far post, an apt note on which to end a sadly one-sided half. England, played with a kind of snooty excellence, dominated throughout. Foden and Jude Bellingham scored the goals, Bellingham after a grisly howler from Andy Robertson, and the Scotland defence found it increasingly hard to cope with an unusually dynamic England attack.
Neutrals hoped that, after a couple of decades of irrelevance, the Scotland/England rivalry might be back. Looks like we were wrong.
45 min A third goal in Milan. England are going to win the group, barring something peculiar, but tonight's game between Italy and Ukraine might decide who joins them in automatic qualification.
44 min The corner is half cleared. Hendry puts the ball back in the area and McTominay is penalised for a push on Guehi.
42 min Robertson's free-kick is headed behind for a corner by Dunk, who has been good on set-pieces. This is Scotland's best spell, and Steve Clarke must be frustrated that they needed to go 2-0 down for it to happen.
41 min: It's kicking off (in the modern style)! Phillips is booked for going through the back of Adams – an unwitting homage to Begbie's tackle at the start of Trainspotting – and then Bellingham and Hendry start pushing each other in the chest. They're both booked.
40 min There's been a second goal in Oslo, and indeed in Milan.
38 min Bellingham leads a very dangerous England break, galloping down the left – but for once he gets it wrong and plays the ball behind Rashford. With a better pass, Rashford would have been in on goal.
37 min Scotland appeal unsuccessfully for a penalty when a low cross deflects onto the arm of the falling Guehi. VAR has a quick look and then play resumes.
The goal machine Jude Bellingham has put England 2-0 up after a dreadful mistake from Andy Robertson. Bellingham started the move by finding the overlapping Foden on the left. He curled a wicked cross that flashed across the six-yard box, hit the unsighted Kane and deflected to Robertson. He tried to play a pass across his own area but gave the ball straight to Bellingham, who swept an emphatic first-time drive past Gunn.
GOAL! Scotland 0-2 England (Bellingham 35)
Oh, Scotland.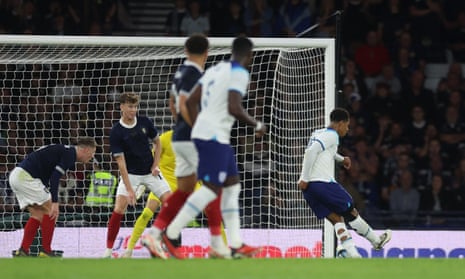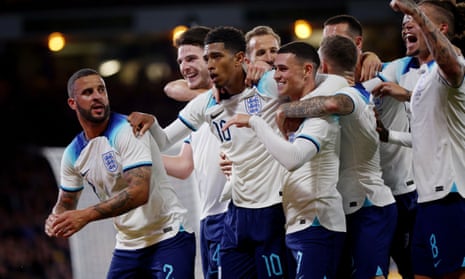 Bellingham, in the D, threaded a clever pass through the eye of a needle to find Rashford. The presence of Robertson meant Rashford couldn't shoot, so instead he poked the ball across the area to Walker. He smashed a cross-shot that was going well wide until Foden, six yards out, opened his body to steer it into the net.
At first I thought Walker's shot just hit Foden, but actually he adjusted his feet with dizzying speed. What a fine finish. I wondered whether Rashford was offside when Bellingham played the ball through to him; he wasn't and the goal stands.
GOAL! Scotland 0-1 England (Foden 32)
As I said, a goal was in the post. (Though it might be offside.)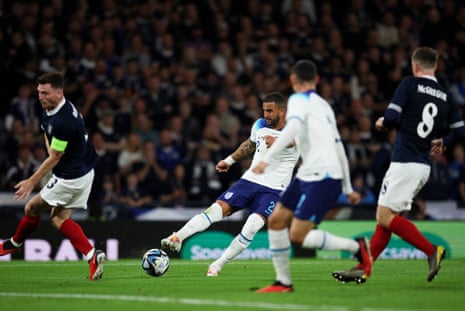 31 min Scotland work the ball nicely down the left, only for Tierney to overhit his cross.
31 min England continue to boss the game. I can't decide whether a) a goal is in the post or b) it's the same, slightly sterile domination we saw against Ukraine on Saturday. You're welcome!
29 min There's been a goal in Norway v Georgia, and indeed in Italy v Ukraine. You can find out more, should you desire, with Michael Butler.