New Delhi: 'RRR' star Ram Charan, SS Rajamouli, MM Keeravani and others are back in India and fans cannot keep calm. Also, 'The Elephant Whisperers' fame Guneet Monga received a warm welcome as she returns with an Oscar. 

The actor Ram Charan arrived back to a tumultuous at the VIP area of the Indira Gandhi International Airport here on Friday morning with him was his wife Upasana Kamineni. The actor was all smiles and kept folding his hands and waving as he negotiated his way through the crush. The actor is scheduled to meet Prime Minister Narendra Modi and address a conclave organised by a news magazine during his stay in Delhi before going back to his home city Hyderabad.

Also, celebrated filmmaker S. S. Rajamouli, music director M. M. Keeravani, singer Kaala Bhairava along with other members of 'RRR' team returned to Hyderabad on Friday after bagging an Oscar award for the song 'Naatu Naatu'. Rajamouli's wife Rama, son Karthikeya, Keeravani's wife Valli, Sri Simha and others arrived at Rajiv Gandhi International Airport to a warm welcome by fans, friends and their well-wishers.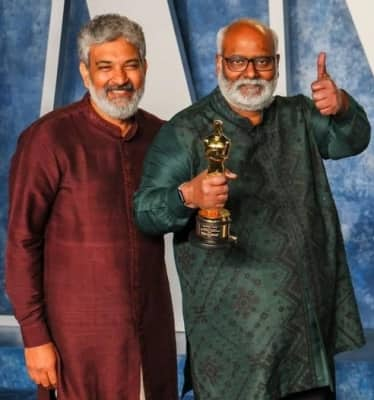 As soon as Rajamouli and others came out of the airport, fans mobbed Rajamouli and Keeravani and vied with each other to take selfies with them. When some media persons tried to speak to Rajamouli, he walked away saying 'Jai Hind'.
'Naatu Naatu' bagged an Oscar award for the best original song. In the 95-year-long history of Academy awards, Naatu Naatu is the first Indian and Asian film song to bag the coveted award.

'The Elephant Whisperers' victorious and beaming filmmaker Guneet Monga returned to a rousing reception, carrying the Oscar trophy, at Mumbai Airport here early on Friday.

A weary but cheery Monga, the executive producer of the Oscar-winning documentary short film The Elephant Whisperers, reached here shortly after 3 a.m., to huge screams of excitement by the people present there to receive their near and dear ones. The paparazzi were also out in full strength and virtually made a bull run for her, with their cameras or microphones aimed at her, seeking her fresh reactions to her Oscar conquest.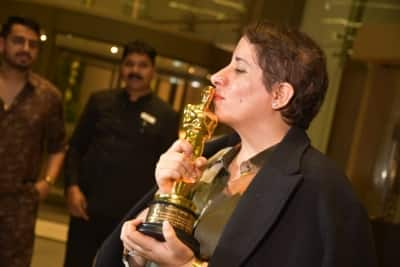 All the time, Monga held on dearly to her coveted Oscar statuette – now becoming a familiar figurine in Indian entertainment circles, raised it, waved it a little, but it was mostly close to her chest, even in the vehicle.

Last week, Monga was catapulted to the global entertainment cloud nine when she bagged her second Oscar for the documentary, 'The Elephant Whisperers.'