Key events
36 min: Forest have done well to get the crowd up again. Things were looking ominous for a while, but they've fought their way back into the game, which feels properly competitive now.
34 min: Antony's miss won't look great, but to be fair he'd instigated that move, one-twoing with Weghorst and Casemiro down the channel. Chances of sympathy from Jeff Sax? Absolutely zero. "Another Nunez -like miss," he writes. "Incredibly similar."
32 min: United ping the ball in pretty fashion down the inside-right. It's moved infield for Antony, who is free on the penalty spot, the home defence having been pulled all over the show! Antony aims for the bottom right, only to be denied by Hennessey's telescopic leg. What a save!
31 min: Johnson is on a one-man mission to haul Forest back into this. He sashays down the middle of the park, leaving Martinez in his wake, before screeching a rising shot clear of the crossbar from 20 yards. Had he repeated his low diagonal effort of a few minutes ago, he'd have probably beaten the rooted De Gea.
30 min: Rashford has another look down the left. Aurier holds him up. Shame for Forest he wasn't around 24 minutes ago.
28 min: United go up the other end and win a corner through Rashford down the right. Fernandes' delivery is no good. Forest break at pace, Johnson beating Wan-Bissaka for pace down the right, no mean feat. He's got Danilo free in the middle, but opts to shoot himself. His low diagonal shot is dealt with easily enough by De Gea.
26 min: The corner comes in from the left. It's half cleared. Scarpa, on the edge of the D, sidefoots a vicious volley towards the top right. De Gea is forced to punch clear spectacularly. Nothing comes from the resulting throw. Forest have woken up all right!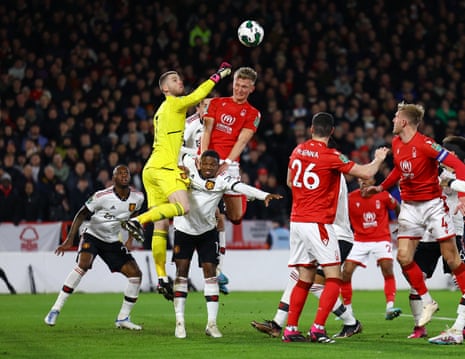 25 min: That's got the home fans really going, though. Scarpa crosses from the left. Lindelof swishes at fresh air. The ball drops behind Gibbs-White, six yards out. He can't locate the ball quickly enough to shoot. Martinez pokes the loose ball out for a corner.
NO GOAL! Nottingham Forest 0-1 Manchester United
VAR intervenes, because Surridge went a nanosecond too early, and his knee is a couple of inches offside. Despair washes around the City Ground. There was very little in that, but offside is offside.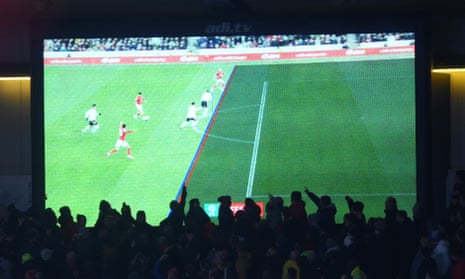 GOAL! Nottingham Forest 1-1 Manchester United (Surridge 23)
…Forest counter three on two! Gibbs-White romps down the middle and rolls towards Surridge on the left. Surridge enters the box and whistles a forensic shot across De Gea and into the bottom right! What a finish!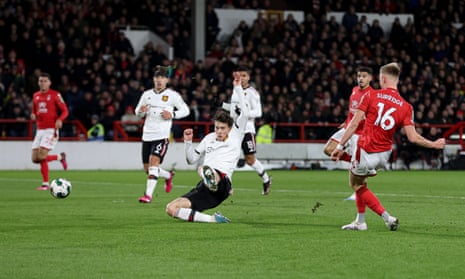 22 min: Rashford probes down the left. Worrall stands him up this time. Rashford cuts back to nobody in particular, then …
20 min: … but this is better, as Johnson hassles Martinez into the concession of a throw deep in United territory. That leads to a corner on the right. Scarpa sends a dangerous ball fizzing over the six-yard box. Martinez takes it upon himself to mop up his own mess, rising to power a header clear. If nothing else, that's got the home fans going again.
19 min: United are in effortless control at the moment, stroking it around patiently. Forest are possibly happy enough to take the breather.
17 min: The atmosphere has curdled somewhat as a result. Not that those in the away corner care. The United fans are in party mode, making all the noise, enjoying themselves by running through their songbook. Meanwhile our old friend Jeff Sax, treasurer of the Darwin Nunez Appreciation Society, has this to say about Nunez and Antony: "South America is not the only thing they have in common."
15 min: United are dominating possession. Forest are struggling to string multiple passes together.
13 min: Weghorst and Fernandes combine to shuttle the ball left to right for Antony, in space on the edge of the Forest box. Antony opens his body and telegraphs a curler towards the top left. It flies high and wide. Another big chance for United. "If you'd only paid attention to football since the World Cup, you'd be forgiven for thinking Rashford was the best player in the world," writes Matt Dony. "He's doing ridiculous things suddenly. When he first burst on to the scene, I always thought (and obviously it could never have happened) he'd be a perfect long-term replacement for Sadio Mane. Then he seemed to stop progressing. Now he's made up for lost time."
11 min: Forest faff around, playing it short and making a royal mess of it. Aurier tries to rescue the move on the edge of the D but can't get a shot away. United break upfield en masse. Forest just about deal with the counter this time, but the visitors look dangerous every single time they go forward.
10 min: Forest respond well, though, Surridge bursting into the United box from the left and winning the game's first corner. Gibbs-White to take.
8 min: Forest are fortunate not to be two down. Antony dribbles down the right, reaches the edge of the box, and whips a low curler that sails wide of the left-hand post. Inches away. Had that been on target, Hennessey wasn't getting there.
7 min: As good as Rashford's run was, that's appalling defending by both Freuler and Worrall, who rolled out the red carpet there. Both of them backtracking in fear, Rashford was never going to turn down the invitation.
GOAL! Nottingham Forest 0-1 Manchester United (Rashford 6)
Rashford is on fire at the moment, and here he goes again! He picks up the ball inside his own half and makes off down the left flank. He barges between Freuler and Worrall like they're an open gate, enters the box, and fires a rising shot into the top left. Easy as that! What a run, in both senses of the word!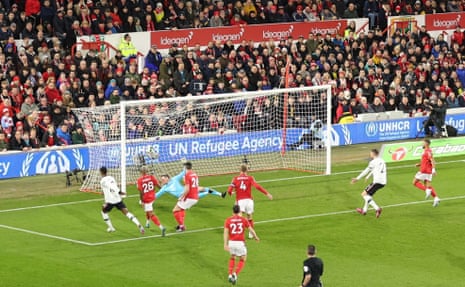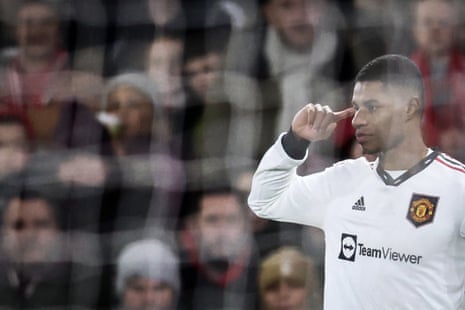 4 min: Malacia's strange crossfield pass nearly lets Scarpa in down the Forest left. Scarpa can't quite get to the ball and United clear. Both sides have betrayed a few nerves in these opening exchanges.
2 min: Rashford dribbles down the left and he's got options infield. But his cutback, intended for Eriksen, goes behind his team-mate and Forest can clear their lines. But then United come again. Worrall should clear a long ball, but freezes, and Fernandes nips in. Fernandes looks for Weghorst in the middle, but the cross is no good and the ball's blootered clear. A fast start by United.
United get the ball rolling as the fans serenade the mist rolling in from the Trent. The City Ground really is in fine voice tonight.
A moment of silence for Holocaust Memorial Day. Perfectly observed.
The teams are out! Forest in red, United in second-choice white. A proper 1978 feel to everyone's garb. Lovely. The City Ground bouncing to Insomnia by Faithless. "This song is really good," says Roy Keane, getting carried away with the atmosphere. Speaking of which … "You've got a lot of nerve Roy," begins Bobcat Justin Kavanagh. "Considering Keane's party piece is Dylan's Positively Fourth Street, I'd say that his Clough impersonation is better than most." We'll be off in a moment or two.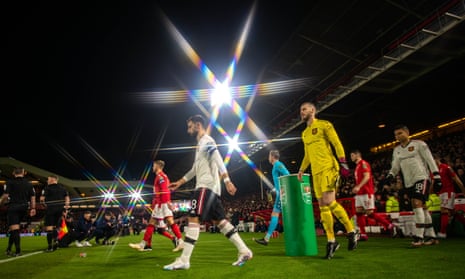 Here's a reminder what happened in the first leg of the other semi-final last night. A game packed with much more to pore over than its 0-1 scoreline might suggest.
Erik ten Hag talks to Sky. "It's great to play such games. A lot of attention from everyone around in the club, everyone is excited, the fans especially but also the players. You feel it: they want to go for the final. It is a big game. We have a strong team tonight. We have to win this game. We have to do everything to win this game. Our players have experience to play big games."
He also reports that Luke Shaw is ill, and it's "difficult to say" whether he'll be back for the weekend.
A lovely moment on Sky as host Mark Chapman, having just quizzed Roy Keane about his time at Forest, cheekily notes that "every former player who played under Brian Clough seems to be able to do an impression of him", and leaves that hanging in the air. Keane remains silent for a perfectly timed comedic beat – and I won't insult your intelligence by describing his facial expression – before giving his answer. "I don't." Then a quick pantomime glance to camera, before a highly amused smile plays around the corners of his mouth. "I wouldn't be very good at it. I wouldn't disrespect him that way." Tinder-dry comedy. You'd pay good money to have been a fly on the wall behind the scenes at the City Ground circa 1992, wouldn't you.
Steve Cooper speaks to Sky Sports. "We have to get the balance right. We have to respect that we're playing Manchester United. We have to play with good ambition, good intent, it's a semi-final, not often do they come around. We're still not the team we want to be. There are a load of things we need to improve on. But we have made some forward steps. If there's ever a time that we think we're doing well enough, that won't be for me, we've got to fight even harder. We played United away just after Christmas, and we weren't good enough on the night. We didn't give a good impression of ourselves and we didn't like that, so we spoke about that."
Forest make three changes to the side named for the 1-1 draw at Bournemouth last weekend. Scott McKenna, Danilo and Sam Surridge are in; Orel Mangala drops to the bench, Ryan Yates is ill, and Chris Wood is cup-tied. The on-loan Dean Henderson remains injured, though he'd have been ineligible against his parent club anyway.
United make three changes to the starting XI selected for the 3-2 defeat at Arsenal. At the back, Tyrrell Malacia and Victor Lindelof replace Luke Shaw and Raphael Varane, while in midfield Casemiro returns from suspension to take the place of Scott McTominay.
Nottingham Forest: Hennessey, Aurier, Worrall, McKenna, Lodi, Danilo, Freuler, Johnson, Gibbs-White, Scarpa, Surridge.
Subs: Smith, Cook, Mangala, Williams, Colback, Lingard, O'Brien, Dennis, Boly.
Manchester United: De Gea, Wan-Bissaka, Lindelof, Martinez, Malacia, Fernandes, Casemiro, Eriksen, Antony, Weghorst, Rashford.
Subs: Heaton, Fred, Varane, Pellistri, Williams, Elanga, McTominay, Garnacho, Mainoo.
Nottingham Forest have won this competition on four occasions; Manchester United five. For both clubs, their last success in the League Cup is also the last major domestic trophy they won, Forest defeating Oldham Athletic in the 1990 final, United doing for Southampton in 2017. In context of subsequent trajectories and concomitant expectations, it's been a long drought for both. Who will get a chance to slake their thirst at Wembley next month? We're two steps away from finding out. Step one kicks off at 8pm GMT. It's on!