Romney will not seek second term in US Senate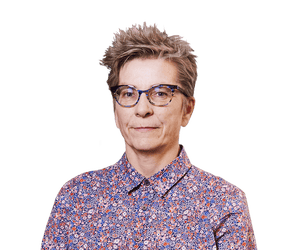 Joanna Walters
Utah's US Senator Mitt Romney, who as the Republican nominee lost the 2012 presidential election to incumbent Barack Obama, has announced that he won't seek a second term. He told the Washington Post it was time for a new generation to "step up" and "shape the world they're going to live in".
Romney twice voted to impeach Donald Trump and the 76-year-old told the Post that he believed a second term, which would take him into his 80s, would be "less productive" than his work now.
More to follow. Here's the report.
Key events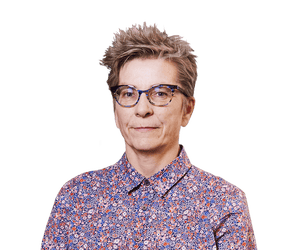 Joanna Walters
Jared Bernstein, chair of the Council of Economic Advisers, said at the media briefing now underway in the west wing that the White House urges America's auto workers and companies to "work around the clock" to reach a deal, while refusing to say if Joe Biden supports the idea of a carmakers' strike.
"The president believes that the autoworkers deserve a contract that sustains middle class jobs," Bernstein said.
He said that supporting union workers was "pillar one" of "Bidenomics", the US president's economic policies emphasizing public investment and tax policies aimed at boosting the middle class, in contrast to Reagan-style trickle down economics, which Bernstein said "does not work".
The deadline for "the biggest auto strike in generations" is looming for 150,000 US autoworkers, employees at Ford, Stellantis and General Motors are set to walk off the job at 11.59pm on 14 September if tentative agreements for new union contracts aren't reached by then, the Guardian's Michael Sainato reports today in this analysis piece.
Bernstein said the White House is hoping that negotiators "stay at the table and work 24/7 to get a win-win agreement" rather than strike action occurring.
He added he had no "read out" on whether there was any talk in bringing the opposing sides to the White House to lubricate talks.
He noted that the Biden administration was closely monitoring the situation and evaluating alternatives to strike action.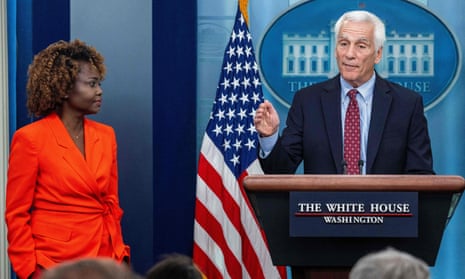 McCarthy questioned over why he wants to skip House vote on Biden impeachment
House speaker Kevin McCarthy tried to evade questions on Wednesday about why he does not intend to hold a floor vote on the impeachment inquiry into Joe Biden, despite having said just weeks ago that he would not open an official probe without a floor vote.
"To open an impeachment inquiry is a serious matter, and House Republicans would not take it lightly or use it for political purposes. The American people deserve to be heard on this matter through their elected representatives," McCarthy told Breitbart News on 1 September.
That's why, if we move forward with an impeachment inquiry, it would occur through a vote on the floor of the People's House and not through a declaration by one person.
Asked why he had changed his position since the interview, McCarthy responded:
I never changed my position.
Here's the clip:
Top New Hampshire election official says he will not block Trump from ballot
David Scanlan, New Hampshire's secretary of state, said there is no legal basis for keeping Donald Trump off the ballot in the state, which will hold the first Republican presidential primary next year.
Scanlan, speaking at a press conference on Wednesday, rejected claims made in lawsuits filed in New Hampshire and elsewhere that Trump is ineligible to run for re-election under section 3 of the 14th amendment, which prohibits those who "engaged in an insurrection or rebellion" against the US constitution from holding higher office, according to an AP report.
Scanlan said:
There is no mention in New Hampshire state statute that a candidate in a new presidential primary can be disqualified using the 14th amendment of the United States constitution referencing insurrection or rebellion.

Similarly, there is nothing in the 14th amendment that suggests that exercising the provisions of that amendment should take place during the delegate selection process held by the different states.
He also raised concerns that an uneven application of the clause in different states could lead to "chaos, confusion, anger and frustration". He added:
As long as he submits his declaration of candidacy and signs it under the penalties of perjury and pays the $1,000 filing fee, [Donald Trump's] name will appear on the presidential primary ballot.
Scanlan's announcement came a day after the Trump campaign sent him a letter signed by a group of Republican state lawmakers urging him to reject what they called "an absurd conspiracy theory".
Trump waives right to speedy trial in Georgia election subversion case
Donald Trump has waived his right to seek a speedy trial in the Georgia election subversion case, according to a court filing.
The waiver of a speedy trial came on the heels of a brief filed by the office of Fulton county district attorney, Fani Willis, that all 19 defendants in the sprawling racketeering case should be tried together starting next month.
The former president's latest move is in line with efforts he has taken in other cases to delay proceedings until after the November 2024 election.
From Lawfare's Anna Bower:
House speaker Kevin McCarthy's decision to call for a formal impeachment inquiry into Joe Biden came after weeks of pressure from hardline House GOP members, but his decision to bypass a floor vote was designed to protect frontline Republicans from having to publicly cast a vote that could come back to bite them in next year's election, the Punchbowl News report writes.
The reality for the 58-year-old, nine-term McCarthy is that once he opens an impeachment inquiry, it's almost guaranteed that House Republicans will impeach Biden.

Remember, a sizable number of Republicans were ready to impeach before the inquiry even began. And once the House has begun the process, not impeaching Biden will look like a validation of the president to many rank-and-file lawmakers. That may be too much for McCarthy to control.
The report says most of the 18 Republicans who represent districts that Biden won in 2020 told them they supported the inquiry.
John Duarte, a California congressman who represents a district Biden won by 11 points, told the outlet:
I think that there's been enough preliminary work here to absolutely justify going forward with an inquiry. So I think it's a great middle step. Let's just get all the facts out and then decide what goes forward from there.
The Republican-led House oversight committee is leading the impeachment inquiry into Joe Biden, with the House judiciary committee and House ways and means committee playing supporting roles.
The committees are expected to send letters this week requesting Biden family members' bank records and other documents in a bid to prove corruption allegations relating to the president's son Hunter Biden's foreign business dealings, according to Punchbowl News.
The House oversight committee panel's next steps will be to "pursue Hunter and James Biden's personal and business bank records" and interview more members of the Biden family, a committee spokesperson told the outlet.
James Comer, who is chair of the House oversight committee, said his investigation will focus on the president's alleged wrongdoing, while the other two committees will train their focus on the alleged "cover-up". All these issues will be discussed at a special House GOP meeting on Thursday, according to the report.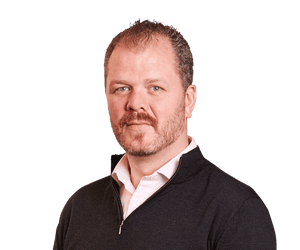 Martin Pengelly
Lauren Boebert's campaign manager confirmed media reports that the far-right Colorado Republican was escorted out of a performance of the Beetlejuice musical in Denver on Sunday night, for alleged disruptive behaviour.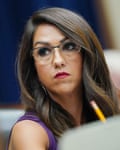 In a statement to media, Drew Sexton said: "I can confirm the stunning and salacious rumors: in her personal time, Congresswoman Lauren Boebert is indeed a supporter of the performing arts (gasp!) and, to the dismay of a select few, enthusiastically enjoyed a weekend performance of Beetlejuice, which the Denver Post itself described as 'zany', 'outrageous', and a 'lusty riot'."
Local media, led by the Colorado Sun, were first to publish an incident report which did not name Boebert but described the incident at the Buell Theatre.
As the Washington Post reports:
Surveillance footage from the theater published by KUSA, an NBC affiliate in Denver, appears to show Boebert and a man being escorted from their seats. In the hall, Boebert is seen rebuking an usher, at one point giving him the middle finger.

As they were being escorted from the premises, according to the incident report, the pair made statements such as: 'Do you know who I am?' and 'I am on the board' and 'I will be contacting the mayor.' Officers with the Denver police department responded to the incident and stayed in the lobby until the pair left the venue, the report says.
The Post adds that "the man did not appear to be her husband, and his identity is unclear".
Boebert has courted controversy consistently since winning election to Congress in 2020. A narrow winner in her first re-election campaign last year, she is set to face the same Democrat, Adam Frisch, at the polls in 2024.
Sexton added that Boebert "appreciates the Buell Theatre's strict enforcement of their no photos policy and only wishes the Biden administration could uphold our border laws as thoroughly and vigorously". He told the Post Boebert had not been vaping during the show.
The congresswoman, Sexton said, recommended the musical but offered constituents "a gentle reminder to leave their phones outside of the venue".
On Twitter, Boebert said she "did thoroughly enjoy the AMAZING Beetlejuice at the Buell Theatre and I plead guilty to laughing and singing too loud!"
She also asked followers who went to see the show to "please let me know how it ends!"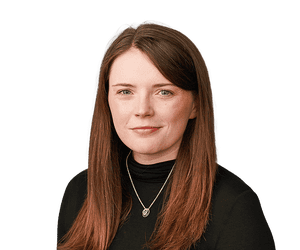 Joan E Greve
The trouble for House speaker Kevin McCarthy started in the spring, after the House passed the compromise debt ceiling bill, known as the Fiscal Responsibility Act.
Seventy-one members of the House Republican conference opposed the legislation over concerns that it did not go far enough to reduce government spending, and they sharply criticized McCarthy for agreeing to the inadequate deal.
The speaker has been bracing for a potential shutdown ever since the debt ceiling showdown concluded, Gordon Gray, vice-president for economic policy at the center-right thinktank American Action Forum, told the Guardian. He said:
Since the debt limit grenade was diffused, there's a big chunk of House Republicans who just want to break something. That's just how some of these folks define governing. It's how their constituents define success.
With just 12 legislative days left before the end of the fiscal year, the Republican-controlled House must quickly pass some kind of spending package to keep the federal government open after 30 September. If the chamber does not approve a spending bill, the government will shut down for the first time in nearly five years, furloughing federal employees and stalling many crucial programs.
McCarthy has indicated his preference to pass a continuing resolution, which would keep the government funded at its current levels for a short period of time as lawmakers continue to negotiate over a longer-term deal.
But members of the hard-right House freedom caucus, who are still furious over the deal that McCarthy and President Joe Biden struck to suspend the debt ceiling earlier this year, insist they will not back a continuing resolution unless the speaker agrees to several significant policy concessions, such as increased border security and an impeachment inquiry into Biden.
Kevin McCarthy faces threat to oust him as speaker despite impeachment move
The speaker of the House, Kevin McCarthy, faces a significant leadership test ahead of a looming government shutdown and despite giving ultraconservative Republicans the Biden impeachment inquiry they wanted.
By announcing the inquiry, McCarthy conceded to weeks of pressure from hardline House GOP members and sidestepped as many as 20 Republican House members opposed to the action by avoiding a floor vote, according to Reuters.
But even after the announcement, the Republican Florida congressman Matt Gaetz threatened to oust McCarthy under the terms of a deal he agreed to become speaker. Under those terms, any one member of the chamber can force a vote on removing the speaker. Given House Republicans' narrow majority and this new motion, McCarthy faces losing his gavel after just eight months in power.
On Tuesday, Gaetz outlined a series of demands in a speech on the House floor, including calling for passage of individual spending bills and not a short-term stopgap measure to fund the government, CNN reported. Addressing McCarthy directly, he said:
The path forward for the House of Representatives is to either bring you into immediate, total compliance or remove you.
The firebrand congressman warned there could be multiple votes to remove McCarthy as speaker.
If we have to begin every single day in Congress with the prayer, the pledge and the motion to vacate then so be it.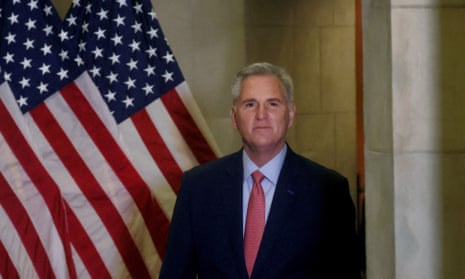 Joe Biden's presidential campaign moved to use the impeachment inquiry into a fundraising opportunity in an email urging supporters to "show that you're standing with the president".
The fundraising email on Wednesday – the Biden's campaign first since House speaker Kevin McCarthy launched the inquiry yesterday – was sent to supporters in vice president Kamala Harris' name. It says:
Kevin McCarthy, Marjorie Taylor Greene and MAGA Republicans just launched a beyond ridiculous impeachment inquiry into President Biden.

It's clear: They're going to throw everything they have at Joe, because they know they can't run against our record. If you're waiting for a moment to show your support for him, trust me when I say: This is it.
The Democratic congressional campaign committee sent out a similar email on Tuesday evening, writing:
This MAGA Majority needs to be DEFEATED.
White House urges media to ramp up scrutiny of Biden impeachment inquiry
The White House sent a letter to US news outlets, urging them to "scrutinize House Republicans' demonstrably false claims" surrounding their impeachment inquiry into Joe Biden.
The memo, which was sent by Ian Sams, the White House spokesperson for oversight and investigations, and addressed to editorial leadership at media organizations. It says:
It's time for the media to ramp up its scrutiny of House Republicans for opening an impeachment inquiry based on lies.
It was sent after the speaker of the House, Kevin McCarthy, announced he had ordered a formal impeachment inquiry into the president's unproven corruption allegations relating to his son Hunter Biden's foreign business dealings.
The inquiry has no supporting evidence, which "should set off alarm bells for news organizations", Sams argued in the memo.
Covering impeachment as a process story – Republicans say X, but the White House says Y – is a disservice to the American public who relies on the independent press to hold those in power accountable.
He added:
In the modern media environment, where every day liars and hucksters peddle disinformation and lies everywhere from Facebook to Fox, process stories that fail to unpack the illegitimacy of the claims on which House Republicans are basing all their actions only serve to generate confusion, put false premises in people's feeds, and obscure the truth.
Republicans have sought to directly connect Hunter Biden's financial dealings to his father, but have so far failed to produce evidence that the president directly participated in his son's work.
Husband of Alaska congresswoman Mary Peltola dies in plane crash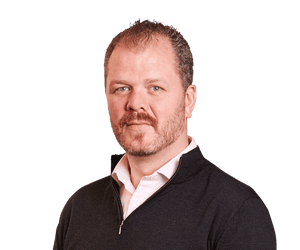 Martin Pengelly
Eugene Peltola Jr, the husband of the Democratic Alaska congresswoman Mary Sattler Peltola, has died in a plane accident, a spokesperson said.
"We are devastated to share that Mary's husband, Eugene Peltola Jr – 'Buzzy' to all of us who knew and loved him – passed away earlier this morning following a plane accident in Alaska," said a statement from Anton McParland, the congresswoman's chief of staff.
"He was one of those people that was obnoxiously good at everything. He had a delightful sense of humor that lightened the darkest moments. He was definitely the cook in the family. And family was most important to him. He was completely devoted to his parents, kids, siblings, extended family, and friends – and he simply adored Mary. We are heartbroken for the family's loss."
Mary Sattler Peltola became the first Alaska Native in Congress when she won her seat in the US House in a special election and then in the 2022 midterms, twice defeating the former governor and Republican vice-presidential candidate Sarah Palin.
McParland said: "Mary is returning home to be with their family, and we ask that their privacy be respected during this time. Our team will continue to meet with constituents and carry on the work of the office while Mary and her family grieve."
The language in US district judge Aileen Cannon's court order pertaining to classified evidence in Donald Trump's classified documents case is surprisingly close to the government case against the former president, according to Politico's Kyle Cheney.
This seems like a problem for Trump's defense, given the breadth of what the government considers classified, Josh Gerstein also of Politico writes, pointing to the order that says "the defense shall discuss classified information only within the Scif (sensitive compartmented information facility) or in an area authorized by the Ciso".
Trump must review evidence in classified documents case in secure location – court filing
Donald Trump and his lawyers may only review classified evidence in a secure place as he prepares for a criminal trial over his handling of classified documents after he left office in 2021, according to a court filing.
In July, the government filed a motion for a proposed protective order pursuant to section 3 of the Classified Information Procedures Act (Cipa) "to prevent the unauthorized use, disclosure or dissemination of classified national security information and documents that will be reviewed by or made available to, or are otherwise in the possession of, Defendant and defense counsel."
After a sealed hearing on Tuesday, US district judge Aileen Cannon granted the government's motion.
Trump had opposed strict security protocols for the classified evidence as inconvenient, saying he and his lawyers should be able to review them in his office at his Mar-a-Lago estate in Palm Beach, Florida, Reuters reports. Prosecutors had argued it would be inappropriate for Trump to review classified documents at the very location where is accused of illegally and haphazardly storing them.
The order by Judge Cannon requires Trump and his lawyers to review and discuss all classified evidence in a so-called sensitive compartmented information facility, or Scif.
US district judge Aileen Cannon has issued a protective order governing classified evidence in the classified documents case against Donald Trump, according to a court filing.
The Classified Information Procedures Act, or Cipa, section 3 order means the justice department can begin producing classified discovery to Trump's legal team. Trump's lawyers may challenge the conditions of the protective order, including by asking Cannon for an exemption – potentially to extend access to the former president himself.
Once the Cipa section 3 protective order is settled, the justice department can file a Cipa section 4 motion, my colleague Hugo Lowell explains.
Section 4 stipulates that Cannon can authorize the government to "delete specified items of classified information from documents to be made available to the defendant through discovery" or to substitute the classified documents for "unclassified summaries" of the material.
It is unclear whether the government will file a section 4 motion. But if it does, that could prompt a challenge from the Trump legal team. If Cannon then agrees that Trump can have all the discoverable documents without restrictions, the government may seek an interlocutory appeal.
The US district judge Steve Jones has denied former Trump White House chief of staff Mark Meadows' request for an emergency stay of a ruling that sent his Georgia 2020 election interference case back to state court.
Meadows had asked Jones to pause his ruling pending an appeal to the US court of appeals for the 11th circuit, after the judge denied his initial effort to transfer his case from state to federal court on the basis that some of the charged conduct was within the scope of his official duties.
The latest ruling means the prosecution of Meadows brought by the Fulton county district attorney Fani Willis will stay in superior court in Atlanta.
Meadows faces two felony charges, including racketeering and solicitation of a violation of oath by a public officer. He has sought to remove the case to federal court arguing that the charges related to his normal work undertaken as a White House chief of staff, which gave him immunity from prosecution and prevented him from being prosecuted at the state level.