Key events
GOAL! Paris Saint-Germain 1-0 Dortmund (Mbappe 48 pen)
And an unsaveably precise penalty from Kylian Mbappe has put PSG in front.
GOAL! Man City 1-1 Red Star (Alvarez 47)
Red Star are going to regret scoring, aren't they? Julian Alvarez has equalised already at the Etihad.
"Re: the Harlem Globetrotters," begins Matt Burtz. "As usual, The Simpsons has everyone covered."
Half-time reading
Barcelona 3-0 Antwerp
"Perhaps," says Harriet Osborn, "Antwerp wish they had their first-choice left-back after that first-half mauling by Barca?"
Pep Guardiola walks down the tunnel looking confused and slightly affronted. City have been the victims of one of the great European stings. They'll still win 12-1, but let's enjoy this moment of romance while we can.
Group E
Group F
Group G
Group H
GOAL! Feyenoord 1-0 Celtic (Stengs 45+2)
A goal for Feyenoord on the storke of half time. Calvin Stengs' free-kick bounces up a little awkwardly, and the diving Joe Hart can only push it into the net. He probably should have done better.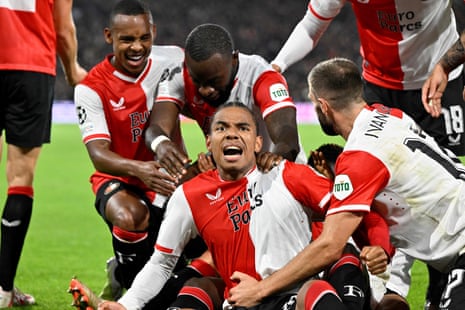 The goal was disallowed for offside on the field, but VAR showed Bukari was being played onside by Ruben Dias. He ran onto a lovely first-time through ball from Mirko Ivanic and swept the ball emphatically over Ederson's left bicep. City have had 22 shots; that was Red Star's first.
GOAL! Man City 0-1 Red Star (Bukari 45+1)
Arf. After the most one-sided half imaginable, Osman Bukari has put Red Star ahead at the Etihad!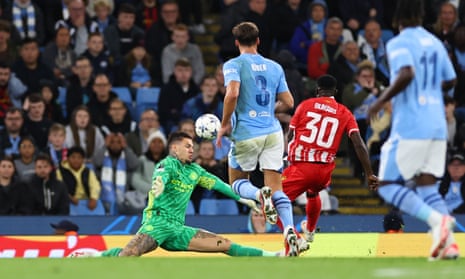 44 min: Man City 0-0 Red Star City have brought on Jeremy Doku for Bernardo Silva, who doesn't look thrilled with life. He must be injured, right? The expression on his coupon suggests that might not be the case.
40 min: Man City 19-0 Red Star That's shots at goal in the first 40 minutes. Make that 21-0: Foden has just missed a great chance, heading too close to Glazer, and the follow-up shot was blocked.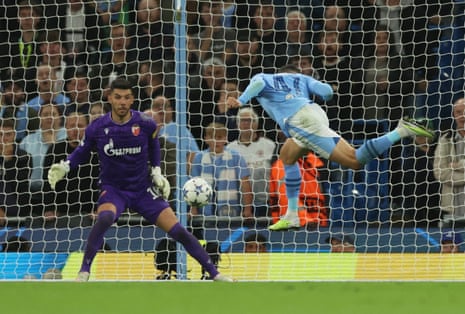 PSG 0-0 Dortmund There's a VAR check for a PSG penalty. The ball hit the outstretched arm of Niclas Sule, but it deflected off his chest first so this shouldn't be given.
Yep, no penalty.
PSG 0-0 Dortmund PSG work a nice short corner on the left, leading to a shot from Ousmane Dembele that is turned round the near post by Gregor Kobel. I think it was going wide anyway.
PSG 0-0 Dortmund PSG have had loads of the ball, around 80 per cent, but last time I checked the only shot on target was for Dortmund.
The latest scores
Group E
Group F
Group G
Group H
Feyenoord 0-0 Celtic That Feyenoord penalty appeal a few minutes ago looked quite good to me, though I was seeing it through Premier League eyes when everything is a penalty, and you can have a red card as well if you want. At the other end, Daizen Maeda has just brought a decent save from Timon Wellenreuther.
"The atmosphere at Parc des Princes is incredible," writes Kári Tulinius. "The PSG fans are generally really loud, and they've brought their A game to the match. Also, it sounds like the Dortmund contingent is giving it their all. It's really driving the teams forward."
34 min: Man City 0-0 Red Star Now Erling Haaland has screwed a shot wide from 10 yards. Has Pep Guardiola taken City as far as he can?
"Not going to mansplain to Charles Antaki (who writes great emails) at all," says Joe Pearson, "but the Globetrotters always played the Washington Generals."
31 min: Man City 0-0 Red Star City have had almost 80 per cent possession and 11 shots to none, but just look at that scoreline! Omri Glazer made a really good save from Nathan Ake a couple of minutes ago.
GOAL! Lazio 0-1 Atletico Madrid (Barrios 29)
A goal of rare beauty from Atletico. No, of course not. Pablo Barrios's long-range shot took a huge deflection off Daichi Kamada (I think) and wrongfooted Ivan Provedel. It might go down as an own goal.
Feyenoord 0-0 Celtic There was a VAR check for a Feyenoord penalty a couple of minutes ago when the ball hit the arm of a Celtic defender right on the edge of the area. It wasn't given, and I don't have time to dwell on it because people keep scoring bloody goals.
GOAL! Shakhtar 1-3 FC Porto (Taremi 29)
Galeno has scored two and now he's made one. He scurried down the left and curled a precise low cross towards Mehdi Taremi, who opened his body to sidefoot a half-volley into the far corner. That's a masterful finish.
"It is very weird," writes Kurt Perleberg, "that Lionel Messi & Cristiano Ronaldo is not in the UEFA Champions League for the first time in 20 years."
I'd forgotten about that. The last season without either of them taking part, including the qualifying rounds, was 2001-02.
25 min: Man City 0-0 Red Star City continue to laugh in the face of xG, or is it the other way round? Erling Haaland has just hit the crossbar with a close-range header from Phil Foden's inviting cross.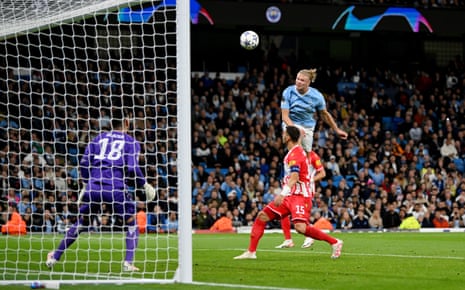 Match report: AC Milan 0-0 Newcastle
GOAL! Barcelona 3-0 Antwerp (Bataille og 22)
Mes que un mismatch. Raphinha's cross from the left takes an absurd deflection off Jelle Bataille and beats Jean Butez at the near post.
The latest scores
Group E
Group F
Group G
Group H
Barcelona 2-0 Antwerp There was a check for offside but the goal stands. That's Lewandowski's 100th goal in European competition; only two people have more. Don't insult me.
GOAL! Barcelona 2-0 Antwerp (Lewandowski 19)
Another very smooth team goal. De Jong released Joao Felix, who looked fractionally offside but was allowed to continue. He looked up and floated a deep cross to Lewandowski, who sidefooted a volley past your man from close range.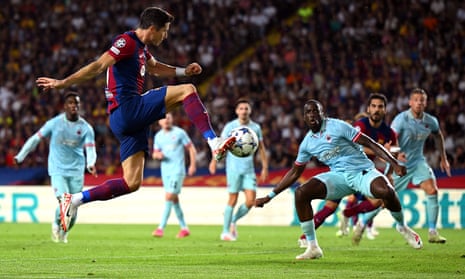 Paris Saint-Germain 0-0 Borussia Dortmund Vitinha has just hit the inside of the post for PSG with a cracking drive from the edge of the area.