As you walk through the alleyways around Qutub Minar drinking in the crumbling grandeur of days past you can't stop casting back through time into days beyond your memory. Along the southern wall is a crack in time, a way back into a royal history where zari- pure spun gold and silver, in the form of sarees and dupattas find their way into 2021. With its launch in Mehrauli, Shanti makes 4 generations of India's most prized craft accessible.
Steeped in Banaras's heritage and craft perfection, Shanti's offerings are a bespoke legacy to be passed down from one generation to the next. Reflecting this intergenerational dynamic in family heirlooms to the intergenerational dynamics of the family behind the brand, silk blends with gold to tell every story through intricately woven sarees and lehengas.

Designed by Rama Mehra Studio the store's rich warmth is immersive, helping you soak in this craft that is a living legend. Splashes of gold and silver welcome you against a plush colour palette lit by delicate mogra light fixtures. This 5 foot, symbolic Mogra chandelier hanging under the blanket of an antique mirror holds centre stage enveloping the space in an embrace of light and romance. Every piece of furniture in soothing shades of green, prune and taupe invites you to slow down time and bathe in the legacy you take home. The sweeping stairs flanked by Qutub Minar's heritage compound wall on one hand and the store's modern facade on the other is a reflection of what you will find in the store- an old-world craft meeting 21st century aesthetic, surrounded by fresh greens. Says Mrs. Mehra, "We wanted the store to speak Shanti's language of history meeting avant-garde fashion where the showcase is of thoughts and values in addition to the products."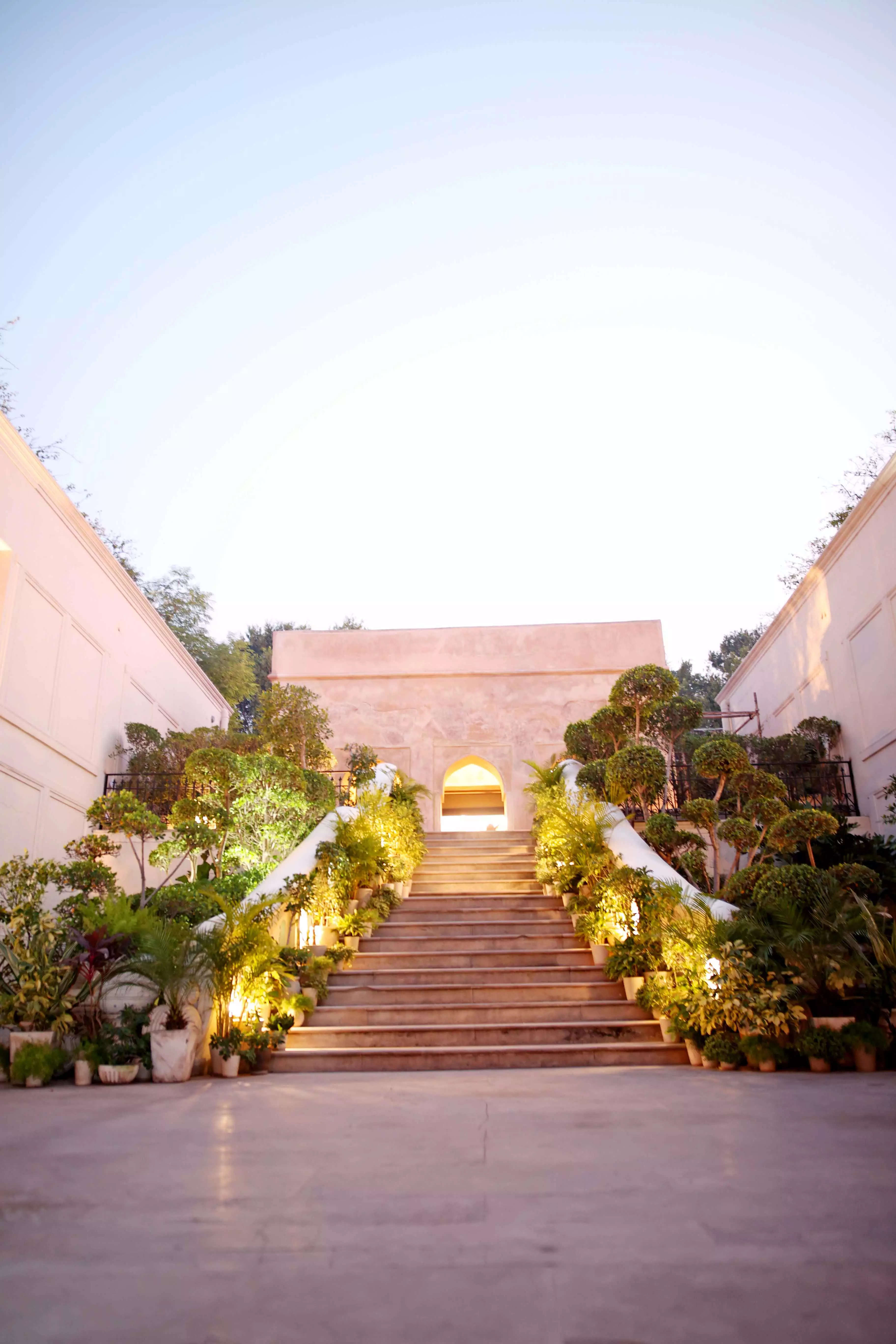 Broadly seen in three sections, the store opens into a gallery of pichwai paintings showcased with a captivating display of shawls. The second section features rich zari sarees of Dampaj weave, jangla and beautiful brocades. The final section features hand-embroidered lehengas with rich zari work.
Established in 2019, Shanti is a budding offspring of a manufacturing company founded in 1950. The flagship store in Mehrauli features real Zari sarees and dupattas, hand-embroidered lehengas, shawls and pichwai art.