Indian Railways is on the path of development and has been making continuous advancements in multiple areas. To mention a few of the latest developments include the refurbishing and modernisation of Railway stations across India, increased use of semi-high speed Vande Bharat trains on multiple routes, development of the Bullet train, and more. The list of such developments includes Indian Railways' induction of the 100th unit of the World's most powerful locomotive. The loco, named WAG12, is manufactured in the country under the Make in India program at the Madhepura Electric Loco Factory in Bihar.

World's most powerful locomotive: First operation
The locally manufactured world's most powerful electric locomotive performed its first operation from the Pt Deen Dayal Upadhyaya Jn Station in May 2020. The train departed with a long-haul formation with the Dhanbad Division of the East Central Railway with 118 wagons. The occasion also marked the first time the high-powered locomotive was operated on a broad gauge track.
Also read: Republic Day 2023: Delhi Metro Timings Changed, Select Stations, Parkings to Remain Closed

The Indian Railways recently inducted 100th of these e-locos. Meanwhile, the locomotive has already clocked over 4.8 million km covering 17 states and 2 UTs.

World's most powerful locomotive: Mechanics
The locally manufactured world's most powerful locomotive, a.k.a WAG12, used an IGBT-based, 3-phase drive system with 9000 kW (12000 hp) power. This magnanimous power translates to a pulling power of 706 kN. With this pulling power, the train can start and run a 6000 T train in a gradient of 1 in 150. The twin Bo-Bo locomotive with a 22.5 T (Tonnes) axle load has a design speed of 120 kmph and is upgradeable to a 25 T (Tonnes) axle load.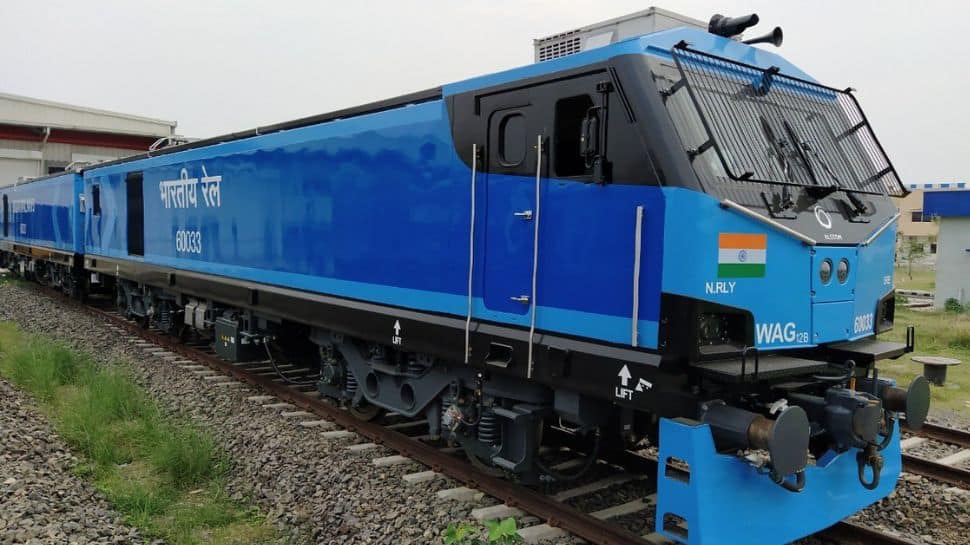 Features of World's most powerful train
This locomotive fundamentally alters how coal trains are moved for the Dedicated Freight Corridor. By inbuilt software and antennas that are hoisted through servers on the ground via a microwave link, the locomotives may be tracked strategically using GPS.

The locomotive operates on Dedicated Freight lanes with high-rise OHE lines as well as on railroad tracks with regular OHE lines. On either side of the locomotive are air-conditioned driver cabs. The locomotive has a regenerative braking system, significantly reducing energy consumption while operating. These powerful locomotives were planned to increase the average speed of freight trains and assist in clearing congested lines.