North Korean leader Kim Jong-un has arrived in Russia, Japanese media reported, after travelling from Pyongyang on his private train for a rare summit with President Vladimir Putin in Vladivostok.
A train carrying Kim had arrived at Khasan station, the main rail gateway to Russia's Far East from North Korea, Japan's Kyodo news agency reported on Tuesday, citing an unnamed Russian official source. Kim and Putin will meet in the afternoon, Kyodo added.
Kim's trip to Russia and meeting with Putin will be a full-scale visit, Kremlin spokesperson Dmitry Peskov said in a video posted online, and comes amid concerns in the west that Pyongyang plans to provide weapons to Moscow to use in the war against Ukraine. The meeting is expected to be held in the Russian port city of Vladivostok, where Putin has already arrived.
According to Peskov, the main topic of the talks will be relations between the neighbouring countries. "We will continue to strengthen our friendship," he said.
Kim was accompanied by top government officials, including military personnel, North Korea's KCNA said. Earlier, the news agency released photos of his departure from Pyongyang, showing military honour guards and crowds of people in dark suits and colourful dresses waving flowers and flags as Kim boarded his dark green train, which is believed to be armored and carry other specialised equipment.
The trip marks Kim's first visit abroad in more than four years and the first since the Covid-19 pandemic.
On Monday the US state department described Putin as desperate over Ukraine conflict and renewed warnings that any arms deal could trigger US sanctions.
"Having to travel across the length of his own country to meet with an international pariah to ask for assistance in a war that he expected to win in the opening month, I would characterise it as him begging for assistance," state department spokesperson Matthew Miller said.
"I will remind both countries that any transfer of arms from North Korea to Russia would be in violation of multiple UN security council resolutions," he added.
The White House said last week it had intelligence that showed Russia was looking to purchase additional artillery shells from North Korea to shore up its defence industrial base.​​
North Korea has previously been accused by the US of selling artillery shells to the Russian mercenary group Wagner.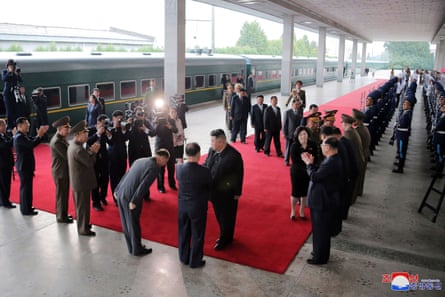 Kim and Putin, who first met in 2019, are seeking greater military and economic cooperation to counter their growing international isolation prompted by Russia's invasion of Ukraine and North Korea's ballistic missile and nuclear weapons programmes.
In July, Russia's defence minister, Sergei Shoigu, travelled to Pyongyang, where he toured a defence exhibition that featured the country's banned ballistic missiles.
Analysts believe North Korea has an extensive supply of artillery shells, rockets and small arms ammunition that could help Russia replenish the military stocks it has expended in more than 18 months of war in Ukraine. In return, Moscow could share its advanced technology for satellites and nuclear-powered submarines.