Key events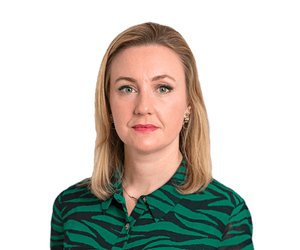 Joanna Partridge
Full story: Losses at John Lewis narrow as Sharon White suggests reasons for optimism
The owner of John Lewis and Waitrose remains in the red after it reported another loss for the first half of the year, and admitted that its turnaround plan will take two years longer to deliver.
The John Lewis Partnership made a pre-tax loss of £59m for the 26 weeks to 29 July, as it continued to face pressures from higher costs, and noted caution from shoppers during the cost of living crisis.
However, the retail group said its performance was improving, and its pre-tax loss was 41% lower than the £99m loss reported for the same period a year earlier.
Despite the challenging economic situation, shoppers continued to spend money on themselves, with sales of clothing, beauty products and "dine-in" meals all rising.
However, consumers proved wary about splashing out on "big ticket" items for their homes, such as technology products or sofas, the sales of which fell.
As a result, operating profit at the John Lewis department store chain fell from £295m to £277m. However, operating profit at the Waitrose supermarket improved to £504.4m from nearly £432m, despite IT problems earlier in the year, which affected product availability.
John Lewis sales fell 2%, while Waitrose sales were up 4%.
Read more here:
Turning to the John Lewis Parntership press conference call.
John Lewis bosses have been asked whether the delay to the turnaround plan is going to impact its goal to generate 40% of its profits outside retail, given there have been some reports about some delay to its housing schemes.
(A reminder that John Lewis plans to build 10,000 rental homes on its land).
Chair Sharon White said the 40% target remains long-term goal, and they will have to see whether that part of their profit proportion target "also has a bit of a delay to it".
But White said it "remains as strong an aspiration as it did before."
Not all is well among UK supermarkets.
The UK arm of German discount supermarket Lidl has swung to an annual loss, as attempts to keep prices low for customers, paired with higher costs and inflation, weighed on performance.
Lidl GB reported a £76m pre-tax loss in the 12 months to February, down from a pre-tax profit of £41m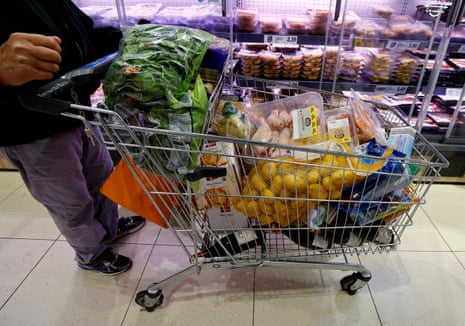 That was despite a 19% rise in full-year revenues to £9.3bn, as its low prices attracted a greater numbers of shoppers.
John Lewis remains loss-making, delays turnaround plan
Disappointing news from the John Lewis Partnership this morning.
The partnership, which runs John Lewis department stores and Waitrose supermarkets, reported a £59m pre-tax loss in the six months to July.
While that is an improvement on the £99.2m loss reported during the same period last year, the company said it was still struggling due to the ripple effects of high inflation, which has racked up costs and resulted in customers being more cautious with their spending.
The partnership said inflation – which increased its costs by £179m last year – is also partly to blame for its failure to deliver on its turnaround plan, which is now going to be delayed by two years.
The retailer said:
A combination of inflationary pressures and greater than expected investment requirements for our transformation means it will take a further two years to deliver the Partnership Plan – to 2027/28 rather than to 2025/26.
That plan, originally announced in October 2020, was meant to see the John Lewis Partnership reach £400m profit by the end of the programme, including through making its operations and head office more efficient.
Despite the challenges, the JLP's chair Sharon White, tried to strike a positive tone:
The Partnership is a unique model that has been tested and come through stronger many times in our 100 year history. While change is never easy – and there is a long road ahead – there are reasons for optimism. Performance is improving. More customers are shopping with us. Trust in the brands and support for the Partnership model remain high.
Introduction: Arm prices at top of range at $51 per share ahead of IPO
Good morning, and welcome to our rolling coverage of business, the financial markets and the world economy.
We start the day with news that UK chip designer Arm Holdings has secured a bumper $54.5bn valuation ahead of its first day of trading.
It comes after the Softbank-backed company priced shares at the top of its initial estimate, at $51 each, as investors scrambled for a piece of the action in the biggest initial public offering of the year.
Susannah Streeter, head of money and markets at Hargreaves Lansdown said:
Despite some concerns about the company's exposure to numerous risks in China, it's not stopped a juggernaut of enthusiasm, with the IPO oversubscribed multiple times, with interest from tech giants like Nvidia, Apple and Alphabet.

Given the eagerness from investors , it seems Arm could have pushed for an even higher price, but is playing it safe to try to ensure a surge in the share price once trading gets underway.
While enthusiasm is high for the company's return to public markets, seeing the UK company list on the US Nasdaq rather than in London, is another embarrassment for the City.
But Streeter explains that there was no room for sentiment as Softbank pursued the best price for Arm's return to public markets.
The fanfare surrounding today's launch in New York will cement disappointment that London has been shunned, even though the decision was announced back in March.

Arm was very much seen as a British success story, but owner SoftBank is pulling no sentimental punches here and wants the biggest bang for its buck.
We'll bring you further reaction, and Arm's first market moves, in the hours ahead.
The agenda
9:30am BST: UK Covid loan data

1:15pm BST: ECB interest rate announcement & press conference

1.30pm BST: US PPI, retail sales, and weekly jobless claims

2:30pm BST: US markets open for trading