Key events
4 mins: A diagonal long-ball from Ben Davies, playing on the left of a back three, drifts out of play. The Spurs fans keep making noise, serenading Antonio Conte and then Harry Kane.
2 mins: Antonee Robinson scoots smartly down the left and cuts back into the area, where Dier is there to intercept. There are already chants aimed at Daniel Levy coming from the away end.
He's ready, and away we go. Tottenham kick off, playing in their blue and yellow, wetsuit-esque away kit. Eric Dier blooters the ball downfield, and it has Leno worried for a second before landing behind the goal.
More delays! The players are out and ready to roll, but referee Paul Tierney has some technical issues with his headset. Shouldn't be too much longer.
"Greetings from the U-S-A! U-S-A!! U-S-A!!!" Greetings, Peter Oh. "With an American captaining the Fulham Ream team, a Yank gaffer and starters at Leeds, plus various US owners throwing their dollars around and Ted Lasso roping hearts and minds, is this some sort of golden age of 'Murican involvement in the Premier League?"
Let's not forget the Clint Dempsey Derby, about to kick off. In tribute to 'Deuce', I'm going to predict a 2-2 draw tonight.
"I don't think Fulham will go second in the London league tonight – I suspect Spurs will have too much firepower – but the very fact that it is possible fills me with a mixture of delight and disbelief," writes Richard Hirst. "Seeing them walk out at Hamburg in the Europa League final was probably the highlight of my Fulham supporting days; maybe I can start dreaming of it happening again next season."
Here's Marco Silva: "We are playing well this season, we have been consistent [and] the team is getting stronger and stronger. For us, the table right now is not the main thing … Chelsea was an important game for us, our fans, and tonight is another one. Their targets are completely different than ours, but we want to be competitive every game."
"What say you about Fulham's new stand?" asks Adam Hazell. "It looks a gem." I haven't been to Craven Cottage, always a lovely day out, since it opened – but it looks the business, particularly from across the Thames.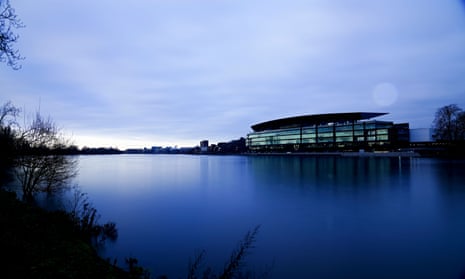 A quick reminder – kick-off has been pushed back to 8.15pm (GMT), a 15-minute delay, due to transport issues. The Spurs team are here, not exactly looking up for it. They haven't lost at Craven Cottage since 2008, though, so can take heart from that.
"Having spent years commuting in from Wimbledon, I probably travelled the circumference of the globe on the District Line, the stops etched into my psyche like a litany of woe," writes Julian Menz.
"A tip for any fans not already stuck on the Green Sardine Tin … try to get on the Piccadilly Line and take the walk from Earl's Court."
"Any thoughts from you and OBOers on who EFC will hire to replace Frank?" asks Colin Flint. "You'd have presumed that the club would have someone in mind who'd likely take the job before firing the current manager, but Everton don't seem particularly well run at the moment."
A fair assessment, tbh, and as Andy Hunter reports, there may be work to do in collectively agreeing on their new man. If it were me in the hot seat, I would go for Sean Dyche, surely the best bet to get a thin squad playing coherently at short notice.
"Another match where I get to see one of the managers my Everton fired doing quite well at a more stable club. Good on you, Marco. Niall, have you been interviewed to replace Frank yet? With all the names flying about it could happen. Sigh"
Well, this year over in the NFL, the Colts gave pundit Jeff Saturday a head coaching gig. It went terribly, but that's no reason not to give a Guardian MBMer a shot at keeping Everton up. Farhad, Bill – give me a call.
Fulham (4-2-3-1): Leno; Tete, Diop, Ream (c), Robinson; Palhinha, Reed, Willian, Pereira, Decordova-Reid; Mitrovic.
Subs: Rodak, Kurzawa, Adarabioyo, Chalobah, Cairney, James, Wilson, Solomon, Vinícius.
Tottenham (3-4-3): Lloris (c); Romero, Dier, Davies; Emerson Royal, Højbjerg, Bentancur, Perisic; Kulusevski, Son; Kane.
Subs: Forster, Doherty, Sánchez, Tanganga, Lengley, Sessegnon, Bissouma, Skipp, Richarlison.
As mentioned below, kick-off will be delayed by 15 minutes due to "local travel restrictions", likely related to the District Line being suspended in the area.
Who is having the better season? After 20 games, Tottenham's record reads W10 D3 L7, 33 points, GD +8. They sit in fifth place, two places above Fulham – W9 D4, L7, 31 points, GD +3. It's a sign of the Premier League's stratification that a big-six side having a bad year are still (marginally) above a team enjoying a campaign for the ages – but if they win tonight, Fulham will overtake Spurs and make it official.
Of course, the fact these two London rivals find themselves so close together shows how both have diverged from pre-season expectations. Having fast-tracked his team into the top four last term, Antonio Conte was handed transfer funds to close the gap and muscle in on the title race. Fulham also spent cash, although nothing like the £100m+ burned in 2018, when ambitious plans met reality and relegation.
Marco Silva's primary aim this season was to end Fulham's yo-yo days; that is all but certain already, and much greater heights await. In a season when some big beasts have momentarily dozed off, a top-six place appears a feasible target – that would be Fulham's highest-ever top-flight finish, eclipsing the halcyon days of Roy Hodgson.
We could see history made tonight, if Harry Kane finds the net. One goal would match Jimmy Greaves' Tottenham record; two would overtake him and also make Kane the third member of the Premier League's 200-goal club. Kane has scored 47 of those goals in London derbies, while Aleksandar Mitrovic has scored against four teams from the capital this season. You fancy one, or both, to find the net again tonight.
Kick-off is delayed until 8.15pm (GMT) at a brisk but boisterous Craven Cottage due to travel problems. Join me!