Key events
The opening France try is worth your consideration, so here it is in all it's glory.
"Hi Lee," chirps Tom Paternoster-Howe, "With all their poor passes, do you think Wales are relying on Nick Berry's noted belief that Every Loser Wins? Honk!"
I'll be the judge of the Honk-worthiness of any attempted zinger around here, sunbeam.
40 mins. Wales try to run something out from their own 22 late in the half, but France marshall their defence well and force Adams into touch to end the half.
37 mins. Danty has a big run on first phase from a scrum, carrying twenty metres. He's dropped by Tipuric, maanges to pop to Dupont who very nearly finds Penaud out right, but the pass is just behind the winger and into touch.
Slowly, surely it feels that France are over the initial shock of Wales not being a bit of a shambles and are exerting their greater ability on the game.
TRY! France 20 – 7 (Jonathan Danty)
34 mins. France look up a bit of a blind alley in the middle of the park, but they don't panic keep the runner and passes coming until Ramos works Dupont free up the left touchline. After he is hauled down the ball is fired via four long passes touchline to touchline where Danty is waiting to score in the corner.
Ramos scores the conversion, in off the post.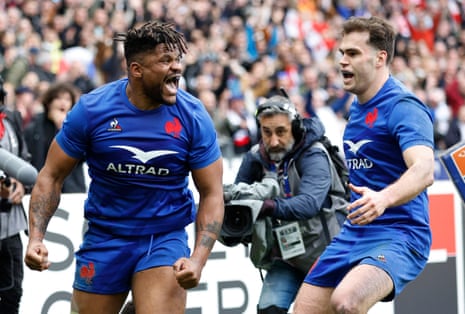 PENALTY! France 13 – 7 Wales (Thomas Ramos)
30 mins. Another scrum, another penalty against Wyn Jones vs Atonio. Ramos extends he lead from the tee.
27 mins. The ball is chucked behind Dan Biggar by Rhys Webb, forcing the Wales 10 to scramble back into his own 22 to retrieve it. He pops the ball to Rees Zammit who clears to touch, but it was on the full and so France will have a chance to attack from inside the Welsh 22.
PENALTY! France 10 – 7 Wales (Thomas Ramos)
25 mins. Alun Wyn Jones is being called for a head injury assessment by the match doctor, and is replaced by Daf Jenkins.
At the next breakdown, Wainwright overruns the clearout of Faletau and this allows Marchand to clamp on the ball and win a penalty.
Ramos calls for the tee and puts his side in the lead
21 mins. It's another promising period of possession for Wales, with some ambitious offloading from the tackle, constantly changing the point of attack and avoiding too many breakdowns for Danty, Cros et al to make a right mess of. However, as is often the case with high tempo gameplans, the precision ultimately suffers as it gets a little frantic in the late phases.
Still, so far this is going roughly 1756% better than anyone expected for Wales.
18 mins. Gael Fickou could be in trouble here as he picks up Alun Wyn Jones and turns him beyond the horizontal. The TMO takes a look and the ref concludes it was lifted, but low danger so penalty only. Wales will have a lineout near the France 22.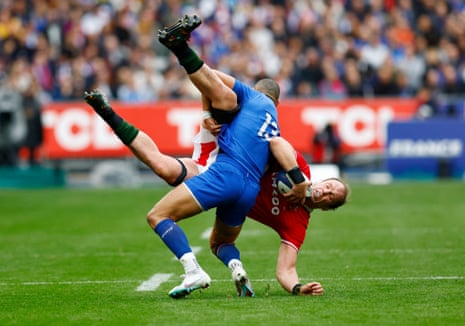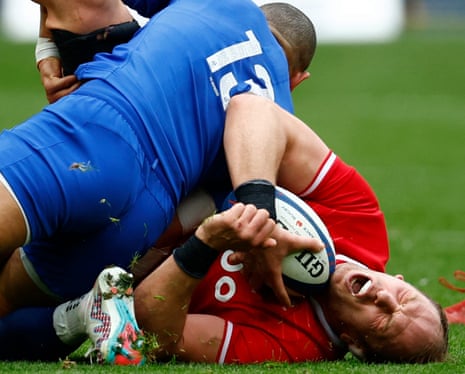 16 mins. Uini Atonio knocks on in the French 22, and it takes a while to get the scrum completed. Wales looks like they've done a good job of wheeling it slightly to get an good angle of attack, but Atonio puts Wyn Jones under enormous pressure to force a collapse penalty.
13 mins. Wales do not allow that shattering response from the home side to knock them off their decent start as they once more work some well drilled phases to gain some ground. Webb puts a lovely angled kick into touch in the France 22 and Gatland's men will have the ball back from the French exit kick.
TRY! France 7 – 7 Wales (Damian Penaud)
10 mins. Ntamack drifts across the line and steps around Tompkins and into space. He finds Dupont (who else?) in support in the 22 and the little man looks right and flings a missile of a pass out to Penaud on the touchline to score.
Ramos adds the two.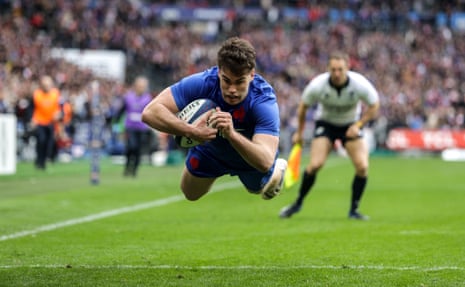 TRY! France 0 – 7 Wales (George North)
7 mins. From the lineout, Wales can't get a maul going but they are again working phases at pace up to the line which have France defending like demons, and inevitably they are offside again, and Biggar once more goes to the corner. The catch and drive from the lineout splinters France who infringe for the fifth time in the opening minutes, and as the advantage is being paid, North takes advantage of the confusion to run through a gap and under the posts.
Biggar converts.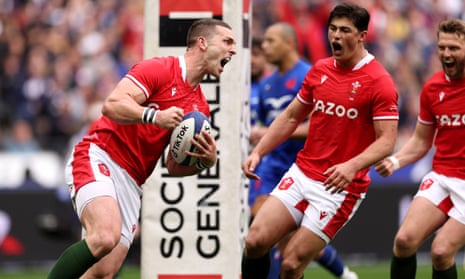 5 mins. Wales are strong again on the drop-out return, with lots of dynamic carries from pick-and-gos around the ruck, plus moving the ball around with short pop passes and making the French work. They are up into the 22 again and Les Bleus are offside once more, but Biggar spurns the posts and puts in in the corner.
3 mins. France exit with little fuss and that allows Rees-Zammit to have a run on the kick return. There follows some decent phases from Wales, with Wyn Jones and Faletau carrying well and forcing the French defence offside. From the lineout Wales drive over, but they are held up and Ntamack will have to drop out from under his posts.
Bright opening few minutes for the visitors.
Dan Biggar has the ball in his mitts and as Ref Nick Berry blasts his whistle, the Welsh 10 boots the ball deep into French territory.
Taulupe Faletau is leading the Wales team out on the occasion of the 1ooth cap and what a player he has been over the past decade, never short of world class.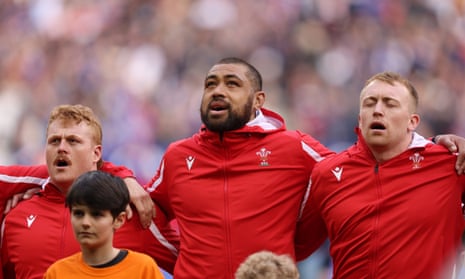 The teams are on their way out, and the Wales fans are starting to offer their positive thoughts.
Pre Match Reading
Our man, Michael Aylwin, is not holding out much hope for Wales today, read all about it here..
Funny game this if you're a Wales fan, what are you hoping to get from it? Let me know this and anything else on the email or via tweet @bloodandmud
A team that wins by 43 points at Twickenham shouldn't need a great deal of tinkering; a sentiment Fabien Galthie agrees with as he makes just two changes to the side that walloped England last week. Uini Atonio is back from his ban to start at tight-head and Romain Taofifenua is in for Paul Willemse.
Warren Gatland is taking very different approach, as he has the whole tournament. The changing of the team each week makes one think his selection strategy is to throw 40 names into a lottery machine and see which 23 gets fired out of the chute first. Six changes this week has Alun-Wyn Jones back at lock, and return to the flank for Aaron Wainwright in the forwards. In the backs, Louis Rees-Zammit returns, but as fullback replacement for the crocked Liam Williams, George North and Nick Tompkins reunite in the centres, and Dan Biggar is back as aggromeister-in-chief at 10.
France: Thomas Ramos; Damian Penaud, Gael Fickou, Jonathan Danty, Ethan Dumortier; Romain Ntamack, Antoine Dupont (c); Cyril Baille, Julien Marchand, Uini Atonio, Thibaud Flament, Romain Taofifenua, Francios Cros, Charles Ollivon, Gregory Alldritt.
Replacements: Peato Mauvaka, Reda Wardi, Sipili Falatea, Bastien Chalureau, Sekou Macalou, Maxime Lucu, Yoram Moefana, Melvyn Jaminet
Wales: Louis Rees-Zammit, Josh Adams, George North, Nick Tompkins, Rio Dyer; Dan Biggar, Rhys Webb; Wyn Jones, Ken Owens (captain), Tomas Francis, Adam Beard, Alun Wyn Jones, Aaron Wainwright, Justin Tipuric, Taulupe Faletau
Replacements: Bradley Roberts, Gareth Thomas, Dillion Lewis, Dafydd Jenkins, Tommy Reffell, Tomos Williams, Owen Williams, Leigh Halfpenny
Welcome to Act II of Super Saturday, the part where things start to get a bit interesting regarding the outcome of the Championship. To try and keep this as simple as possible, if Ireland win later, they obviously win the whole show, Grand Slam and all; but if Andy Farrell's men lose without a bonus point, then it's time to get your calculator and multiple outcomes diagrams out.
If France claim victory with a bonus point – which after last week looks a very likely outcome – they will win the tournament (reminder, only if Ireland lose without a bonus point). If France win today without a bonus point, they will have to better Ireland's points difference, which is current 20 better than Les Bleus'. Still with me? No? Good..
All of those mind-fogging permutations aside, the ask for France is a simple one: win by as many points as you can muster then hope for a form reversing miracle in Dublin.
Many people questioned whether introducing bonus points to the Six Nations was a good idea, but they can make the last day a little more interesting. The downside is that I've had to type "bonus point" in a match preamble far more than anyone would like, including myself.