Dutch party leaders clash in TV debate as election nears
Senay Boztas
Dutch party leaders have clashed in a tetchy televised debate, as the Netherlands election campaign entered its final days.
The country's six main party leaders confronted each other in Rotterdam on Monday night, as a poll suggested Frans Timmermans' GreenLeft/Labour was neck and neck – on 27 seats of a total 150 – with the party that has led the past four governments, the People's party for Freedom and Democracy (VVD) under Dilan Yeşilgöz-Zegerius.
The poll also showed a six-seat gain to 26 seats for Geert Wilders' anti-Islam Party for Freedom, which has been campaigning on distrust in government and an immigration "stop". Support for the centre-right backbencher Pieter Omtzigt and his New Social Contract dropped four seats to 21 – although after the poll was taken, Omtzigt said he would be a prime ministerial candidate, one uncertainty that was troubling voters.
During the debate, the six main party leaders, including Farmer-Citizen Movement's Caroline van der Plas and liberal democratic D66 leader Rob Jetten, interrupted each other and failed to agree on any subjects except the housing crisis.
The ill-tempered spectacle came as the poll suggested that a previous survey last week – which showed a surge for the far-right Party for Freedom – may also have galvanised progressive votes for GreenLeft/Labour.
Read the full story here.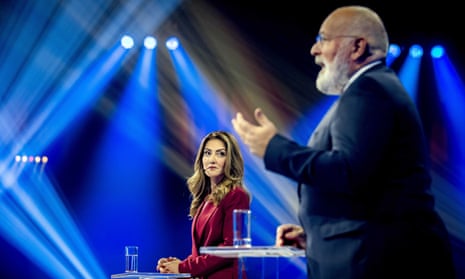 Key events