Key events
71 min Maddison touches the free-kick off to Saka, who curls high and wide this time. Oh, Bukayo.
69 min Saka wriggles away from Malinovskyi on the right and is fouled just outside the area. Malinovskyi is booked.
69 min The second half has been a bit of a non-event.
66 min Maddison dances thrillingly through midfield, but then he overhits an admittedly awkward through ball to Saka.
64 min England are managing this game well, so much so that Jordan Pickford still hasn't had a save to make.
62 min: Ukraine substitutions Vitaliy Buyalskiy, Viktor Tsykankov and Eduard Sobol replace Oleksandr Karavaev, Vitaliy Mykolenko and Mykhailo Mudryk.
60 min Zinchenko clips an excellent pass into Mudryk on the edge of the area. He turns onto his right foot but is immediately crowded out.
59 min "Regarding Venables and his subs during Euro 96, it always amazed me that he didn't make any during the semifinal against Germany," says Michal Pac Pomarnacki. "Any suggestions why? He had plenty options of the bench namely Fowler and Ferdinand…"
Well the first period was so breathlessly dramatic, one of the great periods of extra-time, that I doubt there was any time to think. I might have brought Fowler on for Sheringham in the second period, which was relatively quiet, as Fowler was at his absolute peak. That said, the substitutes (Fowler, Stone and one other, Barmby?) didn't do much against Spain from memory, so I've always thought of it as a reasonable decision rather than a mistake.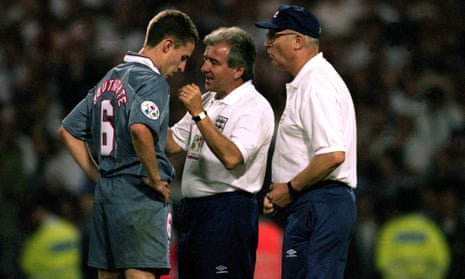 58 min Walker plays in the overlapping Saka, who hammers a low right-footed cross into the middle. It's too quick for Bellingham, who can't adjust his feet and screws the ball further across the area. Actually, replays show there was a slight from a Ukraine player nearby, so I did Bellingham a disservice.
56 min A decent spell for Ukraine, with some good possession in England's half. England look comfortable enough though.
52 min "Harry Kane's goal," says Dave Manby. "Does anyone else think it was an own goal?"
I thought Karavaev poked it against Kane before it ricocheted into the net, which would make it Kane's goal. But my eyesight isn't what it was, and I've been wearing glasses since the age of four.
51 min Maddison loses Yaremchuk with a lovely turn 22 yards from goal, but then he gets a bit carried away – understandable in the circumstances – and smashes a rising shot wide of the near post.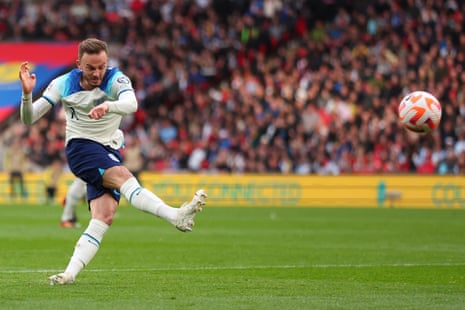 50 min England's next qualifiers are in June: Malta away and North Macedonia at home. If it stays like this they will already be in a superb position to qualify for the Euros.
47 min Bellingham beats two players quite brilliantly in a very tight area, the first by playing a wall-pass with himself, the second with a nutmeg. His power is so eye-catching that it's easy to forget how deft he is as well. Somebody is going to get extremely lucky this summer, even if it costs £150m.
47 min "I always think of Netherlands' numbering, which goes across the back four with 2, 3, 4, 5 from right to left," says Daniel Harris. "The midfield then has a 6, 8 and a 10, with 7, 9, 11 in attack. I think that's where our positional references come from."
46 min Peep peep! The second half is under way.
What makes Bukayo Saka so good? The obvious answer is 'everything'. But for a player who is so stylish and watchable, his greatest quality might be a quietly devastating efficiency. Even his goal and assist today – both extremely hard things to do – were made to look almost routine.
For a young attacking player, the final frontier is to develop from fantasy footballer to Fantasy Footballer, one who deals in the hard currency of goals and assists rather than YouTube reels. Few 21-year-olds do it as well as Saka.
Never mind Bukayo Saka, let's get back to shirt numbers
"The conventional numbering systems come from the gradual change from 2-3-5 to 4-4-2," writes Thom Scott-Phillips. "Numbers first appeared on shirts when 2-3-5 was common, so the two fullbacks were 2 and 3, three halfbacks were 4, 5 and 6, and the front five were 7-11, numbering from one wing to the other.
"Then the change. The middle of halfbacks, the 5, was moved back, along with one of the other two: either the 4 or the 6. The other stays in midfield. Meanwhile one of the inside forwards, either the 8 or the 10, moves back into the midfield, while the other sits just off the centre forward, who is 9.
"Now you have your classic 4-4-2 numbering: 2 and 3 as fullbacks; 5 and either 4 or 6 at centre back; a midfield pairing one of 4 and 6 with one of 8 or 10; 7 and 11 as wide players; 9 as centre forward with either 8 or 10 sitting off them.
"For the era, that Liverpool side were very unconventional with their numbering."
Half time: England 2-0 Ukraine
England are in control thanks to two moments of brilliance from Bukayo Saka. His unplayable cross led to Harry Kane's opening goal, and three minutes later he flashed a 20-yard curler into the top corner as if it was the easiest and most obvious thing in the world.
45 min Three minutes of added time.
44 min As my sometime colleague Steve Bradfield points out, there was a Messiesque inevitability to that Saka goal – he basically passed the ball into the top corner, at pace, from 20 yards.
43 min Mudryk pings well wide from distance. England have kept Ukraine's attackers very quiet.
42 min Suddenly England are rampant. Bellingham stretches to intercept a pass, 30 yards from goal, and immediately shovels it through to Kane in the inside-right channel. He smashes a low shot from 15 yards that is well saved by the falling Trubin.
What a fantastic goal! Henderson rolled a simple pass towards Saka, who was 20 yards out, back to goal and with Matviyenko tight against him. Too tight, in fact: Saka rolled him with ease, moved infield and flashed a curling shot into the far top corner. Brilliant.
GOAL! England 2-0 Ukraine (Saka 40)
Bukayo Saka is going to be a superstar!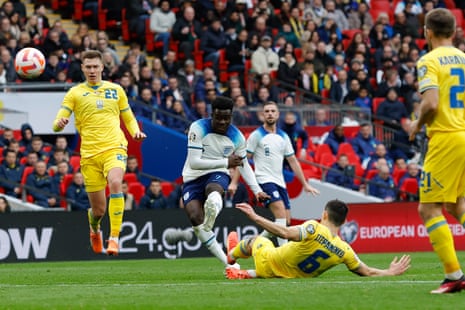 39 min That was a slightly odd goal. At first it looked like a routine finish from Kane, but I'm almost certain Karavaev knocked the ball against him. Either way, it was a devilish cross from the increasingly unplayable Bukayo Saka.
Harry Kane extends his England record, though he didn't know that much about it. He started the move himself by booming a crossfield pass out to Saka on the right. Saka moved to the edge of the area, teased Mudryk and curled a wicked inswinging cross towards the far post.
Kane fought for the ball with Karavaev, who got there first and tried to poke it behind for a corner. Instead the ball hit the leg of Kane, who was in the act of shooting himself, and flew past Trubin.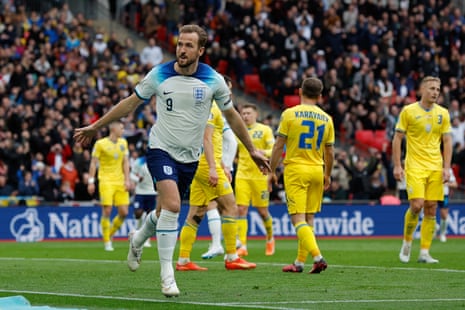 GOAL! England 1-0 Ukraine (Kane 37)
54+1 = 55.
36 min Maddison leads a promising four on four break. The ball gets slightly stuck under his feet – this pitch isn't great – before he eventually gives it to Saka. His cross is half cleared, then Maddison had a shot blocked, then so does Henderson. The last block was the best one.
35 min Maddison has been… okay so far, no more or less. In that regard, he is perfectly in tune with his teammates.
34 min Maddison heads Henderson's cross straight at Trubin from eight yards, but again it wouldn't have counted as he was offside.
34 min Derrick Cameron writes in to remind us about Ivan Zamorano wearing No18 at Inter: 1+8 = 9, which had been claimed by some no-mark.
33 min Mudryk shows scary pace in the inside-left channel before his cutback is well read at the near post by Maguire. No matter: Yaremchuk was offside earlier in the move.
31 min "Zerouali was a ray of sunshine during a particularly bleak period of Scottish football outside the Old Firm," says Matt Thomas. " Was worth the entrance fee. Which admittedly with student discount wasn't much. Rest in peace Hicham."
Bloody hell I had no idea he died so young,
30 min Another chance for Kane, who pokes a bouncing ball over the bar after a quick free-kick from Maddison. This time he was definitely offside, though, so it wouldn't have counted.
28 min Kane might have been fractionally offside when he missed that chance.
27 min England are starting to pin Ukraine back. They haven't created many clear chances, mind, and could use a bit more wit in the centre of the field.
25 min: Chance for Kane! Henderson, in a typical inside-right position, flips a first-time cross towards the far post. Kane, bizarrely unmarked, misses an attempted flying volley with his left foot. The ball runs beyond the far post to Bellingham, whose fierce low cross ricochets off a couple of players – one of them Kane, by now on all fours – before being cleared.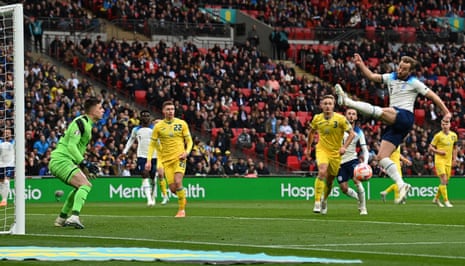 23 min "For some reason," writes Joe Pearson. "Fox Sports thinks American viewers want to watch Liechtenstein vs Iceland. What!? And I'm not going to pay for their premium streamer, so please keep the updates coming thick and fast. TIA!"
He's not in the squad this time.
22 min Malinovskyi's shot from the edge of the area is blocked by his teammate Mudryk. He caught that quite sweetly.
20 min Chilwell, still over on the right following a corner, swings a very deep cross that is headed straight at Trubin by Kane. He had to scramble over a defender so it was a quarter-chance at best.
Tell you what, the normalisation of xG has done a right number on that most useful liveblog cliche, the half-chance.
20 min "Given we're talking shirt numbers," says Andy Flintoff, "maybe the best of all time would be Hicham Zerouali's 0 for Aberdeen, for which he had to get special permission from the SPL."
So that's who the Yeah Yeah Yeahs were singing about.
19 min England are dominating possession, though their attacking play so far has been slightly pedestrian.
18 min Trubin is fine.
16 min Saka's overhit cross is spilled inexplicably by Trubin, who then reacts well to smother Maddison's follow-up. Maddison follows through into Trubin, who stays down after wearing a few of Maddison's studs. It was a bouncing ball, nothing vicious from Maddison.