Meanwhile the hive mind of the OBO is already thinking about England's selection for the third Test. "With Stokes seemingly suffering a knee injury," says Tom van der Gucht, "whilst Leach's pride was wounded by his figures, is there a chance Moeen Ali could be back for the batting all-rounder spot for the next Test…"
Maybe, but I suspect Stokes will play through that bruise on the knee, especially as there's an extra week to recover. Mo is in the Netherlands with the one-day than, so they would have to re-route him, which seems a bit far-fetched. He seems more likely to come back for the tour of Pakistan, along with his good mate Adil Rashid.
"May I just say," murmurs Bob Wilson, "that, like everyone else, I've occasionally been disobliging about Bairstow's technique (because of what a huge cricketing expert I am and all). How delightful to be reminded of the very deep pleasure of finding yourself proved to be hopelessly ignorant. There's nothing to be said about a ton like that, apart from, wow, everybody learned something today. Ridiculous stuff."
"Do you think T20 tactics can ever be incorporated into Test cricket, Tim?" asks Paul Griffin. "Do you? Do you?"
"A busy work day here in Toronto," says Martin Gwynn Jones, "so it'd been a little while since I'd checked the MBM. I saw that big, beaming pic of Bairstow and thought 'Nice one, he must've got a fairly brisk 50'." Ha.
Oh, and Mel also asked him the big question: what did you have for tea? "A cheese toastie."
The toastie probably already has its own Twitter account.
The Player of the Match is, of course, Jonny Bairstow. That was a magical cricket moment, Mel Jones tells him. "Thanks very much," he replies. "I don't know what to say to that." Awwww. He even thanks everyone for coming.
"It was great fun to be out there… We saw it as a one-day game. The pitch was very good, the outfield was very fast. The positive cricket we're looking to play, we've got the players to play that brand of cricket. It's very exciting. Let's see what happens in the next few weeks.
"That never-say-die attitude, the ever-evolving confidence that people have got in each other in that dressing room allowed people to go and flourish. The way Joe and Pope played in the first innings set up the way that we were able to play at the end."
Asked where this knock rates in his England career, he says: "Yeah, it's number one." Cometh the hour, cometh a very decent man.
"A huge shout-out to Nottingham County Cricket Club," says Stokes. "A full house here really got us going out there. Don't underestimate the power of the home crowd."
What's next for this team? "Headingley!" he says with a smile. "We're going to come even harder."
I'm not sure that's even possible, but good on him.
"So, in the end," says Paul Haynes, "it was a good toss to win?" Ha.
And here's the winning captain, a Mr B Stokes. "Two from two," says Mel Jones, "record run-chase – this captaincy thing, you've taken to it like a duck to water."
"Nah, I can't take too much credit for that," he says. "I've got to give credit to the [other] ten of the boys for the whole performance for five days. Today was perfectly set up for the way we want to go about things – run into the danger rather than back away. It wasn't just myself and Jonny there. Give credit to Lees at the top again. The more he plays, the more comfortable he looks as a Test-match opener. Two really important knocks for the team in different circumstances…"
Bairstow? "Once Jonny gets those Jonny eyes on him, there's no stopping him."
Foakes? "Best keeper in the world, progressing a batsman as well."
He hasn't even mentioned Pope or Root yet. Or Broad or Anderson.
"I think," says Stephen Brown, "from the moment Root was out for 3 we all knew it was going to go that way, didn't we? That's the problem with Test matches, all too predictable these days… Cheers for the excellent coverage as always." Our pleasure. It's a privilege to cover a performance like this.
Tom Latham, the losing captain, is being interviewed. "At tea, it was still in the balance," he says. "But the way Jonny and Ben were able to play there was outstanding, and full credit to them."
A few more factoids for you. England's winning score of 299 for five took exactly 50 overs. At tea, they needed 160 off 38 overs. They got them off 16 overs. Bairstow scored 93 of those 160, Stokes 50. Not a bad player to put in the shade.
People who improved on their highest Test score in this match
Daryl Mitchell, with 190.
Alex Lees, with 67.
Ollie Pope, with 145.
Matty Potts, with 3.
People who had the finest hour of their whole career
Jonny Bairstow, with 136 off 92 balls.
What a day to be there. And it was free! That was an inspired decision by Notts CCC.
Also, a tip of the hat to my colleague Daniel Harris, who wrote this at the end of the 17th over, when Bairstow was on four. (Thanks to Fairy Cakes on Twitter for pointing it out, amid the mayhem of the chase.)
"This is such an opportunity for Bairstow who will, no doubt, be nurturing some kind of resentment or other, and I'd love it to be him, if it's anyone, who sees England home. There's something so lovable about him that tells me he's the absolute best mate anyone could have."
"I am so confused," says James Jackson. "Does this nail down Jonny's spot and put an end to the debate about whether to bring in Jos Buttler…..or does this make the case that we need both?
Either way….this is very exciting."
England have won the series! Against the World Test Champions. Who they hadn't beaten for seven years, until last week.
Stokes raises his bat and walks off, his face almost as red as his hair. The players of both sides exchange handshakes. The New Zealanders, who made 553 here after being put in, have played their part in a fabulous exhibition.
England win! A famous victory
50th over: England 299-5 (Stokes 75, Foakes 12) Target 299 Boult continues, it's in the slot, and Stokes swings him for a straight six! When Boult tries a yorker, Stokes blocks for four. And then he blasts a cut for four more, to wrap it all up. England win by five wickets, in the greatest style you will ever see. Phenomenal stuff.
49th over: England 285-5 (Stokes 61, Foakes 12) Target 299 Foakes tucks for four and then gives a chance! Dropped at extra-cover by Bracewell, diving to his right. That's the 11th or 12th drop of the match. And the four means that this match is now the biggest boundary bonanza in Test history.
On a day when the government has made a lot of people ashamed to be British, the cricketers have done us proud.
48th over: England 281-5 (Stokes 61, Foakes 8) Target 299 Foakes, facing Boult, forages a few more. England need 18 off 24 overs, at 0.75 per over.
"Batting collapse coming?" says Philip Morton in Berkeley, California. "Still can't give up the pessimism that belongs to being a long time England supporter. But 5th day Test cricket is the best. I remember the Oval in 2005, which is still my favourite series." Yes, great series, great day, but that was a draw – which is what WinViz was expecting this to be for most of the day.
47th over: England 278-5 (Stokes 61, Foakes 5) Target 299 Back comes Henry, so Latham is playing his two strongest cards at once, hoping for a miracle. Ben Foakes comes to the party, whipping the ball to the midwicket boundary. Stokes nearly gets run out, but it'll take more than a mix-up to stop him being there at the end of this.
"England were one win in 17 before Lord's," Mark Butcher notes. "The difference the change in personnel has made is amazing."
46th over: England 272-5 (Stokes 60, Foakes 0) Target 299 Well bowled Trent Boult, the bowler of the match, and the series so far – that's his 12th wicket since he, like Bairstow, turned up jetlagged from the IPL.
Bairstow is now sitting on the balcony, chatting to Brendon McCullum, drinking in the atmosphere they both did a lot to create, as the crowd sings God Save The Queen.
Wicket! BAIRSTOW c Blundell b Boult 136 (England 272-5)
Two more fours, and then he nicks one! That is the end of the Test innings of Jonny Bairstow's life. Stokes gives him a high five and a clasp of the hand. The crowd give him a standing ovation. What a moment.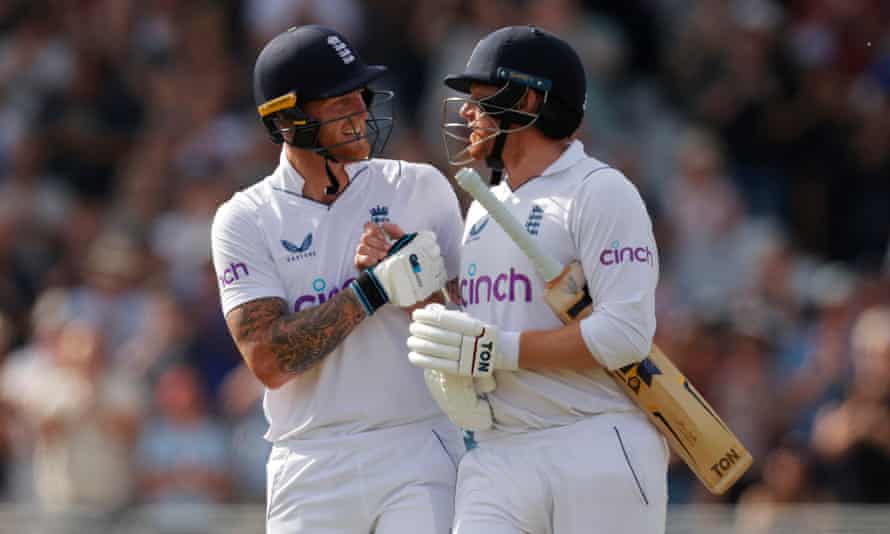 45th over: England 264-4 (Bairstow 128, Stokes 60) Target 299 NZ get the ball changed. May as well, I suppose. Bracewell gets some encouragement as the new ball flies off a length, beating Bairstow's reverse sweep. But then it's business as usual again: a cut for four from Bairstow, a pull for four from Stokes, and then a massive straight six from Stokes. "That went so hard and so far," says Ian Ward, "that Leo the cameraman fell over trying to track it." The partnership is now 171 off 19.5 overs. Who needs The Hundred?
"I'm an American trying to get into cricket…" says Karalee Whiting. "What a Test match to start with! Thanks for the commentary. :)" Our pleasure! At this rate, the whole continent of America will one won over.
"The problem with Test cricket," says Gary Naylor on Twitter, "is that tickets are too expensive and it's too slow." Ha.
44th over: England 249-4 (Bairstow 123, Stokes 50) Target 299 A single to each batter, a few dots – just when it looks as if they're going to settle for two off this over, Stokes hobbles down the pitch and blasts Southee for six! He reaches his fifty off 55 balls. Not a bad second fiddle. And 50 is what England need.
"TMS were asking yesterday," says Tony Cowards, "for suggestions as to who played England's best ever innings. Seems they asked a day too early." Good line.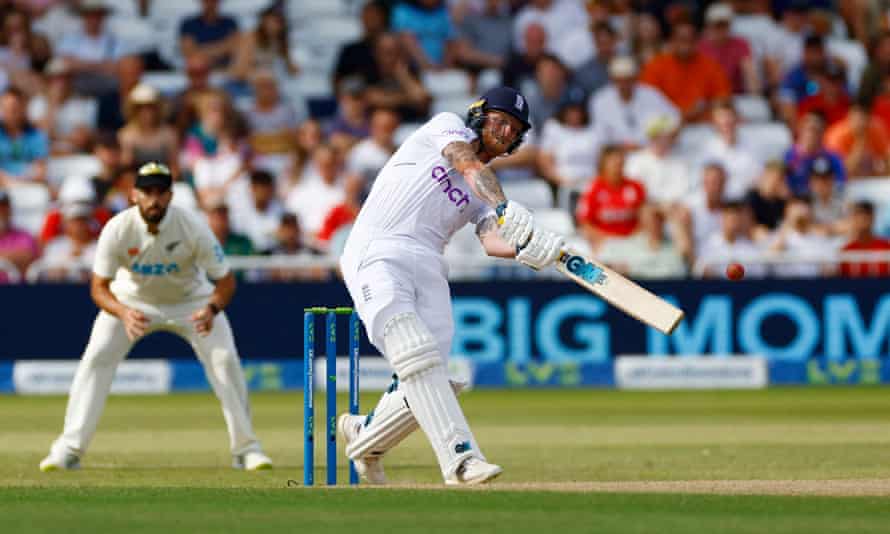 England now need 58 off 29 overs. Two an over! "You should just knock it around," says Nasser Hussain, appearing as the ghost of cricket past. "Not sure these two are going to do that!"
43rd over: England 241-4 (Bairstow 122, Stokes 43) Target 299 It's been a few minutes since we had a six – so Bairstow provides one! And another! Both slog-sweeps off Bracewell. Followed by a four, as he slog-sweeps yet again and takes one hand off the bat. England have made 102 since tea, in nine overs, and Bairstow has blasted 79 of them.
42nd over: England 224-4 (Bairstow 106, Stokes 42) Target 299 After taking a minute to catch his breath, Bairstow resumes the carnage and cover-drives Southee, on the up, for four more.
He just missed Jessop's record, by the way: Jessop 76 balls, Bairstow a frankly sluggish 77. So it's just the fastest Test hundred for England in 120 years.
Hundred to Bairstow! And it's a classic
Southee returns and keeps Bairstow quiet for two balls. But then he runs it away past backward point for three, and there it is – the best Test hundred he has ever made. He jumps for joy, as well he may. Only 77 balls. Nine fours. Five sixes. He came straight into this series from the IPL, and now he's brought the IPL to a packed house at Trent Bridge.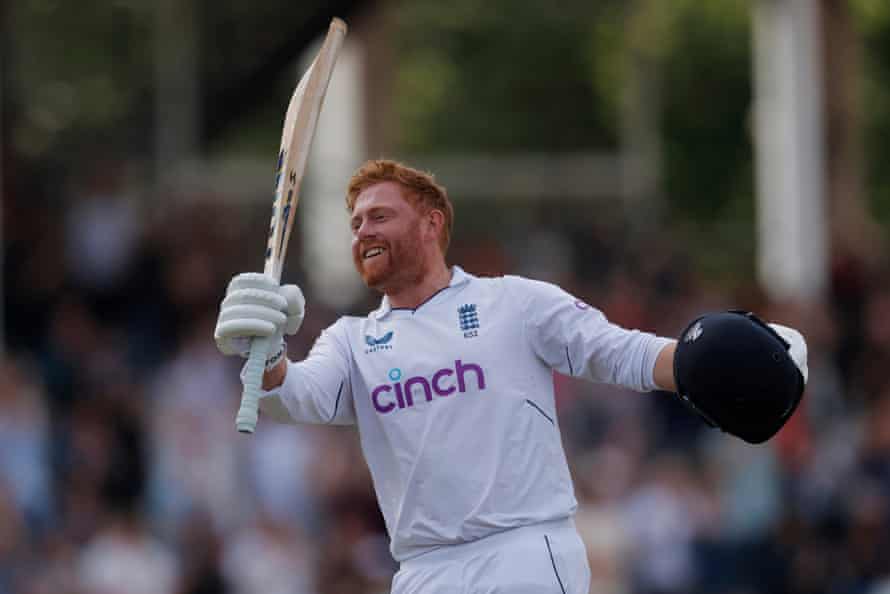 41st over: England 216-4 (Bairstow 99, Stokes 41) Target 299 As Latham takes Henry off and brings back Bracewell, Bairstow needs four off three balls to break Jessop's ancient record. He cuts for two. Cuts again, wants two more, gets sent back, and there's almost a run-out! Stokes faces a few balls, still wincing from that bruised knee. Only three off the over! But that's more than they need now – the target is 83 off 31 overs. Stokes' injury is more of an obstacle than the runs required.
40th over: England 213-4 (Bairstow 96, Stokes 41) Target 299 One measure of Bairstow's firework display is that he has reduced Stokes to second fiddle. In the last over, Stokes hit himself on the inside of the knee, the second most tender part of the male anatomy. He grimaced and bore it, and now he lifts a pull for two and steps away to cut for four. Only six off the over: things are looking up for poor old Tom Latham.
39th over: England 207-4 (Bairstow 96, Stokes 35) Target 299 Bairstow isn't just blasting the cover off the ball: he's hitting it cleanly too. Henry goes full now, and Bairstow cover-drives, as if using a laser, to bring up the 200 and reduce the target to double figures. A rare block, and then a cut that flies through the vacant gully for four. Gully is only vacant, by the way, because these two have spread the field.
Bairstow has 96 off 72 balls. Buckle up and enjoy the ride!
38th over: England 198-4 (Bairstow 88, Stokes 34) Target 299 Now Boult drops short, and you can guess the rest: a pull for six from Bairstow. And another! Top-edged, but he got enough on it. The hundred partnership comes up off 73 balls. Bairstow allows Boult one dot, then cuts for four. He has 88 off 68 balls, so he needs 12 off his next seven to break the record for England's fastest Test hundred set by Gilbert Jessop in 1902. A hundred and 20 years ago!
The New Zealanders hold a meeting; Bairstow has a drink. England have blasted 59 off four overs. We need to know what they had for tea.
37th over: England 182-4 (Bairstow 72, Stokes 34) Target 299 Henry again, going short again, and Barstow is hooking again – for six! And then four off the top edge – no, hang on, it's the helmet. Bairstow has headed a four!
And another six! The slight snag with Henry's plan is that the hooks are going to the short boundary. England have made 42 off the first 16 balls after tea! Henry changes tack, aims for the top of off, and beats Bairstow with an inswinger that goes for a bye. Staggering stuff. The partnership is 89 off 70 balls. It's like Ian Botham at Headingley 1981, except that there's a Beefy at both ends.
36th over: England 165-4 (Bairstow 60, Stokes 34) Target 299 Boult isn't looking to bounce them out: he'll pitch it up. And Bairstow will hit him on the up for six! Over mid-off. Stokes adds a late cut for four. Another 13 off the over! The target is down to 134 off 36. If England win this match, some of the credit should go to Eoin Morgan.
"I think," says Chris Harrison, "Kummerspeck actually refers to the lard that you add to your waistine through comfort eating." Ah.
35th over: England 152-4 (Bairstow 52, Stokes 29) Target 299 It's Matt Henry to continue, with a field that says very loudly that the bowling is going to be short. It is, and Bairstow is equal to it – hooking for four, pulling for four more. The first shot brings up the fifty partnership off only nine overs. The second takes Bairstow to his own fifty – 51 off 51 balls! He pulls yet again, for a single, and then Stokes plays a canny steer for four. Thirteen off the over! I'm running out of exclamation marks.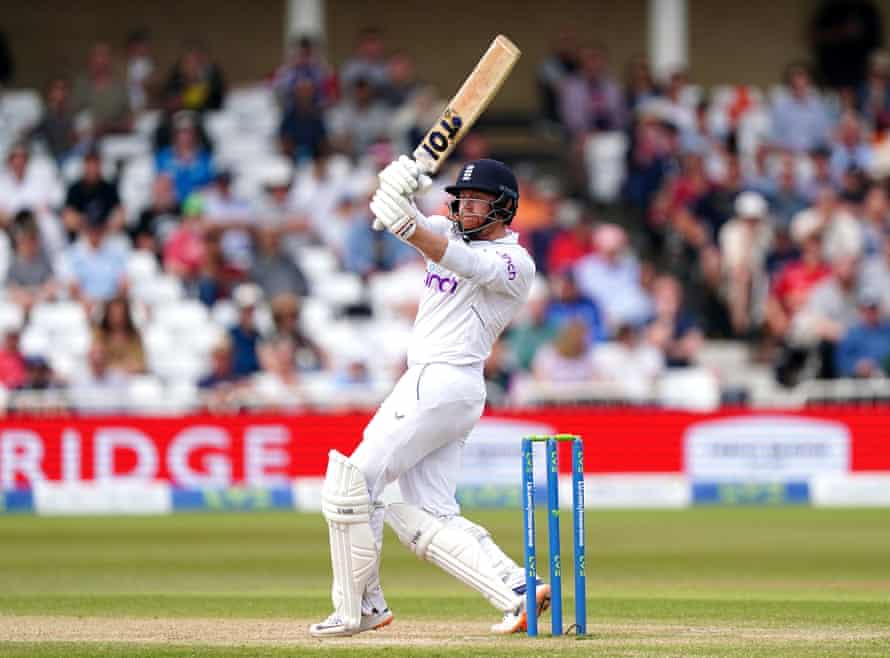 Ben Duxbury has already written the final scene. "If this doesn't end with Branderson needing four off the last over and the Kiwis needing one wicket," he says, "I'll be most disappointed."
"I spent a marvellous, albeit cricket free, summer working in the Black Forest many years ago," says David Martin. Very Guardian! "Kummerspeck was a term used for the food that you eat when you feel sad. I think a literal translation would be 'Grief Bacon'. Perhaps an ominous email to send." We can take it.
"Thanks for the excellent coverage as always," says James Taylor. Too kind! "It's remarkable how much tension you can feel just reading the description of events. This couldn't turn into the Stokes and Leach show again? Could it?" It could. But that may be underestimating Bairstow…