A 16-year-old has shot his mother and killed two police officers before taking his own life in Edmonton, Canada.
A police official and a senior government official said the male shot and wounded his mother early on Thursday at an apartment in the city in Alberta province. Two patrol officers were shot and killed upon arriving at the scene about 12.47am. There was no indication the officers were able to fire shots.
Dale McFee, the Edmonton police service chief, said the suspected gunman died by shooting himself. A woman was taken to a hospital with life-threatening injuries where she remained in a serious but stable condition.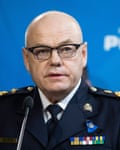 McFee identified the deceased officers as Travis Jordan, 35, who had been with the Edmonton force for eight-and-a-half years, and Brett Ryan, 30, an officer for five-and-a-half years.
"I can't tell you how devastated we are with their loss," McFee said.
Ryan was being remembered as a pillar of the community and a longtime youth league hockey referee. Darcy Carter, with the Spruce Grove Minor Hockey Association, said the officer and his wife were expecting a child.
Ryan was a paramedic before he became a police officer, and was passionate about his work in the police, Carter said. "That's something that I'll never forget … just his face lighting up when he talked about his job."
Jordan was remembered for his kindness. Jessica Shmigelsky said she was driving to work after a heavy spring snowfall in 2020 and Jordan pulled her over because her snow brush wasn't working. But instead of giving her a ticket, he cleaned off her car, she said.
"He did his job, and he did more than what his job really entailed," Shmigelsky said.
Canada's prime minister, Justin Trudeau, tweeted his condolences and support to the officers' loved ones and colleagues. "Every day, police officers put themselves in harm's way to keep people safe. The news that two Edmonton police officers have been killed in the line of duty reminds us of that reality."
The killings are the first for the Edmonton police service since 2015, when Constable Daniel Woodall, a hate crimes investigator, was shot numerous times while using a battering ram to enter a residence. Another officer, Sergeant Jason Harley, was struck by a round that penetrated his body armor but survived.
Edmonton is the capital of Alberta province, where in March 2005, a man shot and killed four members of the Royal Canadian Mounted Police in Mayerthorpe, central Alberta. Before that, Constable Ezio Faraone was shot to death in Edmonton while responding to an armed robbery in 1990.
With the Associated Press and Reuters