Key events
32 min Eze is receiving treatment, so both managers take the opportunity to have an impromptu teamtalk.
31 min Newcastle try a funky training-ground free-kick. Trippier plays the ball to Guimaraes, whose clip into the area is headed partially clear. Willock slices a difficult volley high and wide from the edge of the area.
30 min Guehi fouls Wilson 30 yards from goal. Newcastle enquire about the possibility of a second yellow card, and I'd argue that was more of a bookable offence than the first one. He could easily have been sent off there.
27 min Newcastle's domination is in danger of becoming a little sterile. Vicente Guaita has only had a couple of fairly routine saves to make, although that's two more than Nick Pope at this juncture.
26 min "While I appreciate the love for The Flaming Lips, I'm sad that Grandaddy, always seem to get overlooked," says Chris Brock. "Under The Western Freeway is a fabulous album."
Isn't The Sophtware Slump their best album? I'm a bit of a Grandaddy tourist, so I might be wrong on that. For no particular reason, I always think of that album as part of a trilogy: Deserter's Songs by Mercury Rev in 1998, The Soft Bulletin by Flaming Lips in 1999 and The Sophtware Slump by Grandaddy in 2000.
25 min Palace want a yellow card for a foul by Guimaraes on Schlupp. It was not dissimilar to the tackle for which Guehi was booked, though I think Guehi's was slightly worse.
24 min What comes next in this sequence: 1-0, 1-0, 1-1, 0-0, 0-1, 1-0, 1-0, 0-2, 1-2, 1-1, 1-0, 0-0, 0-0?
We'll find out at about 7.24pm. Those are the scorelines in the last 13 games between these teams.
22 min A Sky Sports graphic informs us that, thus far, Wilfried Zaha has had two touches.
20 min: Chance for Newcastle! Schar rumbles forward from the back and pokes a nice pass to Joelinton, who gallops away from Ward in the area but shoots tamely at Guaita from about 10 yards.
19 min The Palace players are again unhappy when Craig Pawson gives a corner to Newcastle despite the ball coming off Almiron. All's well that ends well: nothing comes of the corner.
16 min Trippier is pretty lucky not to be booked for pulling back Eze, and the Palace players are unimpressed.
15 min Newcastle are playing well here. They're not massively on top, but they just look a bit sharper, a bit classier, a bit more confident.
14 min Trippier's corner is headed away. Longstaff drives the ball back towards Trippier, who cushions a volley into the path of Burn just inside the area. He whistles a sweet half-volley but it's straight at Guaita and he holds on.
13 min Almiron plays a nice pass down the right to Longstaff, whose low cross towards Wilson is put behind by Guehi (I think). Corner to Newcastle.
12 min "One more thing," says Joe Pearson; ."Based on your 'recommendation', I have cued up 'Transmissions from the Satellite Heart' by Flaming Lips as the soundtrack of this match. Peter Drury? Who's that?"
No no no no no, you need 7 Skies H3.
10 min Joelinton flicks a nonchalant pass to find Guimaraes in space on the left. The move peters out but Newcastle are having plenty of joy on that side.
8 min The lively Willock staggers away from Doucoure in the area, but Richards comes across to knock the ball off Willock and behind for a goalkick.
7 min "G'day Rob and my fellow Newcastle fans!" chirps Chris Paraskevas. "It's 4:30 am here in Sydney and I've been roused by my alarm (no all-nighter for this one). My old high-school mate was a mad Palace fan, back in the 'glory days' of Simon Jordan, Iain Dowie (…not Shearer's assistant vintage) and Andy Johnson. I remember him once trying to convince our school team why Palace were going to rise and become one of Europe's great clubs. I think that bus ride is still going for him (metaphorically). HTL!"
6 min: Chance for Almiron! Willock plays a nice one-two with Guimaraes on the left, moves into the area and stands up a deep cross towards Almiron, who shins a right-footed volley into the side netting. For a second, the Newcastle fans at the other end thought it had gone in; their tenative cheers were drowned out by emphatic "AHHHHHHHHHHH"s from the home fans.
5 min Nothing to report apart from that yellow card. Newcastle look confident in possession though, as you'd expect given their recent form.
4 min Guehi overruns the ball, cleans out Botman and is booked.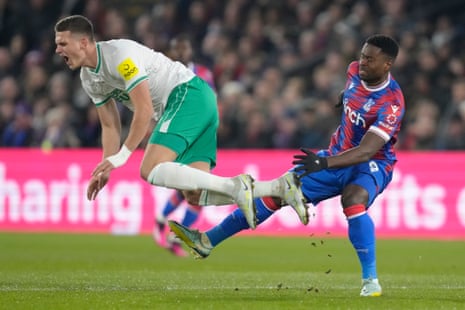 3 min "Your preamble is certainly making the case that I should go out and run my Saturday errands instead of watching the match," says Joe Pearson. "But I am lazy by nature, so I'll stick with you and this goalless draw. You're welcome!"
1 min Peep peep! Newcastle, wearing their Saudi Arabia third strip, kick off from right to left.
"Is it not an axiom of association football that Crystal Palace will always stay 12th?" says Vibhanshu Bisht. "Whenever I take a look at the middle of the table, they are always firmly ensconced in that spot. Even before, during and after the last game against Man United, they were never under threat of being moved from that position."
It's a good point. Since being promoted in 2013, they have finished between 10th and 15th every time. Some might wonder what the point is, but given how tough the Premier League can be for the have-nots, going nowhere for a decade is actually quite an achievement.
Eddie Howe speaks
Palace and Newcastle have already played out two goalless draws this season, one in the league and one in the Carabao Cup, and their last 13 meetings have produced a whopping 15 goals.
Wait, come back!
Patrick Vieira speaks
Classified results (Premier League department)
Crystal Palace will stay 12th whatever happens tonight. Newcastle, who start in fourth, will move above Manchester United if they draw.
The teams in (probable) formation
Crystal Palace (4-2-3-1) Guaita; Ward, Richards, Guehi, Mitchell; Doucoure, Schlupp; Ayew, Eze, Zaha; Edouard.
Substitutes: Johnstone, Clyne, Milivojevic, Olise, Hughes, Riedewald, Wells-Morrison, Ozoh, Mateta.
Newcastle (4-3-3) Pope; Trippier, Schar, Botman, Burn; Longstaff, Guimaraes, Willock; Almiron, Wilson, Joelinton.
Substitutes: Dubravka, Lascelles, Lewis, Manquillo, Ritchie, Murphy, Anderson, Saint-Maximin, Isak.
Referee Craig Pawson.
Michael Olise, who scored the equaliser against Man Utd on Wednesday, has been dropped/rotated. That's one of four changes made by Patrick Vieira: Joel Ward, Jeff Schlupp, Eberechi Eze and Jordan Ayew replace Nathaniel Clyne, Will Hughes, Jean-Philippe Mateta and Olise.
Bruno Guimaraes is fit, so Newcastle are unchanged from the last Sunday's victory over Fulham. Alexander Isak, who came off the bench to score the winner, remains among the substitutes.
A remarkable thing happened on 4 November 2022: Nick Pope conceded a goal. Since Romain Perraud's late non-consolation for Southampton in a 4-1 defeat at St Mary's, Pope has gone 721 minutes without being beaten. That's 12 hours and one minute – enough time to watch an entire season of Succession, or listen to side one of a Flaming Lips album.
Right here, right now, Newcastle have the best defence in the Premier League. It's quite an achievement – and quite a change in identity for a club whose previous Premier League success, under Kevin Keegan and Sir Bobby Robson, involved scoring as many goals as possible and the hell with clean sheets.
Crystal Palace have already ended one run this week, stopping Manchester United's winning sequence at nine thanks to Michael Olise's marvellous free-kick, and they'd love to do the same today – not just by scoring past Pope, but by stopping Newcastle from setting a new club record of 15 top-flight games without defeat.
Kick off 5.30pm.