Key events
Mares Chase market movers
Here's Tony Paley's snap report on the big one.
It was the third Gold Cup success for trainer Willie Mullins with the 7-5 market leader. The King George winner Bravesmansgame was second at 6-1 and Conflated, whose jockey Davy Russell pulled out at the last minute feeling sore, was third at 22-1.

Galopin Des Champs had fallen at the last fence 12 months previously at the Cheltenham Festival with the Turners Chase at his mercy and this was redemption for the winner and his connections.
4.50 Grade 2 Mrs Paddy Power Mares' Chase 2m4f odds
4.50 Mares' Chase (2m 4f 127yd) preview
Willie Mullins has taken both runnings of this race since it arrived on the schedule in 2021 and fields the well-fancied six-year-old Allegorie De Vassy today, unbeaten in two starts over fences and looking all over like a stable star of the future. She is not, however, the favourite as things stand, as Colm Murphy, whose Brave Inca was a hugely popular Champion Hurdle winner back in 2006, saddles Impervious, who is also unbeaten in chases and rated just in front of Allegorie De Vassy by Timeform. Murphy decided to give up his licence in 2006, but was drawn back to training a couple of years ago and has suggested that Impervious could turn out to be the best mare that he has trained. High praise indeed, given that the Grade One winners Voler La Vedette and Feathard Lady were among his charges earlier in his career.
SELECTION: Impervious
Willie Mullins' trainer of Gold Cup-winning horse Galopin Des Champs: "We put ourselves under pressure by saying he had enough stamina to win a Gold Cup, he had enough class to win a Gold Cup.
"I didn't realise how much pressure until about the third last. He flew through and I thought it is going to happen.
"Through the race you are wondering if he is too far back but I had asked Paul to settle him. He had the fastest horse and just needed to ride him home and that is what he has done. Paul is so good under pressure and I have put him under pressure this week.
"We don't do as much fast work this year, it is all about stamina. The horse is just relaxed, Paul gets them relaxed and puts them asleep, although I did wonder if we had overdone it at the halfway, we were a long way off. We won the Gold Cup this year, you'd like to think we come back next year as favourite and win it but you need a lot of luck. I am just delighted he did what he did."
4.10 St James's Place Festival Challenge Cup Open Hunters' Chase, 3m 2 1/2f result
1 Premier Magic (Mr B Gibbs) 66-1

2 Its On The Line (Mr Derek O'Connor) 28-1

3 Shantou Flyer (Miss Olive Nicholls) 50-1

23 ran
Premier Magic's winning rider – and trainer – Bradley Gibbs, his first winner in two years: "Unbelievable. My son couldn't be here we couldn't get a baby sitter, and my dads's in hospital. My fiancee's father owns him. I rode him wide, and the way he's been riding over points we always thought he could win a big race."
66/1 Premier Magic wins the Hunters Chase!
Off we go for more chaos, with old boy Billaway prominent, and one falls at the first, Secret Investor, who's up and fine. Shantou Flyer, the old stager, is in midfield. Rockys Howya is the early pacesetter, though not at such a lick as the Gold Cup pace. And then Billaway goes with 12 out, last year's runner has gone. IK Brunel is another casualty. Rockys Howya leads them over the final circuit. Vaucelet, the favourite, makes a mistake as they begin the ascent to the top of the course. Rockys Howya misses a couple of jumps but continues to lead. Loose horses may cause problems here. There's two of them alongside him. Shantou Flier is in second with three to jump. Rockys Howya still up there, Premier Magic starts to speed away at the last, away from Famous Claremont, and holds on, the loose horses causing all sorts of trouble. The chasers had no way of catching Premier Magic, even though he was idling home.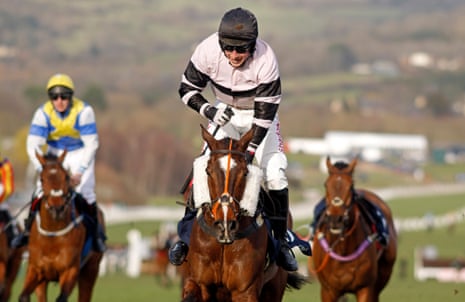 Gold Cup full result
1 Galopin Des Champs (P Townend/W Mullins) 7/5

2 Bravemansgame (Harry Cobden/Paul Nicholls 6/1

3 Conflated (Sam Ewing/Gordon Elliott) 22/1

4 Noble Yeats (Sean Bowen/Emmet Mullins) 14/1

5 Protektorat (Harry Skelton/Dan Skelton) 25/1

6 Royale Pagaille (Charlie Deutsch/Venetia Williams) 50/1

7 Eldorado Allen (Brendan Powell/Joe Tizzard) 100/1

Fell: Ahoy Senor (Derek Fox/Lucinda Russell) 14/1, Hewick (Jordan Gainford/John Joseph Hanlon) 40/1

Pulled-up: A Plus Tard (Rachael Blackmore/Henry de Bromhead) 4/1, Minella Indo (Nico de Boinville/Henry de Bromhead) 20/1, Stattler (P Mullins/W Mullins, Ireland (16/1)

Brought down: Sounds Russian (Sean Quinlan/Ruth Jefferson) 50/1
The beaten jockeys.
Nico de Boinville on Minella Indo. "A messy start."
PW Mullins, Stattler: "Never got going."
Rachael Blackmore, A Plus Tard: "He got hampered."
Harry Cobden on Bravesmangame: "A phenomenal ride and along looms Galopin Des Champs. Nobody remembers the second. Now how do we come back next year and beat him?
Sam Ewing on Conflated: "He did everything right, and I can't thank Mr O'Leary more.
Hunters Chase Market Movers
4.10 Hunters Chase 3m2f odds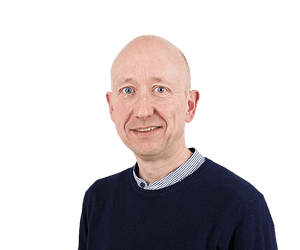 Greg Wood
4.10 Festival Challenge Cup Open Hunters Chase (3m 2f 70yd) preview
It may not have the word "Fox" in its name any more, but this race is still a fiendish little puzzle to solve, with its mix of runners from small point-to-point yards and others saddled by major names like Willie Mullins, Paul Nicholls and Henry de Bromhead. David Christie, who trains the favourite, Vaucelet, is in the former camp, having sent out only a handful of runners under Rules so far this year, but he is hoping to take the scalp of Mullins's Billaway, who finally got his head in front 12 months ago after near-misses in both 2020 and 2021. Top pointing jockey Will Biddick, successful on Porlock Bay two years ago, has a big chance to get another on the board on Famous Clermont, while Bob And Co, formerly with Paul Nicholls, bids to give the champion trainer's former assistant, Harry Derham, a dream debut at the Festival. I wouldn't be surprised to see his old boss beat him with Secret Investor, but the Bobster goes to post with a live chance.
SELECTION: Secret Investor
Noble Yeats, the Grand National winner, was fourth and looks in decent nick for Aintree. He's currently 10/1 to repeat. Meanwhile, Hewick is OK, as is Ahoy Senor and Sounds Russian. All got up off the floor and were able to make their way to the stables. Phew.
As Ruby Walsh has reminded us, that was the Irish Gold Cup and the King George winner going up against each other. As so often, it's the Irish horse that wins but the Nicholls team are back and firing.
3.30 Boodles Cheltenham Gold Cup Steeple Chase, 3m 2 1/2f result
1 Galopin Des Champs (Paul Townend) 7-5 Fav

2 Bravemansgame (Harry Cobden) 6-1

3 Conflated (Sam Ewing) 22-1

13 ran
Paul Townend, winning jockey on Galopin Des Champs. "It wasn't clean sailing that is for sure! Everywhere I went I was running into trouble. A proper, proper horse because he ran three different races and still won a Gold Cup. I was delighted to see it all going on in front of me. It gave me a chance to fill him up after making up a lot of ground. This race is just different. It brings winning to a different level."
Galopin Des Champs wins the 2023 Gold Cup!
Protekorat is up there, A Plus Tard following Galopin Des Champs to the front but….Ahoy Senor comes down heavily. He hampers half the field and suddenly A Plus Tard is at the back and pulled up. That leaves Protekorat and Hewick up front, Bravemansgame is in there. Here comes Galopin Des Champs at the last, it's a run to the finish and Galopin Des Champs who takes it under Paul Townend, another Gold Cup for Willie Mullins. Bravemansgame is in second, a gallant ride from him. Conflated was third, Noble Yeats fourth. Hewick took a heavy fall in the final stages but is up OK. What a ride from Townend, but also from Harry Cobden on Bravemansgame.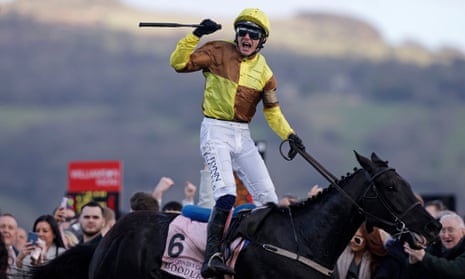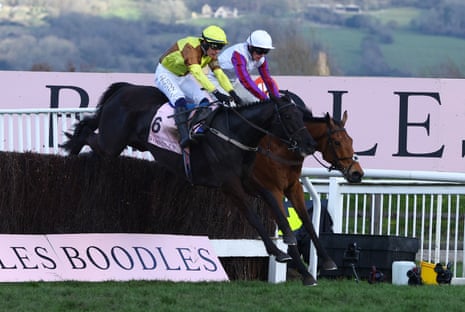 Minella Indo joins Stattler at the back, ridden by Nico de Boinville, of course, who issues reminders. Stattler pulled up with still 12 jumps to go. At halfway, Ahoy Senor is running them if not ragged, but stretching them out. Minella Indo pulls up with 10 fences to jump. The heat is on already, in spring sunshine. A Plus Tard dropping back?
Ahoy Senor is among the first to show, off at quite a lick, Hewick in there, too. Stattler struggling at the back. Galopin Des Champs sits at the back, too. Ahoy Senor takes the inside rail…they all clear the open ditch. Noble Yeats drifting back as Stattler continues to struggle. Galopin Des Champs sits deep, and Stattler looks likely to be backmarker. There's 14 fences to jump….
They idle to the start, and in two groups. A few keen, a few relaxed. We hear that Davy Russell was too sore to ride Conflated, and the Gigginstown team couldn't shunt Jordan Gainford in, so Sam Ewing gets the ride…and they're off first time.
Noble Yeats, last year's Grand National winner, is in the field, and may be a danger if it's a stayer. No Sam Waley-Cohen this time, as the good dentist retired, and ridden by Sean Bowen this year. Not since Golden Miller has a horse completed the Gold Cup/Grand National double.
Bravemansgame, by the way, for the now in-form Nicholls team, has headed off to the start instead of the parade.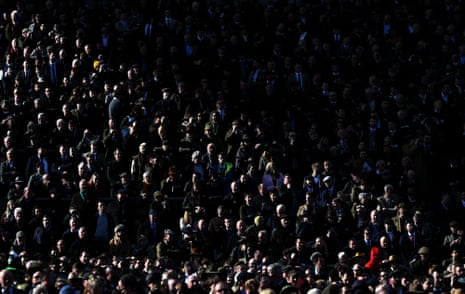 A further jockey change, and a sad one. Davy Russell, who came out of retirement to stand in for the injured Jack Kennedy, has also been ruled out of riding Conflated for the Gigginstown stable and Sam Ewing will ride instead. Ewing just rode Affordale Fury to a 150/1 second in the Albert Bartlett. We will see more of Ewing over the year but probably not dear Davy, who has spent the week getting chinned at the finish.
Memory lane time.
From five years ago: Native River, such a gutsy run. Might Bite never quite got there.
Gold Cup market movers
Bravemansgame – 8/1 into 6/1

Ahoy Senior 25/1 into 14/1

Via Oddspedia
5.30 Grade 1 Boodles Gold Cup 3m2f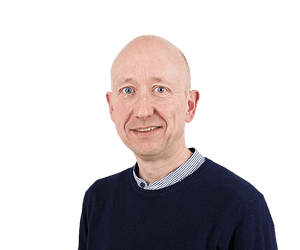 Greg Wood
3.30 Cheltenham Gold Cup (3m 2f 70yd) preview
The Gold Cup had not gone to an Irish-trained runner four years in a row in its near 100-year history until A Plus Tard's emphatic success 12 months ago, and the betting, at least, suggests that the visitors' unprecedented streak will continue this afternoon. In addition to the returning A Plus Tard, the second-favourite at arount 5-1,Willie Mullins's Galopin Des Champs is a warm favourite to banish the memory of his costly last-fence mishap here last year, while Noble Yeats, last year's Grand National winner, is the fourth-pick in the betting. The only British-trained runner at a single-figure price is Bravemansgame, the King George winner at Kempton's Christmas meeting, who has not, as yet, jumped a fence at Cheltenham, having been denied a chance to line up for the Brown Advisory Novice Chase last year when heavy rain arrived on Wednesday. There is a strong case to be made for all four, while Ahoy Senor, the epitome of an old-fashioned steeplechaser, will also have his supporters, having taken Cheltenham's own trial for this race, the Cotswold Chase, at the late January meeting, will have supporters too. He is a potent force when his jumping holds up and would be a very popular winner for Lucinda Russell's yard in Scotland. After much pondering, though, I personally plumped for A Plus Tard, who came up the hill as impressively as any winner of recent years last season, and was clearly not right in the Betfair Chase in November, but every punter will have their own opinion and a fascinating race is in prospect.
SELECTION: A Plus Tard.
Jockey change: Mark Walsh stands down, and Nico de Boinville will ride Minella Indo in the Gold Cup.
2.50 Albert Bartlett Novices' Hurdle 3m result
1 Stay Away Fay (H Cobden) 18-1

2 Affordale Fury (Sam Ewing) 150-1

3 Sandor Clegane (S F O'Keeffe) 28-1

20 ran
Concern over Mark Walsh, who Corbetts Cross crashed out across the railings just as the last beckoned. The horse is OK but Walsh's arm less so. He's due to ride Minella Indo in the Gold Cup and that must be a doubt.
"I could hear what happened behind me," said Harry Cobden, the winner of the Albert Bartlett.
Harry Cobden, winning jockey on Stayawayfay. "He was very green and he's winged the last, and stayed galloping. He stays forever. Great for the boss, and nice to get one in before the big one."
Paul Nicholls winning trainer on Stayawayfay: "He's a smart young horse, he's run how he looked. Only his third run under rules. Now I have had two winners, I am dead relaxed. I Need some luck [on Bravemansgame in the Gold Cup]. I'll leave the tactics to Harry, I'll guess he'll be in the front four.
Stayawayfay wins the Albert Bartlett Novices Hurdle!
It's getting packed out there, and sunny, too. Corbetts Cross goes off at 9/4. They go off first time over that lengthy distance of 3m. Big field, too. Embassy Gardens is an early frontrunner. Hiddenvalleylake sits at the back, as does Corbetts Cross who then moves out wide as if to find room. Seabank Bistro moves up. Monty's Star the backmarker as they pass the stands after their first lap, and isn't jumping too well. Embassy Gardesn leads them as they go to three hurdles out, still a long way to travel. Seabank Bistro, under PW Mullins, is pulled up. Down the hill, and plenty of chances, a blanket finish in prospect. Three-Card Brag up there at the turn, Stayawayfay is involved, and leading as Corbetts Cross crashes at the last. Staywayfay lives up to the name, and stays away from Affordable Fury to win. Mark Walsh was closing in but fell, and is thankfully up, as is Corbetts Cross. Paul Nicholls and Harry Cobden have a second winner together of the Festival.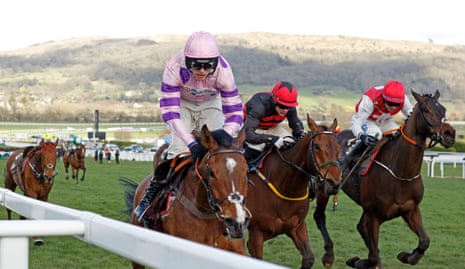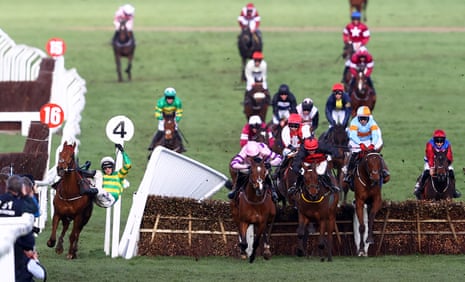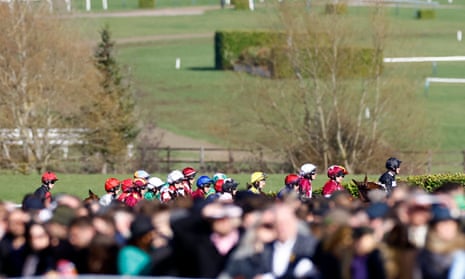 Albert Bartlett Hurdle market movers
Corbetts Cross 4/1 into 5/2

Dawn Rising 25/1 into 18/1

Via Oddspedia
2.50 Grade 1 Albert Bartlett Novices' Hurdle 3m odds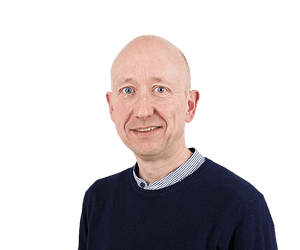 Greg Wood
2.50 Albert Bartlett Novice Hurdle (2m 7f 213yd) preview
The majority of the Grade One events at Cheltenham have become a little more punter-friendly in recent seasons, but this race for staying novices is an obvious exception. The majority of the field are unexposed at staying trips and open to any amount of improvement, and eight of the nine winners since At Fishers Cross was the last winning favourite have started at double-figure odds, including Minella Indo – a subsequent Gold Cup winner – at 50-1 in 2019. Three Card Brag and Corbetts Cross both put up useful performances last time and while the latter also has winning form at this trip, Three Card Brag is stepping up to three miles for the first time. Embassy Gardens, Paul Townend's pick from three Willie Mullins runners, won his only start at three miles by an eye-catching 35 lengths, while Favori De Champdou is more exposed at staying trips having won his last three starts, all at around three miles. Given the race's reputation for shocks, though, I'll take a chance with Letsbeclearaboutit, at around 16-1. He has taken a while to get the hang of hurdling, and only notched his first win – after four starts over timber – at Punchestown last time, but it was a big step forward and puts him in with a shout if the progress continues.
SELECTION: Letsbeclearaboutit.
Faivoir trainer Dan Skelton speaks to the BBC after his his sister-in-law landed the County Hurdle: "That was brilliant from Bridge. It was a great bit of riding. She doesn't get as many rides on the big stage because Harry takes precedence but she is more than capable. I thought Faivoir would win a big handicap this year."
2.10pm County Handicap Hurdle result
1 Faivoir (Bridget Andrews) 33-1

2 Pied Piper (Davy Russell) 12-1

3 Filey Bay (Mark Walsh) 6-1

4 Sharjah (Patrick Mullins) 10-1

24 ran
Bridget Andrews, the winning jockey on Faivoir, sister in law of trainer Dan, and whose husband Harry rode the well-beaten favourite Pembroke: Coming here for a ride is just a dream come true. To get a second win at Cheltenham is a dream come true, for the best team I could ever work for. As a number two jockey, there's aren't many big days. I'm married to Harry but sometimes you want success for yourself."
Faivoir is a 33/1 winner in the County Hurdle!
They set off first time and at one hell of a lick. Sharjah and Pembroke back in the field as Prairie Dancer sets off with the lead. Pembroke makes some ground as Filey Bay, well fancied makes a goof around four out. though still some way to go. Ballyaadam, as expected, is to the fore. Highway 101 attacks Prairie Dancer up the hill as they close in on the second last. Ballyadam is going well, chasing down the leaders. Loads of chances as they close on the last. Pied Piper and Faivoir, under Bridget Andrews wins on the nod, and it's another win for the Skelton handicap team. Davy Russell chinned again on the horse in second.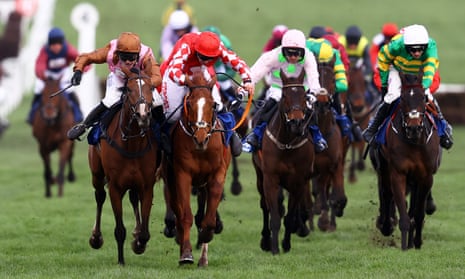 On Lossiemouth, the Triumph winner, William Hill have antepost odds for next year. Lossiemouth 8/1 for the 2024 Mares' Hurdle, Triumph Hurdle winner 12/1 for next year's Champion Hurdle. It all depends on Constitution Hill, of course, who is 4/7 for the Champion Hurdle.
The bell is ringing for the County Hurdle. It used to be one of the last races on the card, a get-out-of-jail affair, and many a punter will remember in 2008, back when it was named after the legendary Vincent O'Brien, Paul Carberry delivering a trademark flashing-home ride on Psycho, for Tony Martin….and missing. Silver Jaro, a 50/1 shot under Noel Fehilly, took the prize. Urgh.
County Handicap Hurdle Market Movers
2.10 County Handicap Hurdle 2m odds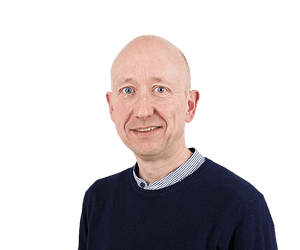 Greg Wood
2.10 County Hurdle Handicap (2m 179yd) preview
New rules about the number of starts required for novices and juveniles to be eligible for Festival handicaps are in force this year. Perhaps not entirely co-incidentally, it is also 12 months since Willie Mullins managed to get State Man, the runner-up behind Constitution Hill in Tuesday's Champion Hurdle, into this race on a mark of 141. He won pretty much as he pleased, having been kept out wide for much of the race – a clear sign that Paul Townend knew he needed only to avoid any accidents to win. The new rule – that novices and juveniles must have had four runs to qualify – does not mean that the County is now entirely Willie-proof, but Hunters Yarn, his most fancied runner this year – with three runs over hurdles and two in bumpers – is at least priced up at around 7-1, and not a raging 11-4 shot like State Man. Pembroke, from the Dan Skelton yard, is currently the only British-trained favourite on today's card, and is making his handicap debut off 136 after finishing a close second in a Grade Two at Cheltenham's Festival Trials meeting, while Filey Bay, who came with what looked likely to be a winning run in the Betfair Hurdle last time but couldn't recover from a mistake two out, is also attracting plenty of support.
SELECTION: Filey Bay.
1.30 JCB Triumph Hurdle, 2m 1f result
1 Lossiemouth (Paul Townend) 11-8 Fav

2 Gala Marceau (Danny Mullins) 10-3

3 Zenta (Mark Walsh) 12-1

15 ran
Rich Ricci, the American owner, takes another Grade 1 at Cheltenham. It had been a while. Expect to see his aviator shades soon. "It wasn't ideal, she just wanted to get on with it and keep it an even gallop," says Paul Townend. "I think she's very good, very professional even though she hasn't done a great deal of running. Nice to make up for the Dublin Festival for Rich and Susannah.
Soon enough, Rich Ricci is back, and is in tears behind those aviators at his 20th Cheltenham Festival win: "Great win, lovely mare, she was expensive. She's lovely. It's been a great week for racing."
Lossiemouth wins the Triumph Hurdle!
Jupiter de Gite is a late arrival for the race, the Gary Moore horse. A long, nervy wait, and the latest false start of the meeting. And so it appears. Jupiter De Gite sets off at a rate and is heading to the Best Mate stand. Reminds of Laibak in the Supreme a few years ago, and that won. Off they go to a quiet roar, Jupiter De Gite up front, way out in front from Blood Destiny. The clouds are dark as they go past the stands to another roar. Hypotenus hangs badly, and Lossiemouth, the favourite is all but hampered. Jupiter De Gite has dropped back and Hypotenus jumps off right again, and they take the long run to the final two hurdles. Lossiemouth is pulling Paul Townend hard, and surges into the lead. Tanking along, Zenta gives chase. Zenta chases hard as they go to the last. He pings it and and speeds away. Gala Marceau beats Zenta for second, and Lossiemouth is a clear, and impressive winner for the Mullins team.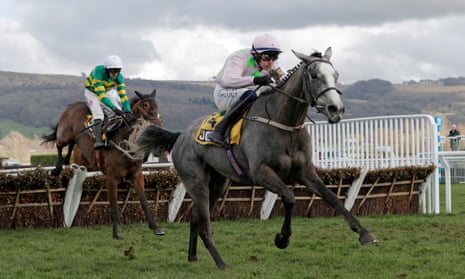 Oddspedia market movers for the 1.30 Triumph Hurdle
Friday's Cheltenham day four schedule
1.30 – JCB Triumph Hurdle 2m 179y

2.10 – County Hurdle 2m 179y

2.50 -Albert Bartlett Novices' Hurdle 2m 7f 213y

3.30 – Gold Cup 3m 2f 70y

4.10 – Festival Challenge Cup Hunters' Chase 3m 2f 70y

4.50 – Paddy Power Mares' Chase 2m 4f 127y

5.30 – Martin Pipe Conditional Jockeys Hurdle 2m 4f 56y
1.30 Grade 1 JCB Triumph Hurdle 2m odds
Going update for the big one.
1.30 Triumph Hurdle (2m 179yd) preview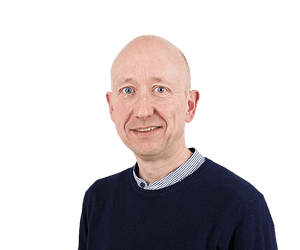 Greg Wood
An almost certain win for Ireland to kick off St Patrick's Day at Cheltenham, as Jipcot, Jupiter Du Gite and Active Duty are the only British-trained runners in the 15-strong field and they are priced up at between 66-1 and 250-1. It is about 10-1 on that it will be another for Willie Mullins too, as four of his seven runners in all are in the top four slots of the market, including Lossiemouth, the 13-8 favourite, Blood Destiny (5-2) and Gala Marceau (4-1). Lossiemouth remains favourite despite losing her unbeaten record over hurdles behind Gala Marceau in the Grade One juvenile hurdle at Leopardstown last month, as she lost a good deal more ground as a result of traffic problems than the two-and-a-half lengths she still needed to find at the line. Blood Destiny is the weakest of the trio in the market this morning and is making his Grade One debut, but his win at Fairyhouse in January was a fine performance on the clock and he should have plenty more improvement to come. Anyone looking to back a big outsider each-way, meanwhile, may want to consider John McConnell's Hypotenus at around 50-1. I tend to bang on a bit too much about the trainer's excellent record with runners in Britain in general, and at Cheltenham in particular, and he got off the mark at the Festival yesterday when Seddon took the Plate. He does not seem inclined to buy any horse a ferry ticket unless he thinks it will do itself justice, and Hypotenus was just three lengths behind Zenta, a 10-1 shot for today's race, on his only start over hurdles to date.
SELECTION: Blood Destiny. EACH-WAY: Hypotenus.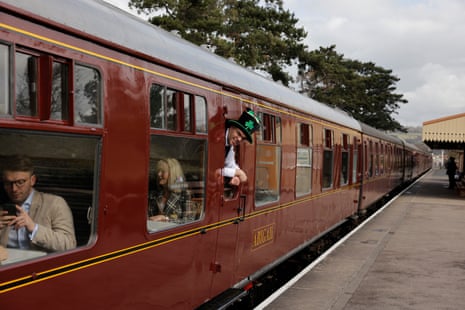 Per the Racing Post, the crowds are down this year. It felt quieter on Wednesday, though perhaps that was everyone sheltering from the rain.
The combination of a two-day teacher strike and a train strike during this week's festival has impacted crowd figures at the big meeting, according to Cheltenham's boss.

Wednesday's official attendance was 50,387 – down by 14,044 on last year – and Tuesday's crowd was 60,284, a drop of 8,283 on last year. The maximum crowd for each day at the meeting has been capped at 68,500 this year, with the aim of improving the racegoer experience, and Thursday's attendance of 62,429 was down by 11,325 on last year.

Cheltenham's director Ian Renton said: "I think the strikes have definitely had an impact and we saw when they were announced that ticket sales slowed. We're comparing the figures to a bumper year and we've capped the attendance in particular for tomorrow. We were expecting fewer people and everything I've heard so far suggests people have had a comfortable experience and that is important."
The forecast is more rain. Been a bit miserable this year, hasn't it?
Here's the Oddschecker market movers for the morning.
Hewick 50/1 – 25/1 [Gold Cup]

Path D'Oroux 20/1 – 12/1 [County Hurdle]

Irish Hill 14/1 – 8/1 [Martin Pipe]

Ahoy Senor 22/1 – 12/1 [Gold Cup]

Petit Tonnere 33/1 – 20/1 [County Hurdle]
Here's a leading reason to fancy Rachael Blackmore aboard A Plus Tard in the Gold Cup. The ground will be very different, mind, so a stayer has to be fancied if the leading contenders don't take the fancy.
Here Greg Wood's tips for the final day. Thursday saw the favourites get gubbed across the field. Greg has picked a former winner for the big one.
His dismal run when favourite for the Betfair Chase in November, the first time in 15 starts over fences he had finished out of the frame, was the result of an infection picked up in transit to Haydock, while a freak knock to a joint immediately before the Savills Chase in December ruled him out of that race.

De Bromhead decided to keep him fresh for the Festival after that minor setback and he reports A Plus Tard has been showing all the right signs on the gallops. It is encouraging, too, that his string has been in excellent form this week, with a winner each afternoon.

Galopin Des Champs is clearly a rising talent, but, like Bravemansgame, he needs to prove himself on the climb to the line. There are no such doubts about A Plus Tard (3.30) and he is an excellent bet at the available odds to become the second dual Gold Cup winner since 2003.
Barry Glendenning was at Prestbury Park yesterday to see the master of Ditchcheat – and formerly Cheltenham – break his duck.
Nicholls has masterminded victory in far more prestigious Festival races but could not have looked more pleased at having finally put one over on the combined forces of Irish raiders sent into battle by Mullins and Gordon Elliott after so long. The Turners Novice Chase may not be the stuff from which racing dreams are made, but Stage Star's win at least ended something of a nightmare for his relieved trainer as far as this particular meeting is concerned.

It's not that he's lost his touch. Far from it, in fact. Nicholls continues to send out winners at a prodigious rate, currently leads the jumps trainers' championship with winnings of almost £3m this season and before Thursday had saddled 19 Group One winners in England and Ireland since his Cheltenham cold streak began, after Politologue's victory in the Queen Mother Champion Chase three years ago.
Preamble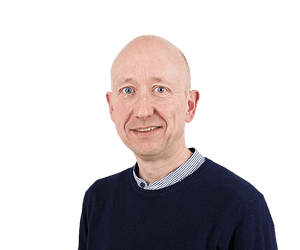 Greg Wood
For the first time all week, there is actually a faint whiff of spring in the air at Cheltenham this morning, mingling with the scent of the foot-long sausages sizzling on the frankfurter stand by the entrance as a capacity crowd begins to stream into the racecourse. Which is just as it should be on Gold Cup morning, when one of the season's most storied and venerable races is just a few hours away.
It is 99 years since Red Splash landed the first Cheltenham Gold Cup at 5-1, and preparations are well under way to celebrate its 100th anniversary next year, including a plan (and please don't ask me why) to take the trophy to the highest points in England, Scotland, Ireland and Wales. But first, there is the serious business of the 94th running of the staying chasers' championship event this afternoon, for which 13 runners will be at the post at 3.30.
They include the last two winners, A Plus Tard and Minella Indo, though the market has a clear-cut view on the prospects of Henry de Bromhead's two runners with Rachael Blackmore's mount priced up as the 5-1 second favourite to repeat last year's success, and Minella Indo on offer at 20-1.
The opposition includes Noble Yeats, last year's Grand National winner, who would be only the third horse to win both races if he comes home in front, and the first to do so after winning at Aintree first. Bravemansgame, the King George winner, is bidding to give Paul Nicholls a fifth Gold Cup, which would tie the all-time record held by Arkle's trainer, Tom Dreaper, while the certain favourite is Galopin Des Champs, from the Willie Mullins stable. He was a winner here over hurdles in 2021, but remains most famous, or infamous, among Festival-goers for his last-fence departure in 2022 with the Turners Novice Chase at his mercy.
Seven runners are looking to extend Ireland's current win streak in the Gold Cup to five – and on St Patrick's Day, too – and the visitors currently have the favourite in six of the day's races after a gamble on Dan Skelton's Pembroke pushed him to the head of the market for the County Hurdle at 2.10. After beating the British 5-2 on each of the first three days, this could yet be the afternoon when it ends up as a 7-0 thrashing for the first time.
As ever, the Guardian's live blog will be the place to find the entire cavalcade of news, views, results and even high-speed in-running race commentaries, and the action on the track gets underway, as ever, with the Triumph Hurdle at 1.30.