Key events
It was such a cool, precise finish that I thought it was Robert Lewandowski. Raphinha had two chances, missing his kick and then having a shot blocked. But the ball rebounded to Sergi Roberto, who took a touch and calmly sidefooted the ball past the diving Courtois from 12 yards.
GOAL! Barcelona 1-1 Real Madrid (Sergi Roberto 45)
Sergi Roberto equalises on the stroke of half time!
41 min Nacho is lucky to get away with a hand to the face just outside the Madrid area. He's already been booked as well. I don't think it was enough for a second yellow card, but it was certainly a foul.
38 min Vinicius has a moan at the assistant referee after being penalised for shoving Raphinha over. It was a soft free-kick but no matter: the ball into the box comes to nothing.
34 min Raphinha cuts inside from the right and smashes a shot that is pushed over by the leaping Courtois. It was above his head and thus a fairly comfortable save.
33 min Raphinha is booked for a foul on Kroos.
32 min Raphinha takes a short corner to De Jong, whose cross is flicked towards goal by Christensen. Courtois falls to his right to make a comfortable save. It was a stylish effort by Christensen though, a flying volley behind his front leg.
30 min Balde's cross is chested calmly back to the keeper by Nacho. Though they have dominated possession throughout, Barcelona have slightly lost their way since going behind.
27 min Vinicius zig-zags thrillingly away from Kounde and Araujo, but ter Stegen is quickly off his line to grab the ball.
24 min: Chance for Christensen! Raphinha takes a corner on the left, then gets the ball back a few seconds later. His outswinging cross is headed across goal and wide by Christensen, eight yards out. It was a decent chance, though he moving slightly away from goal when he made contact.
22 min Modric sprays a long pass out to Valverde on the right. He cuts the ball back to Benzema, who lays it off to the onrushing Carvajal on the edge of the area. His first touch is too excitable and runs out of play.
20 min Now Raphinha's inswinging cross just evades the leaping Araujo at the far post.
18 min Nacho is booked for a poor tackle on Araujo.
17 min Vinicius beats Araujo with ease and curls an early, inswinging cross that is a couple of yards in front of Benzema. We've seen him put those on Benzema's head in the past.
14 min A fierce shot from Benzema smacks Kounde straight in the face, with his head snapping backwards. He says he's fine to continue. If there was a medical check, it was a cursory one.
12 min Balde surges down the left and is challenged by Carvajal. The runs into the area towards Lewandowski, who shifts the ball away from Rudiger and is about to shoot when Carvajal comes on the blind side to make a crucial block tackle. That was a brilliant recovery from Carvajal.
11 min We know Vinicius v Araujo would be a key battle, but I don't think anybody anticipated a goal like that. Araujo was essentially blameless; he was very close to Vinicius and couldn't get out of the way.
Camavinga made a good run into the area on the left, then gave the ball to Vinicius. He danced round the houses, away from goal, and lifted a cross that hit the head of Araujo, wrongfooted ter Stegen and drifted miserably into the net!
GOAL! Barcelona 0-1 Real Madrid (Araujo og 9)
Madrid take the lead out of nothing!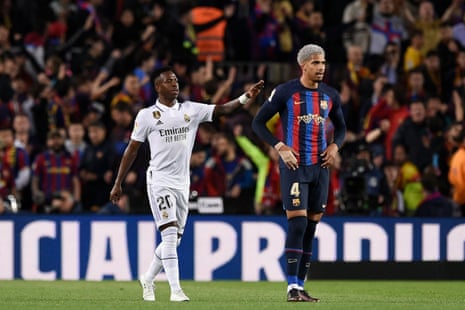 7 min Vinicius tries to run Araujo, who matches him for pace and then eases him out of play. Good defending. That will be a fascinating battle.
6 min: Excellent save from Courtois! Busquets guided a terrific angled cross towards the unmarked Raphinha at the far post. He powers a header back across goal, and Courtois dives to his right to make a fine one-handed save. Moments later, Sergi Roberto swishes just over the bar from 20 yards.
5 min Lots of early possession for Barcelona. Real Madrid don't seem too perturbed, mind you; they have a helluva collective poker face.
3 min: Good save by Courtois! Lewandowski rolls Kroos, 25 yards from goal, and pings a shot that is pushed away to his right by the diving Courtois. It's been a cracking start to the game.
1 min Benzema forces ter Stegen to make a save after 23 seconds. It was comfortable enough, low to his right, after Benzema hit one from just outside the area with his left foot.
1 min Karim Benzema gets the game under way, and why not.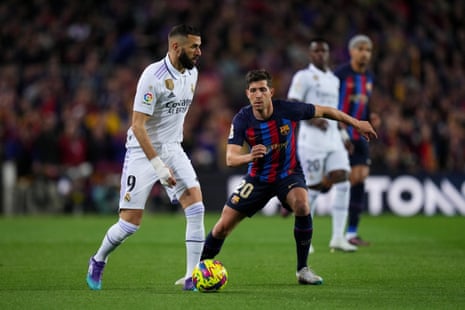 Here come the players. There's a cracking atmosphere, and no wonder: Barcelona could effectively win the league tonight.
"I genuinely think if Real win this game, they have every chance of coming back and winning the league," writes Arhaan Sayed. "I definitely hope that is NOT the case, as we Barca fans have not tasted the league title since 2019. Visca el Barca!"
The teams in formation
Barcelona (4-3-3) ter Stegen; Araujo, Kounde, Christensen, Balde; Roberto, Busquets, De Jong; Raphinha, Lewandowski, Gavi.
Substitutes: Fati, Torres, Sotorres, Alonso, Alba, Kessie, Garcia, Torre, Tenas, Galiot.
Real Madrid (4-3-3) Courtois; Carvajal, Militao, Rudiger, Nacho; Modric, Camavinga, Kroos; Valverde, Benzema, Vinicius Jr.
Substitutes: Vallejo, Hazard, Asensio, Lunin, Odriozola, Vazquez, Tchouameni, Ceballos, Rodrygo, Mendy, Diaz, Lopez.
Referee Ricardo de Burgos Bengoetxea.
"Evening Rob, evening everyone," says Adam Griffiths. "I have no horse in the race so am just hoping for lots of scenes that apparently noone wants to see, and maybe some quality football. But mostly those scenes."
How the table looks
Thirteen games, nine points. You'd think, realistically, that Real need to win today. And they sure as flip can't afford to lose.
Xavi makes one change for last weekend's win in Bilbao. Ronald Araujo replaces Ferran Torres, so Sergi Roberto moves into midfield and Gavi replaces Torres as the left-sided attacker.
Real Madrid are unchanged from their 1-0 victory over Liverpool in midweek.
It's el clasico, Madrid need to win to keep the title race alive, and a scandal's a-brewin. There's your preamble!