Key events
84 min: Good save by de Gea! Odegaard's free-kick ricochets around the United area before falling to Nketiah, 12 yards out. He hits a left-footed snapshot on the half-turn that is really well saved by de Gea, diving low to his left.
83 min Shaw is booked for fouling Saka, who has been the best player on the pitch.
82 min: Arsenal substitution While Fernandes is being treated, the new signing Leandro Trossard comes on for Gabriel Martinelli.
82 min Arsenal have had the centre of the ring for most of the game, but this is the first time that United have really been on the ropes.
Fernandes is down with a head injury, so Anthony Taylor stops play. The Arsenal fans aren't thrilled with the decision.
80 min An Arsenal corner leads to a scramble in the United area before Wan-Bissaka lumps clear. Arsenal come again and Odegaard's cross flashes right across the face towards Xhaka at the far post. He is about to score when Fernandes makes a desperate and vital challenge.
79 min Martinelli cuts inside and hits a fierce shot from 20 yards that is headed over his own goal by Martinez. That might have been going in.
78 min Weghorst touches the ball off neatly to Fernandes, who shapes a menacing left-footed pass around the Arsenal defence, almost like a bowling ball, towards Rashford. He challenges for the ball at the same time as Ramsdale, outside his area now, and Tomiyasu before falling over. I'm pretty sure Rashford just slipped, and VAR agrees.
76 min McTominay's ball forward runs under the boot of Partey on the edge of the area, but Eriksen can't get to it. Partey has made a few uncharacteristic mistakes today, most notably when he lost the ball twice in the build-up to Rashford's goal and was then nutmegged.
75 min "I don't know about Weghorst being a reference…" says Jeff Sax. "He is a galoot."
Jeff Sax: The Man Who Gives It To You Straight. He's even got the same initials.
74 min Arsenal have had 75 per cent of the possession in the last 10 minutes. Weghorst has put an admirable shift in but I'd be very tempted to bring on Garnacho and put Rashford down the middle.
Mikel Arteta tends not to make many substitutions when chasing a game, though this time he has the option of Leandro Trossard.
73 min Apologies for the paucity of emails, the match has just been too goshdarn compelling. Talking of which, here's the clever bit of improvisation from Lisandro Martinez that brought Man Utd level.
71 min: Manchester United substitution Fred replaces Antony, who had another difficult day. Bruno Fernandes moves to the right wing and United switch to a more orthodox 4-2-3-1/4-2-1-3.
70 min: Saka hits the post! Saka almost scores a carbon copy of his goal, cutting inside from the right and hitting a shot from 25 yards that takes a nick off Eriksen and hits the outside of the far post.
70 min Arsenal have responded to Martinez's goal as United did to Saka's. The difference is that United's was an equaliser. All of which is to say that it's Arsenal who are pushing for victory.
69 min "I love rollercoasters," says Mary Waltz. "This fixture is the equivalent of the feeling you get when going upside down at 60 miles an hour. Glorious fun!"
You're a neutral, aren't you.
68 min Weghorst has done pretty well today, holding the ball up well and giving United what Thomas Tuchel used to call "a reference" when he was at Chelsea.
66 min: Chance for Odegaard! Xhaka's cross is only half cleared to Odegaard, whose shot from 12 yards hits Eriksen and flies wide. The resulting corner is headed wide by the backpedalling Gabriel.
Some game, this.
64 min Arsenal counter the counter through Saka, who runs at the backpedalling Shaw in the area. Eventually he slides a low pass/cross towards Nketiah, whose close-range shot deflects behind. At least I thought it did; the referee has given a goalkick.
Shaw is defending dangerously deep against Saka, allowing him to have the ball unchallenged within 10-15 yards of goal (albeit at a tight angle).
63 min Martinelli picks out the onrushing Odegaard just inside the area, a familiar Arsenal tactic, but Eriksen tracks him well and blocks the shot. United break but Rashford is unusually indecisive and Tomiyasu tackles him well.
62 min Here's the lovely goal from Saka that put Arsenal 2-1 up.
61 min What's next then? I am glad to say I have no idea.
Eriksen whipped a inswinging corner from the left. Ramsdale came but ran into his teammate Tomiyasu and could only flap the ball down in front of him. Martinez read the bounce brilliantly, stooped towards the ball and then stained his neck muscles to lob a header over Gabriel on the line. Gabriel got a touch, leaping backwards, but could only help it into the net. That is such a good finish – less spectacular than the first three goals but equally brilliant in its own way.
GOAL! Arsenal 2-2 Man Utd (Martinez 59)
A memorable match takes another twist!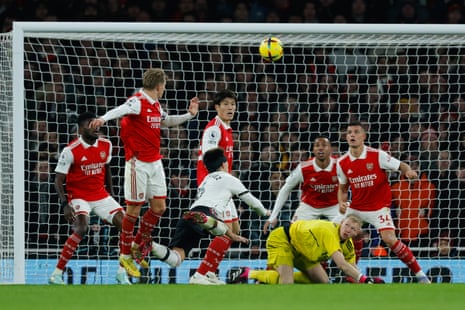 59 min Shaw wins a corner for United, who have responded purposefully to going behind.
57 min It's surely time for Alejandro Garnacho or Facundo Pellistri, because Rashford is all United have got in attack. Weghorst is willing but limited and Antony is suffering an extreme case of first-season syndrome.
56 min In fact Rashford's shot took a biggish deflection off Saliba, which makes it an even better save from Ramsdale.
55 min: Terrific save from Ramsdale! Rashford beats Tomiyasu once, then forces his way past him a second time on the left side of the area and hits a shot across goal that is pushed away by Ramsdale, diving low to his left. That's a fine save because I'm pretty sure he saw it late.
It's the third game in a row that Saka has scored against Man Utd, which puts him in an elite club that includes Thierry Henry and Freddie Ljungberg, and it was a gem. Tomiyasu gave him the ball 25 yards from goal, in line with the right edge of the area. Saka slowed down, then cut inside Eriksen and curled a brilliant low shot that beat the diving de Gea and nestled in the far corner. A delightful goal from the most delightful footballer.
GOAL! Arsenal 2-1 Man Utd (Saka 53)
A screamer from Bukayo Saka!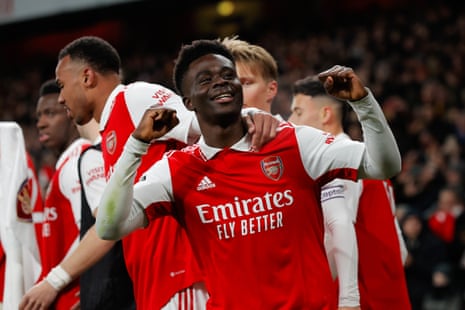 52 min Arsenal are dominating possession now, as they did towards the end of the first half. Odegaard plays one of his ingenious two-touch through balls – dragging the ball slightly to the right and then, in the same movement, flicking it towards Martinelli in the area. Martinez comes across to make a desperate and brilliant challenge.
50 min "Hi Rob," says Alan Baverstock. "My bet on the last Arsenal manager to refer to 'The Arsenal' would be Pat Rice."
Well that was sheer delightful pedantry.
49 min Gabriel goes over just inside the area after a clumsy challenge from behind by Weghorst. Not for the first time today, Anthony Taylor isn't interested. We haven't seen a replay yet.
49 min Shaw's corner is a near-post mess and Arsenal clear.
48 min Weghorst nicks a loose ball on the halfway line and releases Antony down the right. His touch is heavy and Partey comes across to concede a corner.